As you drive north from Kerikeri in the Bay of Islands, it's easy to miss the turn into Matauri Bay Rd, signalled by a faded Kauri Cliffs sign and drive right past onto the sometimes juddery Tepene Tablelands Rd.
That's as it should be for an exclusive domain normally reserved for the well-heeled, those for whom helicopters are a more preferred mode of transport anyhow.
What you won't miss, on your eventual arrival four hours north of Auckland, is the jaw-dropping sea and sky vista spanning from Waiaua Bay to Tākou Bay.
That is best viewed with a champagne or beer in hand from the veranda of the impressive South Carolina plantation and colonial-style lodge at Kauri Cliffs, the work of Florida architect Wade Setliff and local 'lodge specialist' designer Virginia Fisher.
On the front lawn there is a Stars and Stripes flying next to the New Zealand ensign. While the flag and many of the architectural touches are testament to role American billionaire hedge fund manager and philanthropist Julian Robertson and his late wife, Josie, played in developing Kauri Cliffs, this is about as far removed from the Vegas strip as you can imagine.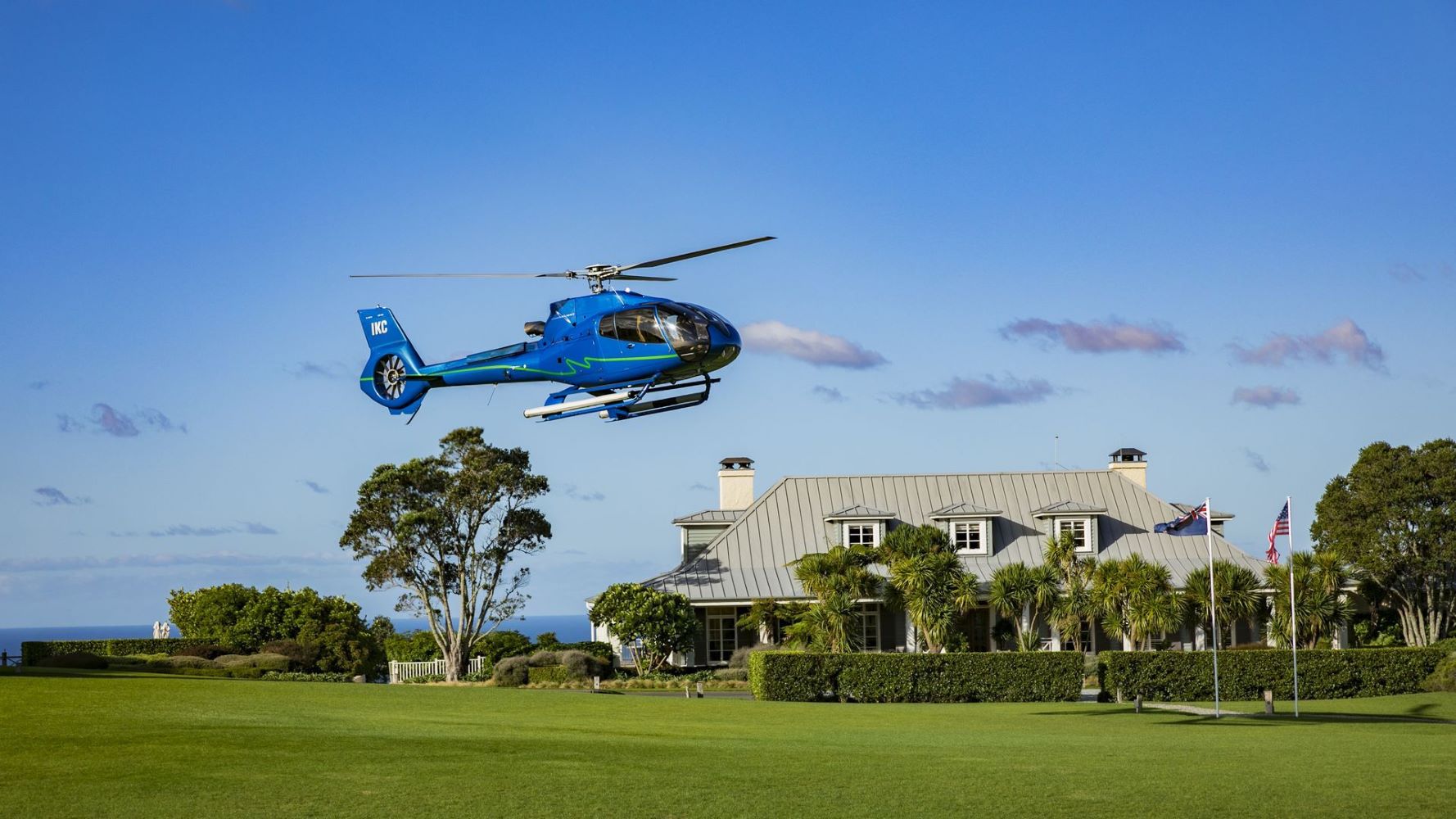 From farm to PGA golf
Julian Robertson first brought Josie and their children to New Zealand on a year-long family sabbatical in 1979. He bought the 2600 hectares at Kauri Cliffs in 1997, after flying over the then sheep farm during one of his many return visits to the country.
The avid golfer enlisted David Harman – known for his work with Arnold Palmer and Jack Nicklaus – to create the par-72 championship course, which opened in 2001.
Emboldened by the venture, he followed that up with the purchase and development of The Farm at Cape Kidnappers in Hawke's Bay and Matakauri Lodge in Queenstown to create a network of three of the country's most desirable luxury destinations housed under the Robertson Lodges banner.
The sheer epic scale of the golf course, combined with some behind-the-scenes influence from Robertson and his friends, has been a magnet to the globe's top players.
In 2003, US professional golfer Fred Couples and Kauri Cliff's own touring pro Michael Campbell squared off in the final of Shell's 'Wonderful World of Golf' series. Couples walked away with the US$150,000 winner's cheque.
Five years later, Kauri Cliffs combined with Cape Kidnappers to host the inaugural 'Kiwi Challenge', a 36-hole PGA tour event in which four up-and-coming pro golfers – Americans Hunter Mahan, Anthony Kim and Brandt Snedeker and Australian Adam Scott – went head to head for a purse of US$2.6 million.
Mahan won that contest in front of 2500 spectators, with the proceeds (a gold coin donation) going to a local school.
While the Robertsons had never thought of becoming hoteliers, it became evident early on that the attraction of the Kauri Cliffs property, and its relative isolation, meant visitors needed a place to stay.
That realisation led to the development of the owner's cottage, a sprawling home replete with an infinity pool and a garden courtyard overlooking the Pacific, for family and friends.
It is still used by the Robertson family and guests alike, but the country retreat has now expanded to 22 rooms across 10 chalets.
The resort has also recently completed three new four-bedroom luxury residences, each boasting private infinity pools.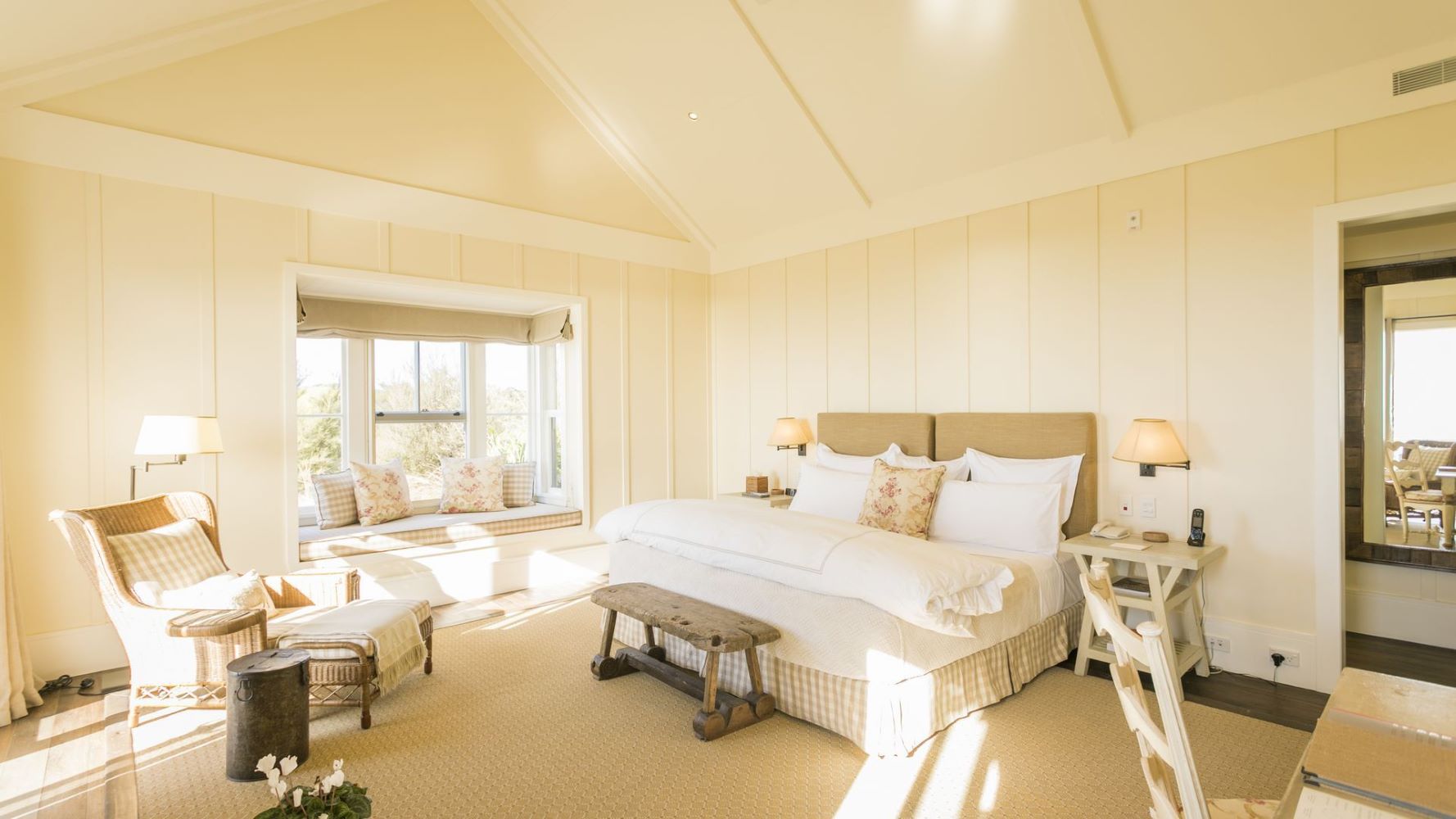 Take a swing or take a picture
There's plenty at Kauri Cliffs to keep visitors and guests busy. Added to the mix are two synthetic-turf tennis courts, a luxury spa with a fitness centre, and numerous walks or bike rides, ranging from a 10-minute stroll through the bush to take in an ancient kauri tree, to a two-hour walk across the separately run sheep and beef farm to a private waterfall.
From the moment you arrive at the lodge, there is a sense that you would grievously alarm one of the staff if you were to do so much as drive to the nearby car park or clean your own golf shoes.
To get to our room – a cottage immersed in the estate's tōtara forest but positioned with an elevated view of the 10th fairway and sea – my wife and I were chauffeured the 100 metres along a sealed path through the bush.
Like the lodge itself, the cottages are restrained – the decor is based on muted tones and the furnishings take their cue from the environment – but luxurious. Each includes a walk-in wardrobe and a fireplace.
Ahead of our respective golf and spa bookings, there was the small matter of lunch. That came in the form of perfectly prepared seared tuna and Caesar salads, served with proficient speed and washed down with a couple of drinks to help stave off the first-tee jitters.
That left my two playing partners and me – all skiving off work on a Wednesday afternoon – ready to play a course Golf Digest rates as the 43rd best in the world and the late David Harman's "finest achievement".
Its reputation is well deserved. With 15 holes boasting ocean views, six of which are played alongside seaside cliffs, the 6510-metre course was once summarised by a long-time friend of the Robertsons, Dale Burch, as "distracting".
"Everything is so pretty that every time you go up to a tee you don't know if you should take a swing or take a picture," she told author Daniel Strachman in his 2004 biography of Julian Robertson, A Tiger in the Land of Bulls and Bears.
We took plenty of pictures. We also donated plenty of golf balls. It is a dynamic, hilly course, and a word to the wise: you'll need a cart to navigate the terrain, up and down and over the valley and across picturesque bridges. Wisely, we chose the white tee boxes rather than the harder blue 'tiger' boxes – named after Robertson's $55 billion Tiger Management hedge fund – though there are five options to cater for all levels.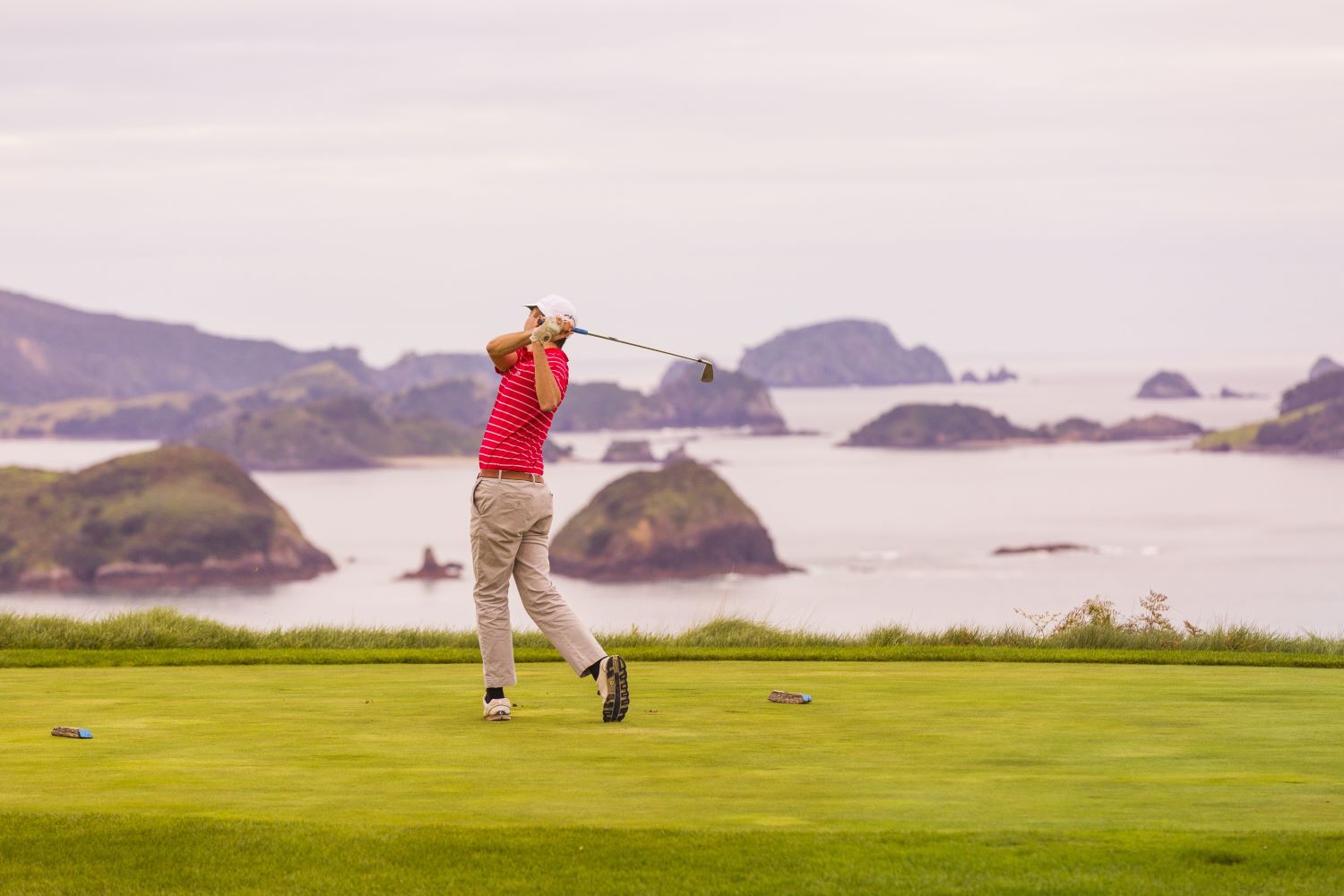 You'll need lots of golf balls
If you aren't a long hitter, you might find the par 5s challenging. The fourth hole, the Cambo, is arguably the toughest. At 478 metres off the white tees, it is all about accuracy and awareness of hazards, both left and right but also behind and to the right of the green. The simple fact is that a few metres off the fairway and, for the most part, the ball disappears into the local flora without so much as a whisper.
My wife, smartly, is a non-golfer, so she headed off to the spa while we were doing battle on the greens. The spa is immersed in the forest overlooking a fern-fringed stream; she said you could easily stumble upon the spa without knowing it's there.
Its sanctuary-style credentials are reinforced by use of natural indigenous products, including honey that is produced on the property.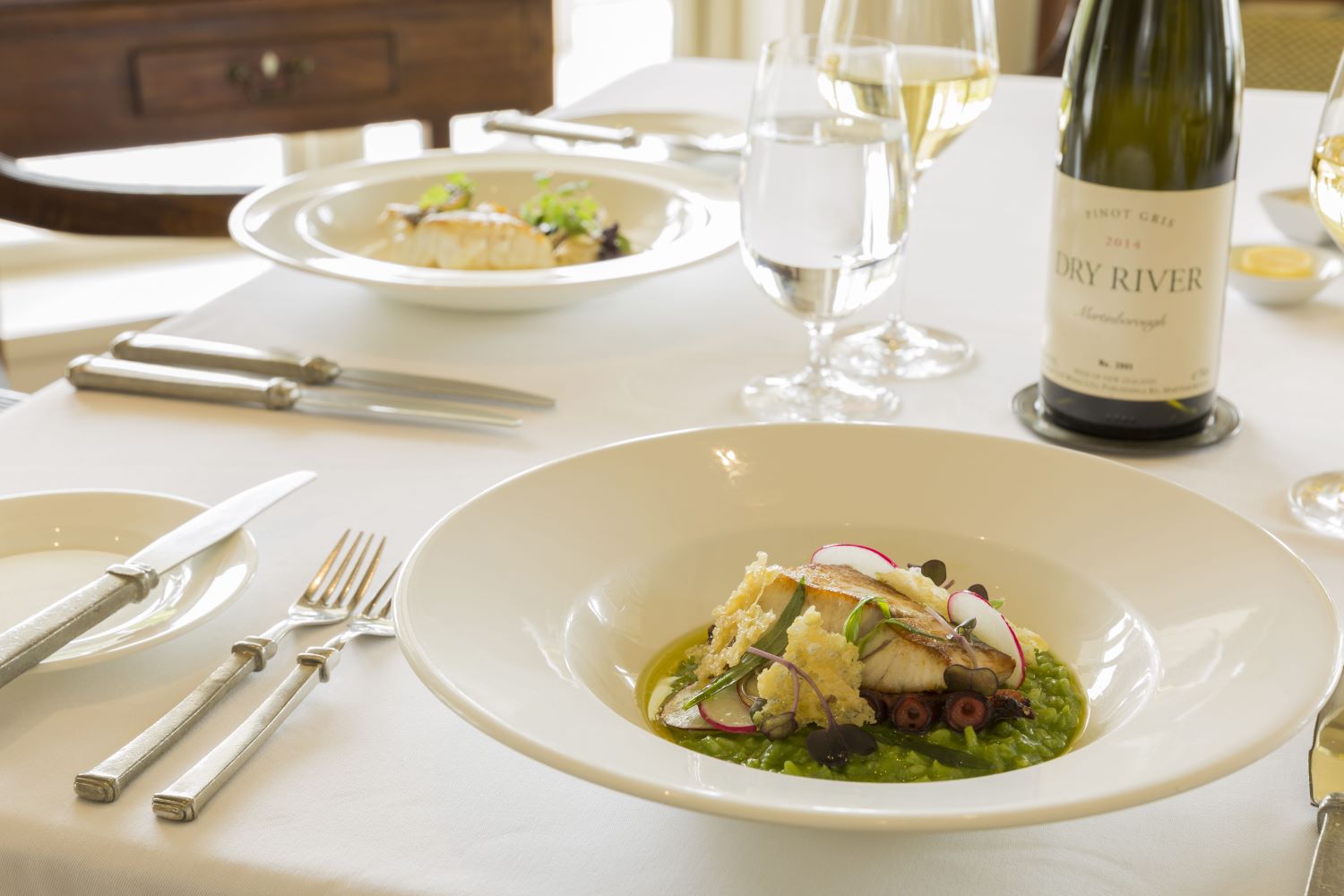 Five star service
Dinner at Kauri Cliffs was an event, not least due to the social nature of the dining room.
After a glorious six-course meal punctuated only by the constant but not intrusive attentions of Argentine sommelier Valeria Weihmuller, we took our coffee onto the veranda.
German-born co-manager Benedikt Bouillon, currently on loan to Kauri Cliffs from the temporarily closed Matakauri, told us what we already knew, that the right mix of staff was the "'secret ingredient" to the resort's success.
The service, both at dinner and throughout our entire visit, was evidence of that. It was always polished and warm. Staff implicitly understood that comfort was as much about guests feeling at ease as the environment itself.
The next morning, local guest services manager Simon Robson acted as our tour guide around the estate, including a visit to the farm and the popular 'pink beach'. The beach, he said, was a favourite of the late Josie Robertson, who used to spend hours choosing the right shells for the creation of bespoke artworks throughout the lodge and guest suites. I know it took some time for Robson to get us off the beach, which is also a favourite BBQ site for guests in the warmer months.
Subscribe to BusinessDesk this month and be in to win a stay at The Lodge at Kauri Cliffs, valued at $9800.
To be eligible, you need to do one of the following:
Start a 10-day free trial in November and then convert to a paying subscriber. We'll draw the prize on December 11.
Join a group company subscription.
The prize: A two-night stay at The Lodge at Kauri Cliffs
The value of a two-night stay for two persons (twin/share), based on published rates in a Deluxe Category Suite is NZ$8,580 + GST ($9867). This is based on a stay up to 31 March 2021, with black out only over period 15 December – 5 January, subject to availability, and not available over special event or national holiday weekends.
Inclusions:
Two nights of accommodation in a deluxe category suite, based on double occupancy
Daily pre dinner drinks and canapes, dinner, full breakfast and lunch
Complimentary non-alcoholic mini-bar
Use of lodge facilities
Visit the Kauri Cliffs website.
Subscribe and register for the prize draw here.