Kāinga Ora's recent $95 million tender for a housing development in Avondale offers a glimpse of how medium build residential developments will look in the drive to cut carbon emissions.
The tender specifies the use of composite, light timber frame construction and use of cross laminated timber (CLT), something of a precursor to the government's upcoming response to Climate Change Commission's first tranche of recommendations on how to get New Zealand to a net zero carbon economy by 2050.
To get there, NZ will need to take a leaf out of the European and Canadian design book in adopting a mass wood approach to medium density builds.
Mass wood is seen as the main solution to how NZ reduces its 'embodied carbon' at the build stage, with the commission posing the unanswered question as to whether a low emissions steel industry is critical to securing building supplies. It's an area where the Ministry of Business, Innovation and Employment is already keen to implement CO2 caps.
The government, furthering its longstanding but stuttering 'wood first' programme, has instructed the public sector to lead the way by choosing the lowest upfront carbon option in its procurement strategies.
While Canadian and European researchers and architects have been incorporating mass timber in project design for almost 50 years, the development of CLT prototypes in the 1990s by the Norwegian Institute of Wood Technology paved the way for increased use of high strength, engineered wood in taller buildings.
CLT and other engineered wood products, such as glue laminated timber, dowel laminated timber and laminated veneer lumber (LVL), are now in common structural use, though have only been in general use in NZ since about 2012.
The most striking example of their potential application is at Norway's Mjøstårnet, an 85 metre tall 'plyscraper' built by Scandinavian wood construction products company Moelven.
The 18 storey building, constructed in 2019 near Mjøsa, Norway's biggest lake, includes a hotel, apartments, office and a swimming pool.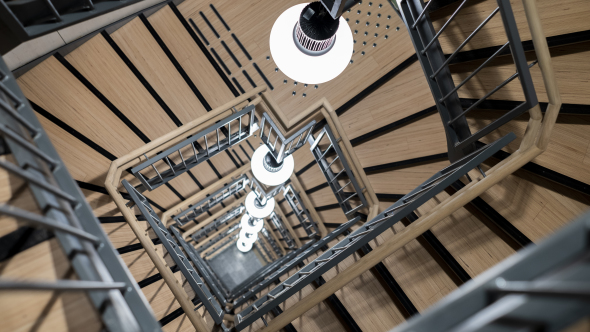 Mjostarnet staircase (Image: Moelven) Kāinga Ora general manager of construction and innovation Patrick Dougherty said engineered wood is in the plans for its new 'passive home' developments at its large Mangere neighbourhood regeneration project where it plans to build 900 new homes by 2024.
Dougherty said the state-owned landlord wants to take its offsite manufacturing targets from 15% to 20%. He said about half of its offsite manufacturing will be for CLT products.
Kāinga Ora has 7,000 new homes in the pipeline over the next three years, which will take its property holdings to 75,000 homes.
Strength to weight
Marty Verry, chief executive of the country's largest timber processor Red Stag Timber, said while carbon was a major plus in deciding to build with engineered wood, the products also brought tremendous strength-to-weight ratios and the product was just "more appealing".
The Green Building Council suggests embodied carbon, or the amount of greenhouse gases generated during the construction of a new build, represents about 10% of NZ's overall CO2 emission.
A building carbon calculator developed by building firm Naylor Love shows the use of timber on a comparable build example equates to 82,584 kilograms of CO2 sequestered, while steel comes in at 792,248 kgCO2 and concrete at 831,563 kgCO2 emitted.
As proof that engineered timber can be used as the key structural ingredients in taller builds, Red Stag is involved in a 'mid-rise wood construction' programme with the Ministry for Primary Industries.
The programme kicked off in 2018 with a budget of $5m, which was subsequently increased to $6.75m partly due to covid. It has spent about $3m to date on a five storey, CLT/LVL panelled apartment 'demonstration' tower at Clearwater outside Christchurch.
The building is being developed by Clearwater Quays Apartments, in which Red Stag Investments holds 38%.
More than 120 developers, engineers and architects visited and evaluated the building in May and another open day is planned for October to monitor progress, Verry said.
On completion, the development will have 10 apartments over five stories. A couple of the apartments are already spoken for and Verry said marketing of the remaining units will begin in the coming weeks.
The apartments won't be cheap, given their bespoke nature and resort style location. A 232 square metre, three bedroom penthouse, will be listed at $2.99m. The other two and three bedroom options will range from $1.3m.
Adaptive reuse
Verry said the cost implications of using engineered timber are "a similar level" to steel or concrete.
MPI director of investment programmes Steve Penno said the programme has also set $1.8m aside for between six and 10 further demo projects.
Selected projects will be for buildings of more than five storeys, across apartments, aged care, large format retail or mid-rise office buildings.
Penno said public sector buildings, including low cost apartments for social or entry level housing or even government buildings, will be accepted.
Chris Scott, principal and architect at Jasmax, said the emerging focus on embodied carbon will also mean salvaging existing buildings rather than scrapping them, allowing for the use of lighter and stronger materials within a concrete shell.
He said 'adaptive reuse' made more sense now, given advances in energy use. "Energy consumption has been higher than the embodied carbon in buildings over time, but now the bulk of carbon sits in the original build rather than over the lifetime of its operational use."
The firm's in-house research suggests adaptive reuse can reduce overall carbon emissions by up to 50% compared to replacement.
It's a philosophy Jasmax is putting into practice at the 50 year old human sciences building at the University of Auckland.
Scott said the precast concrete building was "riddled with asbestos and probably one of the ugliest buildings inside and out". But, by taking off the heavy exterior and lightening the building and putting a high performance, lightweight façade on, it got a new lease of life.
A key component is a new timber atrium, as home to the faculty of education, alongside timber partitioning throughout.
Scott said the end result is the building has been awarded the highest rating ever by the NZ Green Building council achieving a 6 green star rating.
Scott said while there was a cost to that, the other benefits of a repurposed build include less disruption, a healthier building and a building "people wanted to be in".
His Jasmax colleague Matthew Downs said reuse of existing structures can reduce project costs by as much as a fifth.
Older office blocks also lend themselves particularly well to residential conversions, as they generally have higher floor to ceiling heights.
That's the case with his latest residential project at the former Obex Medical head office at 303 Manukau Rd.
The site, which will be repurposed into a $35m residential apartment complex called Symphony3030, will essentially use lightweight CLT in the core of the building, including stairs, upper-level slabs and decks.