Boom times are continuing for Waiheke Island's property market despite the huge impact of the covid response on the New Zealand tourism market.
The 92 square kilometre Hauraki Island and home to 10,000 permanent residents, is only a half-hour trip from downtown Auckland but has managed to remain free of the delta strain of the virus.
Ed Coutts, managing director of holiday home rental firm Waiheke Unlimited, says demand for holiday homes on the island up to the latest lockdown had broken all records from pre-covid levels.
The 2018 census counts 3,780 occupied dwellings and 2,100 unoccupied residences on the island. An estimated 3,400 New Zealanders have a second or holiday home there.
But availability remains low, with less than 140-holiday homes available during December on letting agencies Bookabach and Airbnb.
Coutts said while demand has been down for "really high-end properties" which were more for the international market, most of the firm's 65-holiday homes had been fully booked right through the week up until the latest Auckland lockdowns.
"That's certainly not been the case in previous years. It's just gone a bit mad particularly compared to other North Island tourism spots I've been to."
One of his flagship residences is Te Rere Estate, an eight-bedroom home that sleeps up to 20 guests and rents out at an eye-watering $15,000 a night.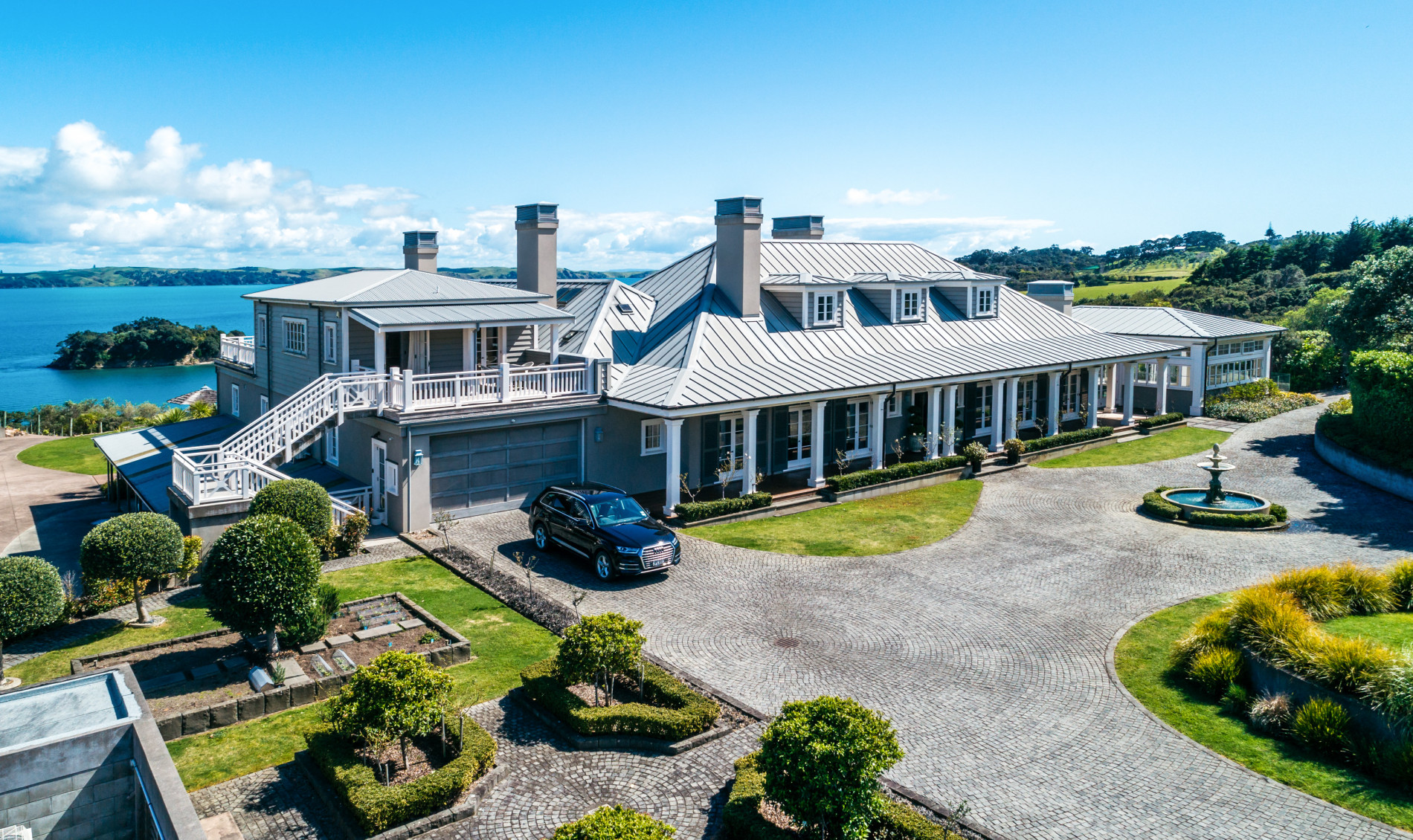 Te Rere Estate (Image: WaihekeUnlimited)
Coutts said paying between $15,000 and $20,000 is a "little bit tougher for the Kiwi boys", there are still localised bookings up to the $5,000 to $7,000 bracket.
He accepted that people were still a "bit nervous" particularly at the corporate level, in the wake of the closure of the trans-Tasman bubble and the latest Auckland lockdown but even those bookings aren't lost.
"We just roll those over to a different date."
Price boom
The residential sales market was also as busy as it's ever been, local realtors say.
Real Estate Institute of NZ data shows median prices on the island have surged by more than 60% to almost $1.6 million for the three months to July, from $985,000 for the same period a year ago.
Realestate.co.nz shows asking prices were up 141% to $2.4m last month compared to the prior August.
To put that into context, asking prices for properties on other Hauraki Gulf islands, including the more isolated but larger Great Barrier, were actually down on average by 19% at $600,000 over the same period.
Waiheke based auctioneer and consultant David Palfreyman said much of the interest was being driven by cashed-up returning Kiwis.
Local buyers were also capitalising on that, he said, with one recent buyer of a $1m home exiting "within a few months", selling for $1.7m.
Nor are buyers hesitating at the more extravagant end of the market.
Tobias Roebuck-Ward, a director of Waiheke Homes, has just brokered a $10.25m sale of a home at 9 Alan Murray Lane, Matiatia Estate, Oneroa.
The luxury four-bedroom, 550 square metre bedroom home, which features an infinity pool and helipad, is the most paid for a property on the island since 121 Great Barrier Rd sold for $11.75m four years ago.
Big spenders
Roebuck-Ward said it was an off-market, confidential deal, but the sale reflected a "particular class of buyer" keen to pick up a holiday home in what was largely considered a safe, or 'bolt hole' environment. That, he said, reflected a big chunk of his buyers.
Palfreyman said the only real limitation on home sales on the island was a "ridiculous" lack of available houses.
That's borne out by data from homes.co.nz which shows there have been only 143 transactions across the first eight months of the year on the island. Last year, there were 402 homes sold.
Of those, 39, or more than a quarter, were sold for more than $2m.
That's already ahead of the 36 sold for the entire 12 months of last year.