The idea that the primary function of a watch is to tell the time is being challenged as never before, judging by recent releases.
Most of us can remember the days when a watch was a much-valued necessity – handy, hardy, trustworthy, sticking with us through thick and thin and lasting almost a lifetime with just the odd service or band change.
But how times change. These days, with the time all around us, the trusty watch is important not so much for the information it imparts as for what it says about the wearer. Why else wear a Rolex when a Timex – or certainly a Tudor – does much the same job? Invariably it's because it makes us feel good, bolsters our self-confidence and – we're convinced – sends a message to others regarding our supposed station in life.
What's not to like? If strapping on a readily available mechanical contraption can work this kind of magic – serving a practical function while bolstering self-esteem – is it any wonder we are buying more watches than ever before, many of us owning more than just a few.
This trend – from the idea of owning a single watch to having a whole cache of them – mirrors the shift from function to fashion, with more brands than ever now looking at the next level: watches that set out to both intrigue the wearer and dazzle the onlooker.
Here we're not talking about mere jewellery watches, the kind where it's hardly the work of genius to lard a standard case with as many diamonds as you can cram onto it. Rather, it's the emergence of timepieces that see the wrist as an opportunity for top-to-bottom creativity, be it for female or male forearms.
Should something out of the ordinary appeal – and you have the wherewithal – the options are limited only by availability, with virtually every major brand now turning its attention to the watch as your personal source of reward and even entertainment. Knowing the time of day is merely a bonus.
That said, you won't find these creations on display at your local jeweller, and you'll have to ask the price. But imagine the feeling of one on your wrist!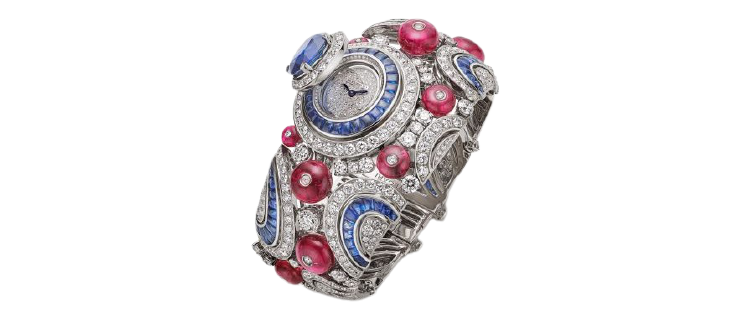 Roman riches: Bulgari Celestial Sky
Exclusivity guaranteed, thanks to its being a one-off, the dial of this confection brings the "signature hues" of the Roman sky to your wrist with an oval-shaped six-carat sapphire adding the requisite oomph, aided by 103 blue buff-top sapphires (11,44 cts), 10 tourmaline beads (27,90 cts), and 779 round brilliant-cut diamonds (20,90 cts) in a supporting role. A quartz movement looks after the time-keeping.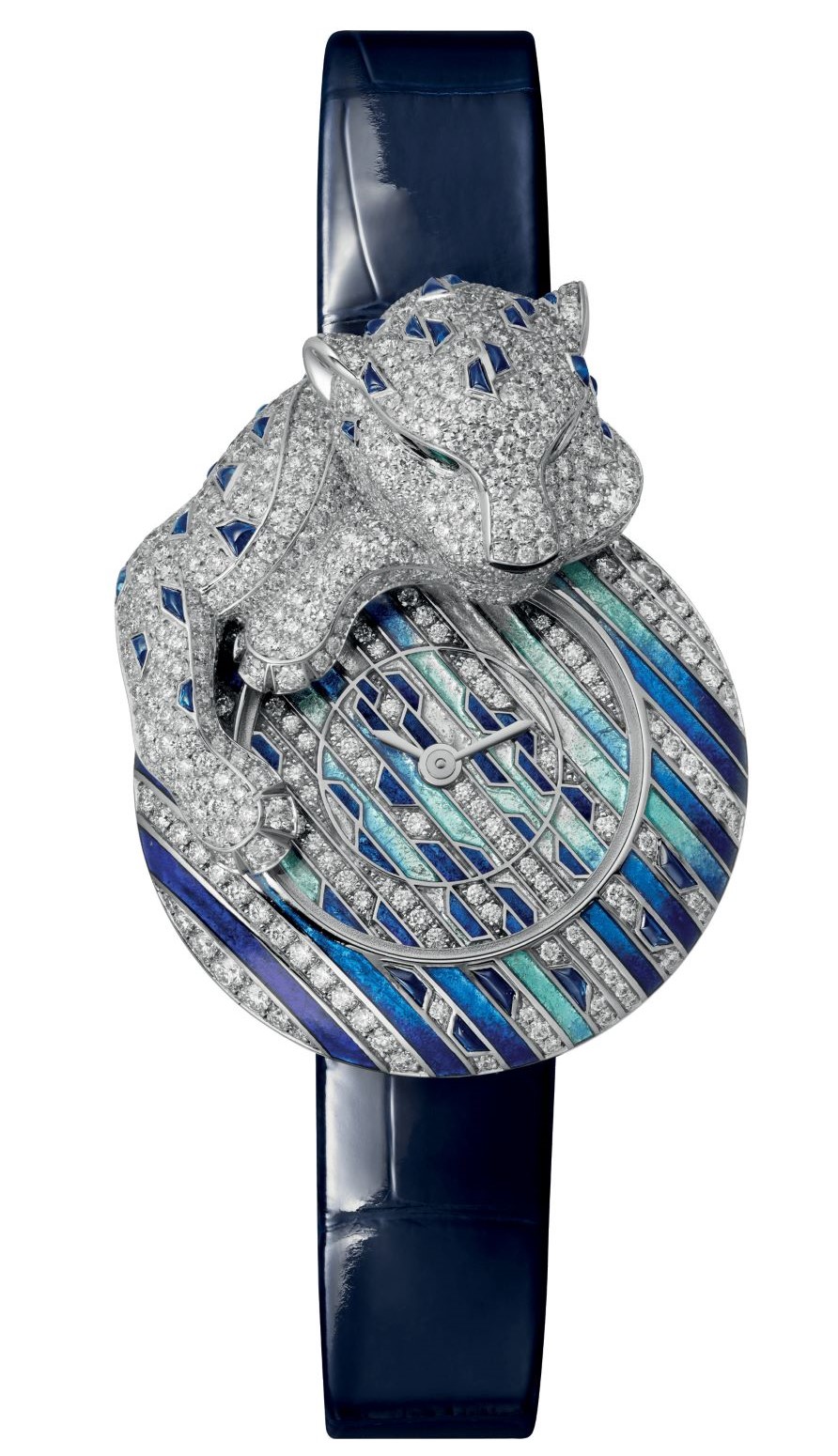 On the prowl: Cartier Panthère Songeuse
Not quite as exclusive as the Bulgari – there'll be 30 on offer – and it's in white gold, not platinum, but hey, there are 734 brilliant-cut diamonds (2.95 cts), pear-cut emerald eyes (0.04 ct), a black onyx nose and sapphire spots (0.38 ct) guaranteeing more than enough allure. A quartz movement means no fiddly winding.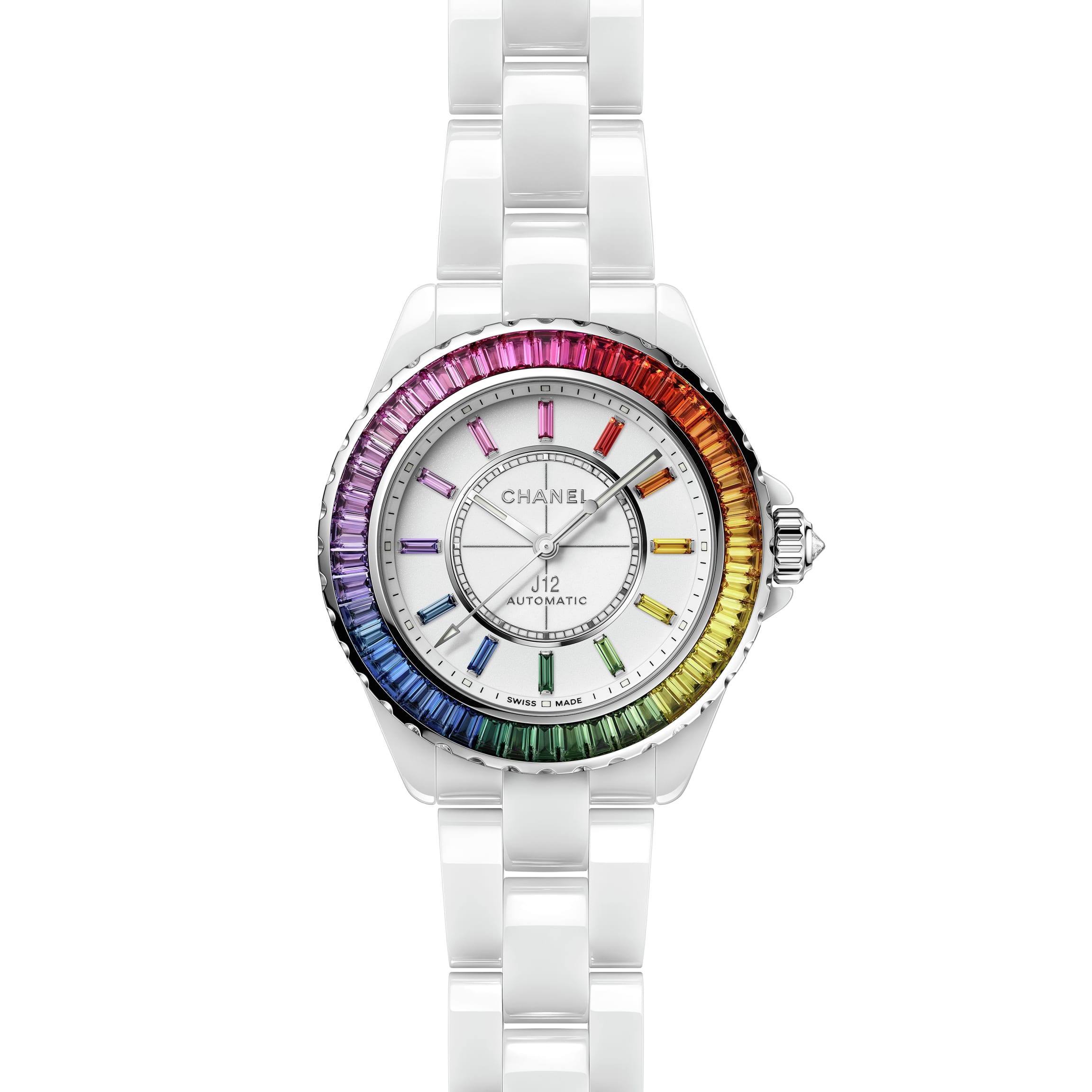 Jive time: Chanel J12 Electro Dream
From a lively new capsule collection plugging into the vibe of the 1990s disco culture comes this J12 model promising not just the time but party-time for the wrist. With 46 sapphires and a self-winding movement, it's limited to 55 pieces and joins colourful Code Coco, Boyfriend and Première Electro models – including high jewellery and fine-watchmaking versions.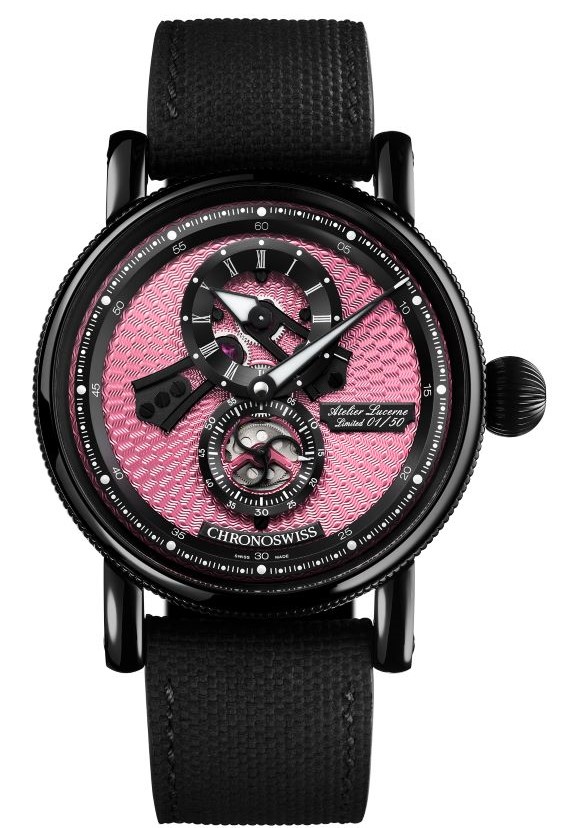 Masculine style: Chronoswiss Open Gear Pink Panther
From its 41mm black case coated in diamond-like carbon to a hand-guillochéd dial in a pink hue its designer, Maik Panziera, describes as "noble", there's plenty of wrist presence here. Addskeletonised bridges, hand-polished screws and the unusual "regulator" layout and you have a gentleman's watch of unmissable substance and style.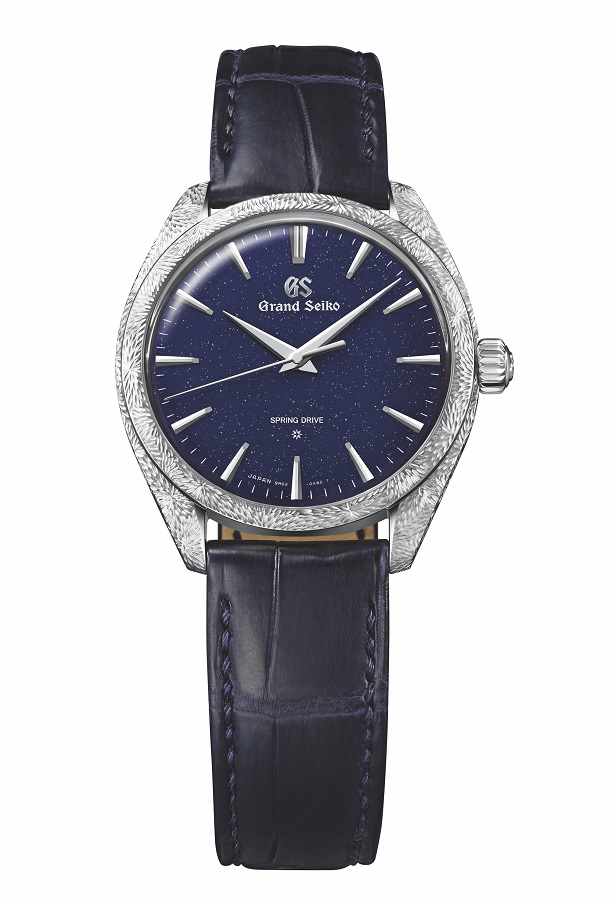 Night vision: Grand Seiko SBGZ007
The dial of this limited-edition piece captures the sparkle of stars aboveAchi, a village in Japan, and looks different from every angle thanks to a unique manufacturing technique combining stamping, plating and painting, with all other markings etched into the surface. The pattern is carried over onto the sculpted platinum case. A twin-barrel movement promising second-a-day accuracy drives things, making it hardly your regular Seiko.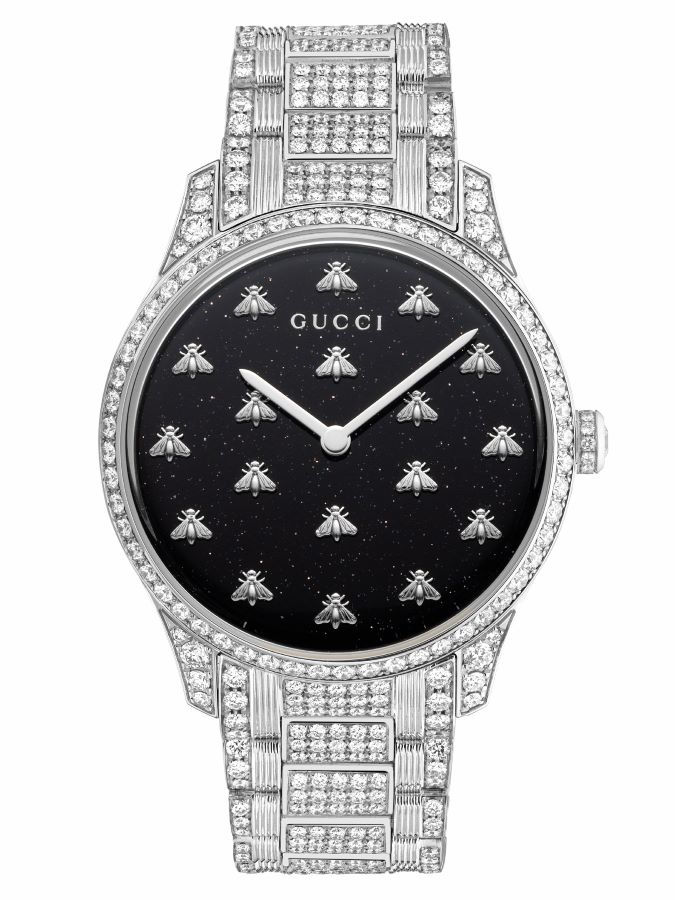 Bee happy: Gucci G-Timeless Dancing Bees
Gucci's G-Timeless for 2021 comes in freshMoonphase and Tourbillon versions and our favourite, this Dancing Bees model cased in white gold and studded with diamonds. That said, it's the 22 jewelled bees using the dial as their own arena that steal the show, shimmering and moving and, well, usurping the time. A self-winding movement powers things.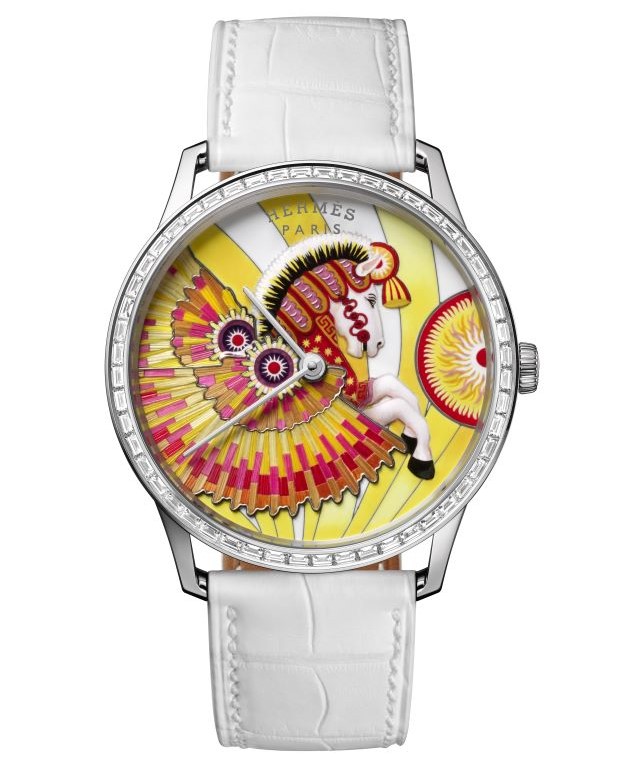 Horse power: Slim d'Hermès La Source de Pégase
Based on a silk scarf by French artist Pierre Marie, the dial depicts the mythological winged horse striking a rock with its hoof to create the Hippocrene spring on Mt Helicon. Those wings are straw marquetry, the dial champlevé enamel, with 52 baguette-cut diamonds ringing the white gold case. The movement is self-winding, and just 12 of these are on offer.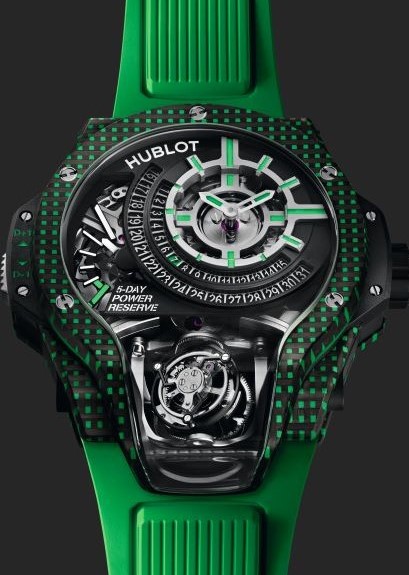 Look at me: HublotMP-09 Tourbillon Bi-Axis
"Sporty, stealthy or flashy, …but not for everybody" is how Hublot describe this edgy design, and who could disagree? It comes in a choice of green, yellow, blue, and red solution-dyed 3D carbon cases, with matching straps, hands and hour markers. The movement is a bi-axial tourbillon job that rotates every minute on the first axis and every 30 seconds on the second. Yep, all action.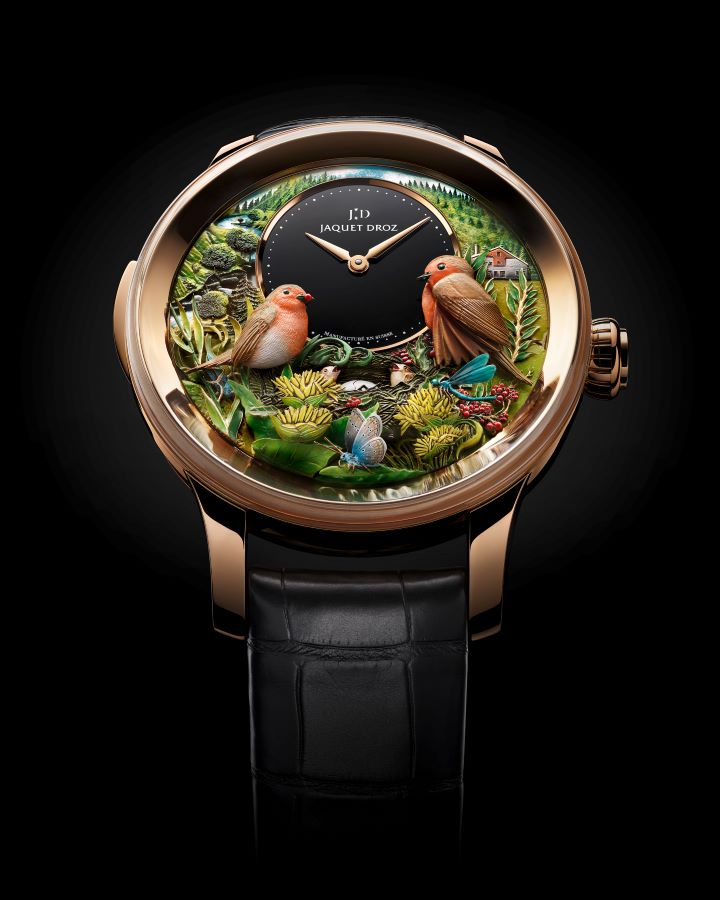 Animated dial: Jaquet Droz Bird Repeater 300thAnniversary Edition
It's not just the hands that move here, but the lush scene on the dial announcing the arrival of summer. Birds flutter and sing, eggs hatch, a river – engraved and painted by hand – flows. Framed by a 47mm red gold case, it's all driven by clever and complex cog work, making it a mechanical masterwork all round.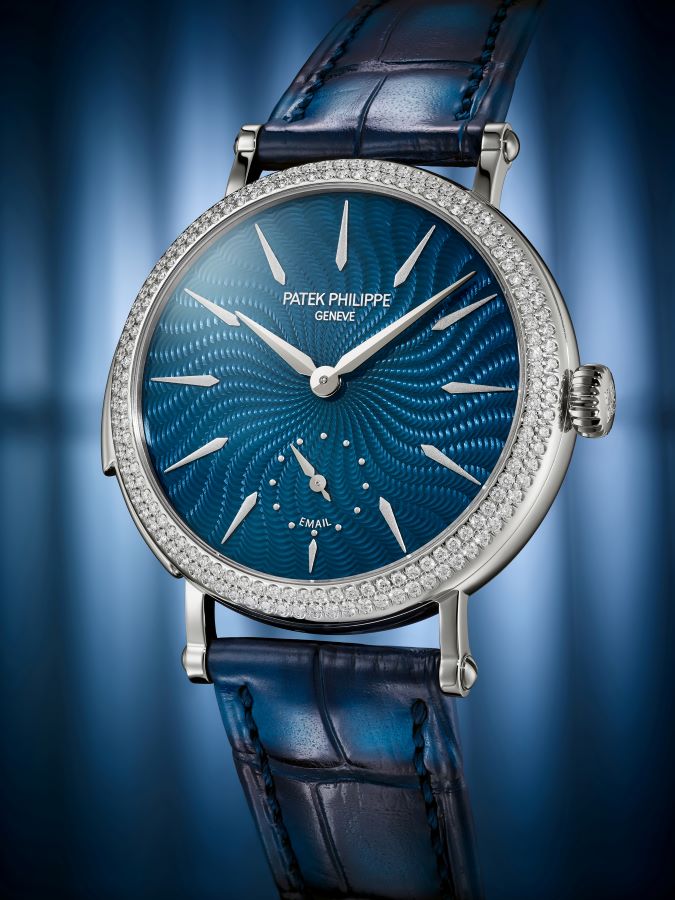 On song: Patek Philippe 7040/250G-001
The dial of this Patek is hand-guillochéd gold, its swirling pattern coated with transparent blue enamel, while the bezel gets a double row of 168 Top Wesselton Pure diamonds (~0.78 ct) set using a "Flamme" technique. Inside, an impressive self-winding movement with two gongs chimes the time on demand.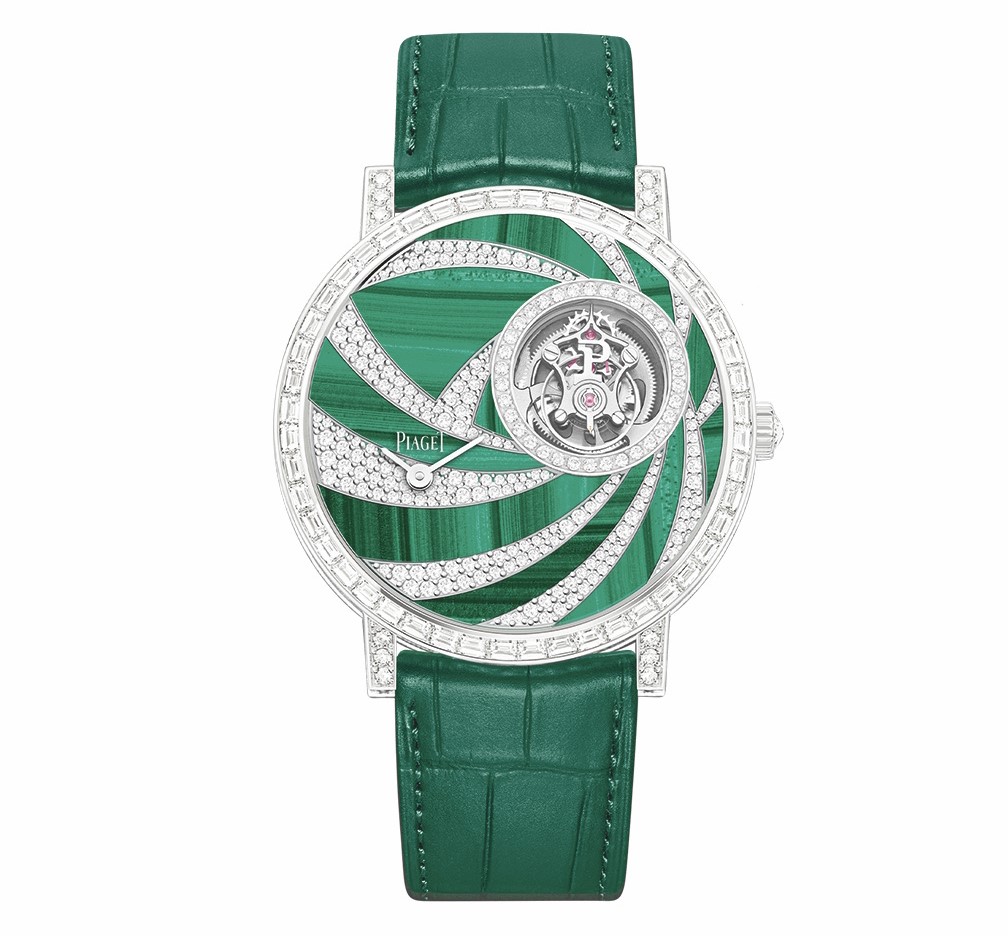 Green machine: Piaget Dancing Aurora
This six-figure beauty boasts both colour and movement, with diamonds "set as if undulating and blowing in the wind" (according to the company) swirling and rippling across a malachite marquetry face, each slice barely a millimetre thick, while an ultra-thin calibre with a tourbillon movement and carriage powers things. Just eight will be made, with no two alike.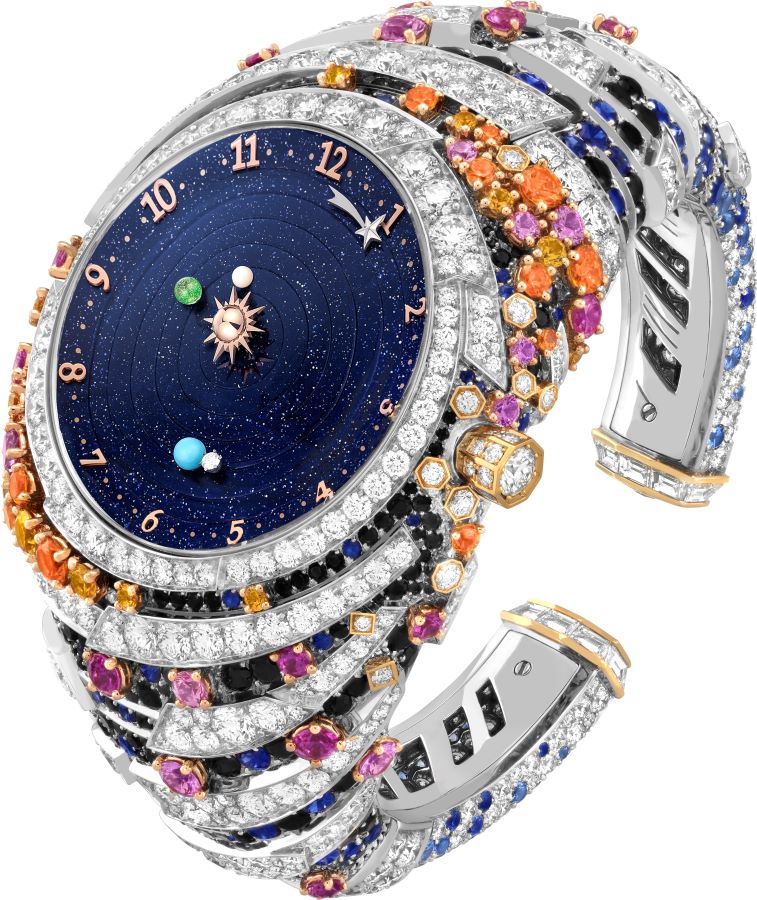 Out of this world: Van Cleef & Arpels Planétarium High Jewellery Watch
This technical masterpiece presents the sun and Mercury, Venus and the Earth, around which the moon rotates on a daily basis in real time. The sun is gold, the Earth turquoise, Venus green enamel, Mercury pink mother-of-pearl and the moon a diamond. A shooting star indicates the time, with sapphires, spessartine garnets, black spinels and aventurine adding to the other-worldly spectacle.
Follow Bani @baniwatch