It is never too late to get on the property ladder. Now is also a good time to get on the property investment ladder. But where to start?
Buying an existing home often involves ongoing renovation and maintenance, and there isn't a guide on what to do when things go wrong.
Investing in new property built by an established brand can turn the property investment minefield into a streamlined and stress-free process for new and existing investors.
Universal Homes has over sixty years of proven building solutions, and with community developments in the Auckland region, investors would be wise to include them in their investment rental property plans.
So, what factors do you need to consider when selecting the ideal investment property?
Buy new
With changes to interest deductibility announced in September 2021, buying new build homes is a great option for property investors, as the limits on tax deduction on interest occurred on rentals does not apply to new builds within a twenty-year period.
"We want to curb investors' appetite for existing residential properties but also want to stimulate investment in new housing. That's why we're also proposing an exemption for property development and for new builds, allowing interest deductions in full," says Revenue and Associate Finance Minister David Parker.
Buying new also gives piece of mind to investors and their tenants, who know the property will be in immaculate condition built to the highest specifications.
Since the changes to tax laws on interest deductibility have changed, Universal Homes have seen a surge interest from prospective buyers. "Absolutely we have seen an increase in investors wanting to buy our property," says Sales Consultant at Universal Homes West Hills, Shelley Clark.
"We're seeing all types of buyers, from first home, upsizing and investors. Investors can have several rental homes, or they can be first time investors too."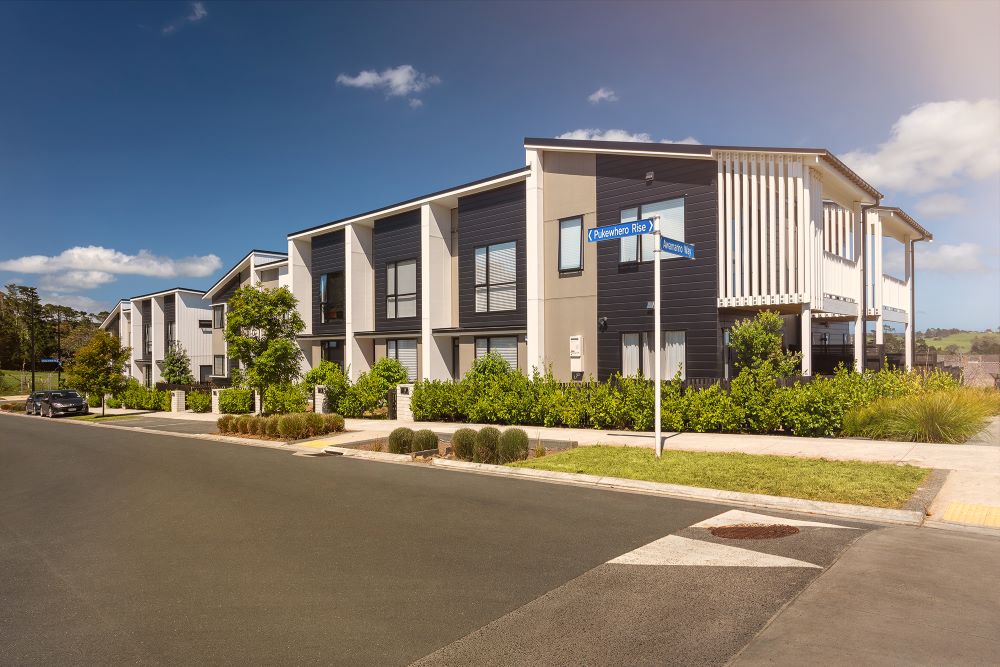 Buy and hold
Many New Zealand homeowners base their property investments on the 'buy and hold' model, purchasing the most high-quality home their money can buy them, and sitting on it for a considerable period while the value increases steadily over time.
While investing in property in New Zealand will likely see a steady increase in return over a long period, future sales are not always guaranteed to have as high returns as we have seen recently.
Property investment needs to be strategic to attract secure tenants looking for the right locations near schools, shops, and recreational areas. Buying quality homes with tenants' needs in mind will improve the likelihood that the tenant occupies the property for the long term.
Universal Homes create their new communities in precisely those areas, so the proposition is advantageous for investors who can simply buy off the plans, move their tenants in, then sit back and enjoy the income the property provides.
The homes are in places where people really want to live; close to services, transport options and amenities, and with a safe, neighbourly environment.
Buy quality
Universal Homes dwellings meet healthy homes standards, with extensive insulation, ventilation, draught stopping and environmentally friendly heating and cooling systems. They also come with a Master Build Guarantee.
"Universal Homes meet all the required standards for investors, so they just have to install the window furnishings and they are ready to rent out," says Clark.
Thoughtful design constructed with quality materials and fixtures, plus great street appeal, are important factors to consider for eventual resale, even if investors aren't planning to resell in the near future. Universal Homes' commitment to solid good looks and stand-out street presence are essential ingredients to their developments and designs.
Buy with ease
Universal Homes sales consultants provide well-researched tips and general insights into property investment, as well as guiding landlords through relevant opportunities that come with developments in various locations.
New and small investors will be assisted with information relating to the cost of an investment property, the deposit required and the factors in ascertaining affordability, and give general guidance on getting the right financial advice.
Clark says Universal Homes are seeing "more first-time investors looking for property" in the market, so their post-purchase support helps ease the investing process for newbies, ensuring the process is efficient from the start to well after build completion.
By providing the components required to secure long term tenants in a reliable investment that grows in value over time, Universal Homes offer attractive real estate investments for new and small property investors.
Find out more about Universal Homes here.
Universal Homes are not registered financial advisers and will not provide full financial advice on investing in property. Universal Homes will help you work out what options might suit you and they always recommend you talk to a financial advisor or accountant.

Universal Homes
have been helping Kiwis into their dream homes in carefully selected up-and-coming locations for over three generations. Universal Homes doesn't only build homes, it creates communities with heart in places Kiwis really want to live.