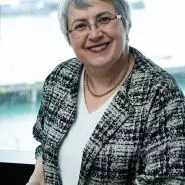 April Mackenzie
Chief executive
Appointed December 2019.
Previously a board member for with the International Valuation Standards Council and briefly acting interim chief executive.
Head of governance and public policy for Grant Thornton International.
Has served with many international bodies, and with the NZ Institute of Chartered Accountants, Touche Ross & Co (UK and NZ), the NZ Securities Commission, and the NZ Audit Office. A fellow of Chartered Accountants Australia and NZ and holds a MCom (Hons) from Auckland University.
Career
External Reporting Board / Te Kāwai Ārahi Pūrongo Mōwaho
Chief Executive Officer
Dec 2019 - Present
Connected Stories
Discover the public sector and its key players
Discover the investigation
Made with support from