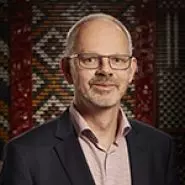 Bryan Chapple
Deputy secretary, macroeconomics and growth
Appointed 2017.
Previously with MBIE as head of the office of the chief executive, and general manager strategic policy.
Previous roles were in policy and economic functions at the Ministry of Economic Development, the De Nederlandsche Bank (Netherlands Central Bank) and the Reserve Bank of NZ.
Holds a BCA (Hons) in economics from Victoria University and a BBS from Massey University.
Career
De Nederlandsche Bank
Senior Policy Analyst
Jan 1999 - Dec 2006
Ministry of Economic Development
Manager, Investment Law
Apr 2006 - Nov 2012
Ministry of Business, Innovation and Employment / Hīkina Whakatutuki
Head of the Office of the Chief Executive, General Manager, Strategic Policy
Dec 2012 - Feb 2017
The Treasury / Te Tai Ōhanga
Deputy Secretary, Macroeconomics and Growth
Feb 2017 - Present
Connected Stories
Discover the public sector and its key players
Discover the investigation
Made with support from