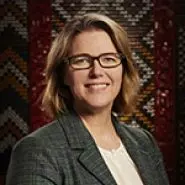 Caralee McLiesh
Chief executive and secretary to the Treasury
Appointed September 2019.
Previously managing director at Technical and Further Education, New South Wales, Australia.
Led transformation of TAFE NSW to a more modern, competitive and sustainable organisation.
From 2008-2018, held several deputy secretary roles at the NSW Treasury.
Led the development of state budgets, and as deputy secretary for the fiscal and economic group advised the Treasurer.
Earlier worked at the World Bank in Washington DC, the International Red Cross and the Boston Consulting Group.
Career
International Federation of Red Cross and Red Crescent Societies
Development Delegate
Jan 1997 - Dec 2000
World Bank
Program Manager
Jan 2000 - Dec 2007
NSW Treasury
Deputy Secretary
Jan 2008 - Dec 2018
TAFE NSW
Managing Director
Jan 2018 - Dec 2019
The Treasury / Te Tai Ōhanga
Secretary and Chief Executive
Jan 2019 - Present
Discover the public sector and its key players
Discover the investigation
Made with support from