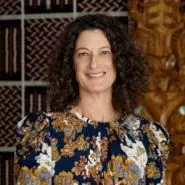 Deborah Geels
Deputy secretary, multilateral and legal affairs
Appointed to current role in January 2020.
Career diplomat who joined MFAT in 1986.
Previously roles included head of the North Asia Division, permanent representative to the UN in Vienna, director of the consular division, three years in Beijing, and co-ordinator of the inter-agency China strategy.
Was deputy director of the North Asia division from 2002-2004, served at the NZ permanent mission to the UN in Geneva, the ILO and WHO, and Vanuatu in 1993-95.
Graduate in economics and political science from Canterbury University.
Career
NZ Embassy Beijing
Deputy Head of Mission
Jan 2006 - Dec 2008
Ministry of Foreign Affairs and Trade / Manatū Aorere
Director Consular Division
Feb 2009 - Sep 2012
New Zealand Embassy Vienna
Ambassador
Feb 2013 - Dec 2017
Ministry of Foreign Affairs and Trade / Manatū Aorere
Deputy Secretary Multilateral and Legal, Division Manager North Asia
Jun 2017 - Present
Discover the public sector and its key players
Discover the investigation
Made with support from