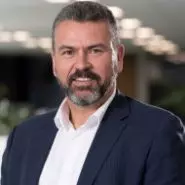 Ed Overy
Chief information officer
Appointed November 2018.
Has more than 20 years' experience in information technology leadership roles.
Previously chief information officer at KiwiRail, where he led transformation of the state-owned enterprise's IT function.
Earlier, he led Air NZ's Japan-based sales, marketing and commercial teams and was a marine engineering officer in the Royal NZ Navy.
Holds a Bachelor of Engineering (Hons) from the University of Auckland.
Career
Clear Communications
Project Manager
Jan 1998 - Dec 1999
Birkenhead Primary School
Board Member
Sep 2006 - Sep 2009
Air New Zealand
General Manager Japan / Korea, General Manager Group IT Production
Jun 2007 - Sep 2013
KiwiRail
Chief Information Officer
Sep 2013 - Present
Airways
Chief Information Officer
Jan 2019 - Present
Discover the public sector and its key players
Discover the investigation
Made with support from