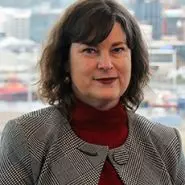 Jacinda Funnell
Deputy chief executive, people and capability
Managed the review of the Customs and Excise Act up to consideration of the Customs and Excise Bill by the Foreign Affairs, Defence and Trade select committee.
Has over 20 years' experience in the public sector largely in policy roles, including at the Ministries of Defence and Transport.
Worked as a private secretary to the Minister of Defence and in the Australian Department of Defence on secondment, and has represented NZ at international defence and transport forums.
Discover the public sector and its key players
Discover the investigation
Made with support from