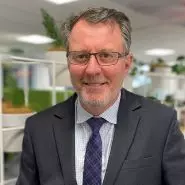 Jason Wilson
Deputy director general, Te Uru Rākau (NZ Forest Service)
Appointed early 2020 as director of sector investment at Te Uru Rākau/NZ Forest Service.
Led strengthening of forestry and wood processing supply chain, and worked on the Forestry and Wood Products Industry Transformation Plan.
Sold prefabricated timber solutions to builders in the 1990s, then held senior leadership roles with wood product manufacturers and distributors.
More than 25 years' experience in the forestry and wood processing sector in Australia and NZ.
Career
Carter Holt Harvey
Strategic Development Manager, National Sales Manager - Building Supplies
Oct 2003 - Jul 2011
Samling Group of Companies
General Manager - Australian Wood Panels
Jul 2012 - Dec 2013
Brickworks Building Products
General Manager (Auswest Timbers)
Dec 2013 - Aug 2018
Timberlink Australia I New Zealand
Chief Operations Officer
Aug 2018 - Nov 2019
Ministry for Primary Industries / Manatū Ahu Matua
Deputy Director General (Te Uru Rakau - New Zealand Forest Service), Director - Sector Investment (Te Uru Rakau)
Mar 2020 - Present
Connected Stories
Discover the public sector and its key players
Discover the investigation
Made with support from