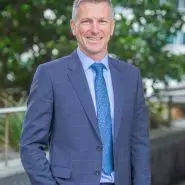 Jeremy Lightfoot
Chief executive officer
Appointed February 2020
Helped develop a five-year strategy to eliminate over-representation of Māori in the criminal justice system.
Joined Corrections in 2010, serving as deputy CE, general manager of finance, technology and commercial, and national commissioner.
Public private partnership director of the Wiri Prison.
Extensive public sector, commercial and contract management experience in NZ and the UK, with a strong focus on PPPs and public finance initiatives.
Career
Parkwood Consultancy Services
Managing Director
Aug 2003 - Jun 2011
Department of Corrections / Ara Poutama Aotearoa
National Commissioner, General Manager Finance, Technology and Commercial
Sep 2012 - May 2017
Customs Service / Te Mana Arai o Aotearoa
Deputy Comptroller
May 2017 - Jul 2017
Department of Corrections / Ara Poutama Aotearoa
Chief Executive Officer, Deputy Chief Executive Officer
Jul 2017 - Present
Discover the public sector and its key players
Discover the investigation
Made with support from