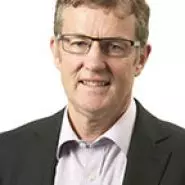 John Clarke
General manager, grid development
Re-appointed in 2020.
Previously general manager operations from 2014 and had previously been general manager grid development 2008-2014.
Earlier spent 10 years in senior roles in Transpower's system operator division.
Earlier career in the NZ electricity sector included roles in distribution and electrical engineering consulting.
Holds a BE in Electrical Engineering.
Career
Otago Central Electric Power Board / Central Electric Ltd
Energy Trading Manager
Jan 1992 - Dec 1994
DesignPower
Engineering Group Manager – Electrical, Regional Manager
Jan 1994 - Dec 1998
Transpower
Grid Operating Services Manager
Jan 1998 - Dec 2003
Transpower
Investigations and Planning Manager; System Operations
Jan 2004 - Dec 2008
Transpower
GM Grid Development, GM Operations, GM Operations and Innovation, GM System Operations and Innovation, GM System Operations
Jun 2014 - Present
Discover the public sector and its key players
Discover the investigation
Made with support from