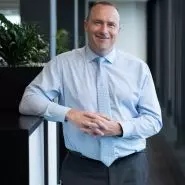 John Roche
Chief science advisor
Appointed June 2018.
Chairs the Science Governance Group and the independent Mycoplasma bovis Strategic Science Advisory Group.
A member of the Prime Minister's chief science adviser's forum and adjunct professor at University of Auckland's School of Biological Sciences.
Previously DairyNZ's principal scientist for animal science.
Has held science appointments in Ireland and Australia.
Holds an Honours degree in agricultural science, a Master's in farm systems and pasture management, and a PhD in animal nutrition.
Career
Down to Earth Advice
Managing Director
Nov 2007 - Present
DairyNZ
Principal Scientist, Animal Science
Nov 2007 - Jun 2018
Journal of Dairy Science
Senior Section Editor - Management and Economics
Jan 2013 - Jun 2018
Dairy Holdings
Associate Director
Dec 2016 - Jun 2018
Ministry for Primary Industries / Manatū Ahu Matua
Chief Science Adviser, Departmental Science Adviser
Jun 2018 - Present
Connected Stories
Discover the public sector and its key players
Discover the investigation
Made with support from