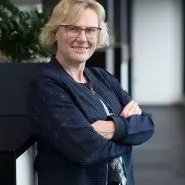 Julie Collins
Deputy director general, policy and trade
More than 30 years' experience in primary industries and resource-use policy in NZ and the UK.
Has held senior roles in climate change, the emissions trading scheme, forestry, biosecurity, animal welfare and food policy.
Recently led Te Uru Rākau, a new MPI branch, and has worked in food safety standards.
Previously worked at NZ Forest Service, the Ministry of Forestry and the Ministry of Agriculture and Forestry.
Spent 15 years working for the UK government on community forestry, common agriculture policy reform and rural development initiatives.
Career
Department for the Environment, Food and Rural Affairs
Head of the LEADER+ Team
Oct 2000 - Dec 2001
Forestry Commission, UK
Principal Advisor - Rural Development Programme
Feb 2002 - May 2005
Ministry of Agriculture and Forestry
Manager Climate Change
Aug 2006 - Dec 2011
Ministry for Primary Industries / Manatū Ahu Matua
Director, Director Systems and Change
Jul 2013 - Present
Ministry for Primary Industries / Manatū Ahu Matua
Director of Biosecurity and Animal Welfare Policy
Jul 2014 - Present
Discover the public sector and its key players
Discover the investigation
Made with support from