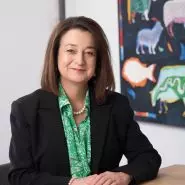 Karen Adair
Deputy director general, agriculture and investment services
Appointed July 1, 2019.
Seconded to MPI as deputy director-general sector partnerships and programmes in September 2018.
Previously deputy chief executive, policy and sector performance at the Ministry for Culture and Heritage.
Held senior roles in the Treasury, MPI and the former Ministry of Agriculture and Forestry.
Responsible for strategic oversight and delivery of programmes that include promoting innovation and sustainable economic growth, developing Māori agribusinesses, building resilient communities, and care for the health and wellbeing of animals.
Career
Ministry for Primary Industries / Manatū Ahu Matua
Director Food and Regulatory Policy
Jan 2013 - Jul 2016
Ministry for Culture and Heritage / Manatū Taonga
Deputy Chief Execcutive Policy and Sector Performance
Aug 2016 - Aug 2018
Ministry for Primary Industries / Manatū Ahu Matua
Deputy Director-General Agriculture and Investment Services, Deputy Director-General Sector Programmes and Partnerships
Aug 2018 - Present
Discover the public sector and its key players
Discover the investigation
Made with support from