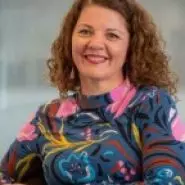 Kellie Houlton
General manager, people and capability
Appointed 2020.
Leads drive to develop and support expert workforce.
Previously head of organisational development at ACC, and before that manager of people and capability delivery at the NZ Transport Agency.
Has private sector experience at BNZ and ANZ.
Holds a BA with Honours in industrial and organisational psychology from Victoria University.
Career
BNZ
Talent and Succession Consultant, HR Consultant
Oct 2002 - Jun 2006
ANZ
Manager, Business Solutions and Change, Acting Manager, HR Consulting
Nov 2010 - Mar 2014
New Zealand Transport Agency / Waka Kotahi
Manager, People and Capability Delivery
Mar 2014 - Apr 2016
Accident Compensation Corporation / Te Kaporeihana Āwhina Hunga Whara
Head of Organisational Development, Head of Organisational Design and Development
Apr 2016 - Sep 2020
Environmental Protection Authority / Te Mana Rauhī
General Manager, People and Capabilty
Sep 2020 - Present
Discover the public sector and its key players
Discover the investigation
Made with support from