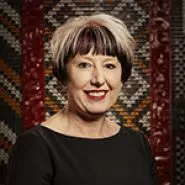 Lisa Barrett
Deputy secretary, chief operating officer
Appointed April 2020.
Previously deputy chief executive policy and overseas investment at LINZ.
Other senior public service leadership roles include at MBIE, the Ministry of Economic Development and the Ministry of Transport.
Background in regulatory and non-regulatory policy.
Led implementation of changes to the Overseas Investment Act and the structural design of the service delivery for MBIE when it formed in 2012.
Discover the public sector and its key players
Discover the investigation
Made with support from