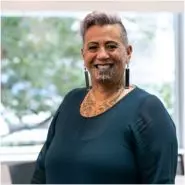 Lynda Pura-Watson
Deputy chief executive, Te Tāhū Whare (evaluation and review Māori)
Leads Te Uepū ā-Motu (the national Māori review team), Te Pou Mataaho (a specialist kaupapa Māori research unit) and Te Pou Tūārongo (Māori methodology and professional practice).
Twenty years' experience with Māori-medium education leaders and their communities.
Has helped develop evaluation, methodologies and indicators embodying kaupapa Māori, and supporting the revitalisation of te reo Māori me ngā tikanga Māori.
Extensive background in education as an English-medium teacher and leader, and review officer for schools and communities in both English medium and Māori medium.
Discover the public sector and its key players
Discover the investigation
Made with support from