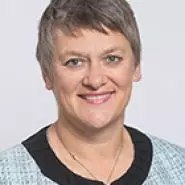 Maria Robertson
Deputy chief executive, service delivery and operations
Appointed February 2013.
Leads a team of 900 staff in the passports, citizenship, births, deaths and marriages, community operations, charities and igovt areas.
Previously deputy chief executive organisational development and strategy.
Earlier general manager at Advanced Dynamics NZ and manager performance improvement woodproducts at Carter Holt Harvey.
Has held senior roles in Telecom, Comalco and Rio Tinto.
Career
Telecom
Corporate Positioning Manager
Jan 2001 - Dec 2003
Carter Holt Harvey
Manager Performance Improvement
Jan 2003 - Dec 2005
Advanced Dynamics
General Manager
Jan 2005 - Dec 2007
Department of Building and Housing
Deputy Chief Executive, Deputy Chief Executive - Organisation Development and Strategy
May 2007 - Nov 2012
Department of Internal Affairs / Te Tari Taiwhenua
Deputy Chief Executive Service Delivery and Operations
Feb 2013 - Present
Connected Stories
Discover the public sector and its key players
Discover the investigation
Made with support from