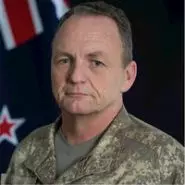 Mark Mortiboy
Warrant officer of the Defence Force
Appointed on 1 July 2018.
Previous roles include regimental sergeant major (2nd Logistic Battalion), command sergeant major, training and doctrine command NZ, and land command sergeant major at headquarters of Joint Forces NZ.
As warrant officer was company sergeant major, senior instructor and mobility advisor for the Army and NZDF headquarters.
Operational service in Sinai, East Timor and Afghanistan.
Awarded the NZ Distinguished Service Decoration in 2008.
Graduate of the NZ Command and Staff College joint warrant officer advanced course. Holds a Master of science from Portsmouth University (UK) and diplomas in adult education and business management.
Career
New Zealand Defence Force / Te Ope Kātua o Aotearoa
Command Sergeant Major, Training & Doctrine Command NZ, Regimental Sergeant Major 2nd Logistics Regiment
Jan 2010 - Sep 2012
New Zealand Defence Force / Te Ope Kātua o Aotearoa
Land Command Sergeant Major
Sep 2012 - Feb 2014
New Zealand Defence Force / Te Ope Kātua o Aotearoa
Warrant Officer of the NZ Defence Force, Sergeant Major of the Army (NZ)
Feb 2014 - Present
New Zealand Defence Force / Te Ope Kātua o Aotearoa
Warrant Officer
Apr 2017 - Present
Connected Stories
Discover the public sector and its key players
Discover the investigation
Made with support from