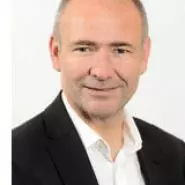 Paul Stocks
Deputy chief executive, labour, science and enterprise
Works with people, businesses, regions, and the science, innovation and education systems.
Previously deputy director general responsible for policy, and deputy director general strategy and performance at the Ministry for
Primary Industries.
Held a number of management roles at the Treasury, with responsibilities including education, market interventions and tax policy.
Has worked at the Ministry of Health, and the NZ Planning Council.
Career
The Treasury / Te Tai Ōhanga
Manager / analyst / senior analyst
Aug 1993 - Aug 2004
MAF
director , biosecurity strategy
Aug 2004 - Aug 2006
Ministry of Agriculture and Forestry
Deputy Director General
Aug 2006 - Apr 2012
Ministry for Primary Industries / Manatū Ahu Matua
Deputy Director General, Policy
Apr 2012 - Nov 2012
Ministry of Business, Innovation and Employment / Hīkina Whakatutuki
Deputy Chief Executive - Labour, Science and Enterprise
Nov 2012 - Present
Discover the public sector and its key players
Discover the investigation
Made with support from