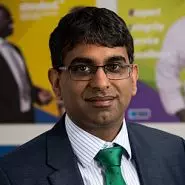 Rajesh Chhana
Deputy secretary, policy
Appointed early 2015.
Previously director of national security policy at the Department of Prime Minister and Cabinet.
Held a variety of senior advisory and management roles in the public and private sectors, including at the ministry as general manager of crime prevention and criminal justice.
Had more than a decade's experience at the ministry from 1996 when he joined as a legal adviser.
Career
Chen Palmer
Senior Associate
Feb 2001 - Feb 2003
Victoria University of Wellington
Adjunct Lecturer
May 2004 - Dec 2004
Ministry of Justice / Tāhū o te Ture
General Manager, Crime Prevention and Criminal Justice, General Manager Higher Courts (Acting)
Mar 2012 - Aug 2012
Department of The Prime Minister and Cabinet / Te Tari o te Pirimia me te Komiti Matua
Associate Deputy Chief Executive and Director National Security Policy, Policy Project Manager and Policy Advisor - Legal
Oct 2012 - Feb 2015
Ministry of Justice / Tāhū o te Ture
Deputy Secretary Policy
Feb 2015 - Present
Connected Stories
Discover the public sector and its key players
Discover the investigation
Made with support from