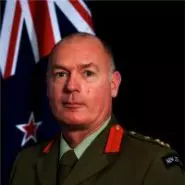 Rob Krushka
Chief Joint Defence Services
Appointed in November 2019.
Has served as commander logistics at Defence Logistics Command and as logistic commander land.
Served as commanding officer of 2nd Logistics Battalion and then chief of staff, 2nd Land Force Group. Served in Iraq as a UN military advisor, and on return to NZ became military secretary, Army General Staff.
Regimental appointments have included a tour in Antarctica as detachment commander and a deployment to East Timor as the 4th NZ Battalion Group's officer commanding combat services support company.
Served at headquarters of the joint operations command in Sydney. On return to NZ became assistant military secretary before a posting to headquarters of Joint Forces NZ.
Awarded an Australian Defence Force commendation for his work after the 2004 Boxing Day Tsunami.
In June 2006 appointed a Member of the New Zealand Order of Merit.
Graduate of the NZDF Command and Staff College (Dux) and the Dwight D. Eisenhower School for National Security and Resource Strategy (Distinguished Graduate). Holds post-graduate diploma in arts (Distinction), Master of business administration and a Master of science in national resource strategy (Distinguished Graduate).
Career
New Zealand Defence Force / Te Ope Kātua o Aotearoa
Chief Of Staff, 2nd Land Force Group, Commanding Officer, 2nd Logistics Battalion
Jan 2008 - Dec 2008
New Zealand Defence Force / Te Ope Kātua o Aotearoa
Military Secretary
Jan 2011 - Dec 2013
United Nations
Military Advisor
Jan 2011 - Present
New Zealand Defence Force / Te Ope Kātua o Aotearoa
Logistics Commander (Land)
Jan 2014 - Dec 2017
New Zealand Defence Force / Te Ope Kātua o Aotearoa
Chief Joint Defence Services, Commander Defence Logistics
Mar 2017 - Present
Discover the public sector and its key players
Discover the investigation
Made with support from