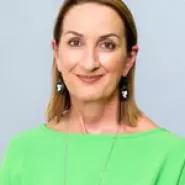 Robyn Shearer
Deputy director general, DHB performance and support
CEO for Te Pou o te Whakaaro nui for the past 10 years.
Took Te Pou to international recognition as an evidence-based workforce centre for mental health, addiction and disability.
Has created strong sector partnerships for service improvement.
Former nurse and has worked in front-line mental health services and leadership roles in district health boards.
Has worked in the Health Research Council and Ministry of Health in workforce development, policy and leading the mental health group.
Career
Ministry of Health / Manatū Hauora
Acting Group Manager, Mental Health, Workforce Manager, Mental Health
Jan 2004 - Dec 2008
IIMHL
Member
Jan 2006 - Present
Wise Group
Chief Executive, Te Pou
Jan 2008 - Dec 2019
Te Pou
Chief Executive, Te Pou
Jul 2008 - Dec 2019
Ministry of Health / Manatū Hauora
Deputy Chief Executive Officer - Sector Support & Infrastructure, Acting Deputy Director General - District Health Board Performance & Infrastruture, Deputy Director General, Mental Health & Addiction
Jan 2019 - Present
Discover the public sector and its key players
Discover the investigation
Made with support from