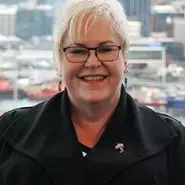 Sharon May
Deputy chief executive, finance, technology and infrastructure
Joined Customs in November, 2019 as group manager of finance, strategy and performance.
Responsible for corporate services, finance, information systems, and the enterprise management portfolio office.
Was director of corporate planning and reporting for Inland revenue, responsible for Inland Revenue's enterprise portfolio management office.
More than 20 years' experience in public sector financial management.
Is one of the leads for the Treasury's financial development programme, which seeks to increase strategic financial capabilities across NZ government agencies.
Career
Inland Revenue / Te Tari Taake
Director Corporate Planning & Reporting
Jul 2007 - Present
Discover the public sector and its key players
Discover the investigation
Made with support from