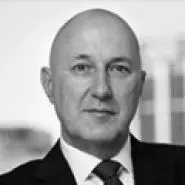 Stephen Gilmore
Chief investment officer
Appointed 2019.
Previously chief investment strategist at the Future Fund, Australia's sovereign wealth fund.
Earlier held senior strategy roles in London and Hong Kong with AIG Financial Products and Morgan Stanley.
Also worked with the IMF in Washington, the Reserve Bank of NZ in Wellington, and Chase Manhattan in London.
A past member of the Australian Foreign Exchange Committee and the Institute for International Finance Market Monitoring Group.
Career
International Monetary Fund
Resident Representative, Economist
Mar 1992 - Feb 1998
Morgan Stanley
Executive Director, Executive Director
Feb 1998 - Jun 2004
Banque AIG, AIG Financial Products
Strategist
Jul 2004 - Feb 2009
Future Fund
Chief Investment Strategist
Aug 2009 - Apr 2018
Guardians of New Zealand Superannuation
Chief Investment Officer
Feb 2019 - Present
Connected Stories
Discover the public sector and its key players
Discover the investigation
Made with support from