One of the unusual side-effects of the financial crisis caused by the covid-19 pandemic has been the explosion in online investment trading.
Newcomer platforms such as Sharesies report their user numbers have doubled. In particular, younger people - brought up in the digital age - have been trying their luck in equity market waters now that their savings accounts are delivering negative returns after inflation.
Internationally, some trading platforms have grabbed customers with website interfaces that are more akin to casino games and sports betting than investment.
The impact in the United States has been large and at times irrational. One such platform, Robinhood has more than 13 million users, with its customer base heavily skewed to under 30 year-olds.
At times, the flow of money has been wise enough, at other times disconnected from reality. For instance, some US traders have bet heavily on bankrupt companies despite the near certainty their shares will be wiped out as the companies are wound up.
It is the nature of markets that such investments may yet pay off. However, the smart money is betting against them.
Time for young and old 'grown-ups'
Despite the extreme gambling behaviour of some would-be investors, there are plenty of rational people looking to take greater control of their investments using online systems.
For them, CMC Markets stands out as one of the longest-established online investment platforms.
Chris Smith, general manager of CMC Markets NZ, says his firm's customer base has grown more than 30 percent this year, with more than 4,000 New Zealanders now trading through it.
Globally, the company saw a significant boost in revenue in the past year, driven by elevated volatility due to the pandemic and the US election.
While conventional wisdom says that low interest rates have driven people to look for new places to chase returns, Smith said that is only part of the story. He suggests 2020 has created a newfound appreciation for trading platforms' capacity to expose investors to opportunities created by market volatility.
"Interest rates being low certainly has some impact on investor behaviour, but market volatility is really what drives interest in the markets," Smith said.
One of the side effects of the pandemic has been extreme volatility. This has been terrifying for many, but it is the reason for the spike in interest in 'Contracts for Difference' where traders thrive – or fail – on sudden changes. This is because CFDs allow trading on markets that are heading down as well as up.
What is a CFD?
CFD or contract for difference trading may sound intimidating. The concept however is relatively simple. CFD trading allows an investor to speculate on the rise or fall of prices of almost anything imaginable on global financial markets - such as shares, indices, commodities, currencies, and treasuries.
The CMC platform allows access to these investment derivatives and much more.
If you think something is going up in price, you can go 'long' by purchasing with the intention to sell at a higher price in the future and realise a profit.
For instance, if you go long on 1,000 shares of ABC stock at $1, it will cost you $1,000. If the price rises to $1.20, you will receive $1,200, and take a $200 profit, minus commissions.
This may sound like simple share trading for capital gain, and it is. However, you are not actually purchasing the shares - just a contract for them and the change in price. Hence the term 'contract for difference'. Under a CFD you do not actually own the share, just a contract for them.
The long and short of it
This is where the CMC market platform gets interesting. Since you are not trading in actual shares and only contracts, you can enter into the world of "going short".
Going short means selling assets before buying them in the belief the price will go down.
For instance, if you go short on 1,000 shares of ABC stock at $1, you get $1,000 in credit for your contract. But at some point, you have to buy them back.
If you are right and the shares go down in price to 80c, you will pay $800 for the 1000 shares and make a profit of $200, minus commissions. If you get it wrong and the shares increase to $1.20 you lose $200 plus commission.
There are numerous permutations on this, including trading on units within a range of shares, treasuries, currency pairs, commodities, and stock indices.
When you trade CFDs, you're speculating on the rising or falling price of an asset without actually owning it. That makes the initial outlay for trading lower cost than if you were buying the assets themselves.
CFDs can trade on margins, so they require less capital investment than buying the shares or other assets at their full cost.
'Trading on margin' means CFDs can be "leveraged". This means you only need to deposit a percentage of the full value of the trade in order to have a position. This is 'trading on margin' and can magnify returns, and losses.
Buying shares in a big company is more expensive than trading in that company using CFDs. So, if you believe a particular asset is poised to rise but don't have the capital to buy traditional shares, you could use leveraged CFDs to speculate on its movements.
Trading on margin is not for the faint-hearted or those who can't risk losses.
If the price moves against you, it is possible to lose more than the money stumped up for the margin, as losses will be based on the full value of the position. Conversely, more money can also be made if the price moves in your favour.
This is not a place to invest money that you cannot afford to lose.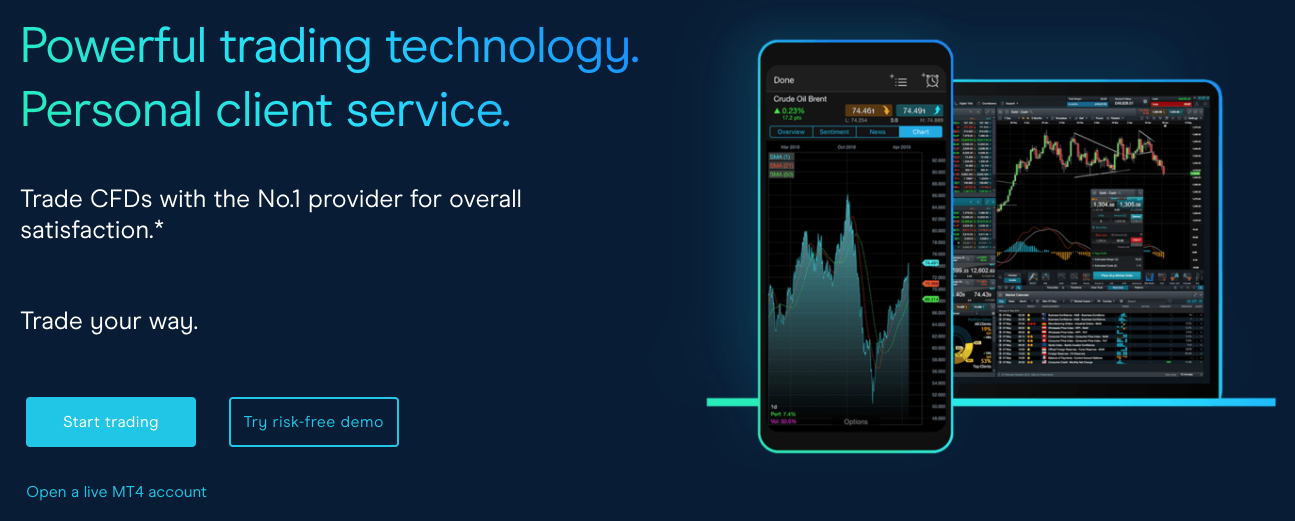 Making sense of the noise
One of the benefits of the CMC platform is a wealth of information to make informed investments instead of betting on hunches.
CMC has advanced charting with a wealth of indicators/overlays, chart types, and drawing tools, as well as customisable watchlists.
Reuters News feeds live headlines and articles across all asset types straight into the platform. This is backed up by extensive research and analysis from in-house analysts and third parties.
It is also possible to connect with other CMC Markets clients through the platform and share potential trade set-ups, analysis, and market commentary.
CMC also offers telephone support, online chat access to live brokers and chat service.
The investment platform doesn't assume clients have expertise and doesn't treat those with a lack of experience as idiots.
There is an abundance of educational material ranging from FAQs through to video guides. A large part of this is dedicated to making the most of what can be an overwhelming abundance of features on offer.
CMC has both CFDs and spread betting, across several different asset classes. These include foreign exchange, commodities, indices, individual shares, government bond listings, and cryptocurrency. In all, clients can trade up to 10,000 instruments.
Another bonus for the cautious who want to 'try before they buy' is to run a demo 'dummy' account to practice trading without real money at stake.
As Warren Buffett says, 'Be fearful when other people are greedy, and greedy when other people are fearful.'
With derivative products you could lose more than your deposits. You do not own or have any interest in the underlying assets.
CMC Markets NZ Limited Company Registration Number 1705324 provides the financial products and/or services. It's important for you to consider the relevant Product Disclosure Statement ('PDS') and any other relevant CMC Markets Documents before you decide whether or not to acquire any of the financial products. The CMC Markets Financial Services Guide contains details of fees and charges. All of these documents are available at cmcmarkets.co.nz or you can call 0800 26 26 27.