The No.1 barrier to decarbonisation for New Zealand organisations is accurate measurement, says a comprehensive report that provides pathways for companies looking for ways to boost progress.
Microsoft's Accelerating the Journey to Net Zero report found Kiwi organisations have committed to addressing climate change, but fall short when it comes to implementing their strategies, often because they're unsure exactly how to measure where they sit now, and how to maintain an accurate picture of emissions as they go along.
Microsoft NZ National Technology Officer Russell Craig says: "If you can't measure it, you can't manage it".
Utilities company Watercare, charged with delivering a clean and sustainable water supply to 1.7 million Auckland residents, has ambitious decarbonisation targets.
Watercare Head of Sustainability Chris Thurston says: "We have massive commitments to reduce embodied carbon by 40% by 2024, with a multimillion-dollar programme of work under way to upgrade existing infrastructure and build new."
The exact scale of Watercare's carbon footprint is, however, hard to determine, hampering its ability to plan and release its strategies as fast as it would like.
Thurston acknowledges the added urgency to reduce emissions as Auckland's population continues to grow quickly. With that comes more demand for water and wastewater services.
Climate change is compounding the issue, with the recent drought driving up energy consumption 21% as more water needed to be pumped from the Waikato River to Auckland.
Watercare's calculation and reporting on its carbon footprint means taking into account complex variables, including the creation of biosolids following treatment of wastewater.
There are multiple calculation models and data sources from the Intergovernmental Panel on Climate Change (IPCC) and the Ministry for the Environment, as well as international standards or baselines that need to be localised to New Zealand (or Auckland) conditions.
Watercare is investing in technologies to support better, more accurate monitoring, and is already testing Microsoft's Cloud for Sustainability.
Thurston plans to set up a data lake, with all operational, embedded and end-of-life carbon recorded against all the company's assets, for easier reporting – and management.
The Accelerating the Journey report also recommended both collaboration and investment in research and development as especially crucial to turning carbon commitments into action, with large businesses able to create economies of scale on behalf of others.
Watercare's example shows what such strategies can achieve.
In partnership with Vector, Watercare has built New Zealand's first floating solar array at Rosedale wastewater treatment plant. It has also stepped up investment in its own R&D to advance technologies that could benefit the whole sector, such as launching a pilot of advanced wastewater treatment technologies like Membrane Aerated Biofilm Reactors (MABR).
In addition, it is trialling a new use for a byproduct of wastewater treatment called struvite, collecting it to be used as a fertiliser. This provides a potential avenue for reusing biosolids once its project to rehabilitate the quarry on Puketutu Island is complete in 2049, using waste from the Mangere Treatment Plant to create a regional park for Aucklanders to enjoy in the future.
Long term, more innovations like this will be needed to find another solution for the biosolids.
Watercare also aims to convert a significant amount of its fleet to biofuels or sustainable energies by 2027 to support its carbon targets assuming that the technology to do so will be available.
EV service trucks up to carrying the right loads are not currently available, though the company has already electrified its fleet of pool vehicles at head office.
To help address the limitations, Watercare has invested in a pilot on its Central Interceptor project starting in 2022, which will see three large heavy electric trucks carry excavated material from the site, offering a low carbon and less noisy solution through local neighbourhoods, while testing their capabilities.
Funding investments like these is always a challenge.
The Microsoft report found many businesses wanted new finance options to help fund decarbonisation strategies, with only 43 per cent of New Zealand organisations saying they had the financial resources needed to execute their carbon reduction policies.
Thurston agrees new finance models are needed to accelerate decarbonisation.
"We've been pleased to see more alternative financing models happening in New Zealand to fund additional renewable generation, such as solar.
"We're also looking at financial options to see whether there are any clever ways to deliver climate outcomes whilst also ensuring the price of water is kept as low as possible," he says.
"We believe water is a taonga, and one that everyone has a role in protecting."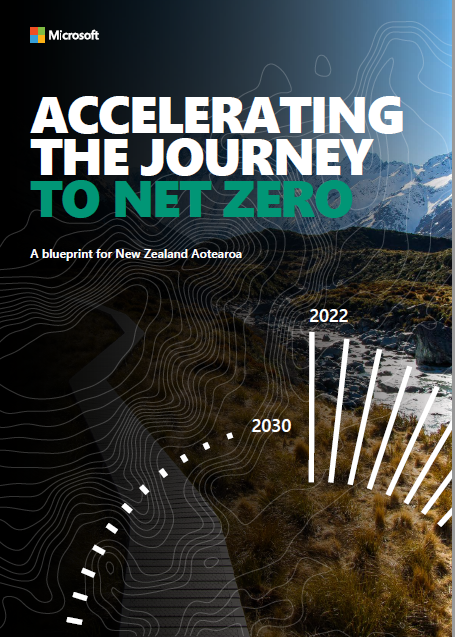 Download Microsoft's Accelerating the Journey to Net Zero report here.

Microsoft's mission is to empower every person and every organisation on the planet to achieve more.