How diesel can play a role in cutting emissions
Sponsored by Z Energy | Tue, 10 Mar 2020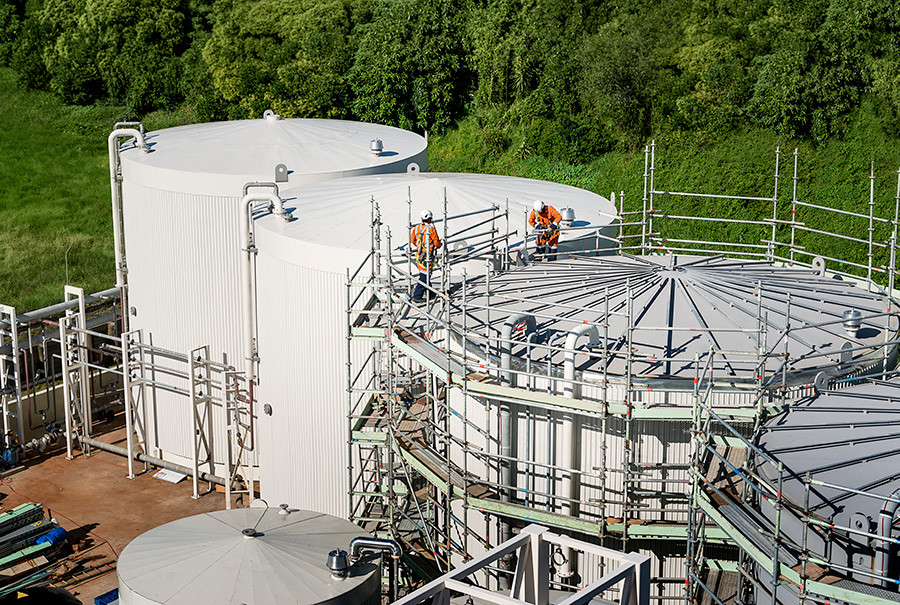 What will it take to bring low carbon transport solutions to market in New Zealand?
Z is New Zealand's largest fuel supplier, and, like other energy companies, it is highly alert to its place in the energy transition and its social license to operate.
The company has made a public commitment to reducing its carbon footprint and has successfully reduced its operational carbon emissions by 10 per cent since 2017. It voluntarily offsets the rest through permanent forests to the tune of about 1.5 million dollars per year.
But what about the products it sells, which facilitate around 9% of the country's total carbon emissions? They're a more difficult prospect.
One of the biggest moves Z has made to deliver an alternative to fossil fuels is its biodiesel production plant, Te Kora Hou (or 'the new fuel') commissioned at Wiri in Auckland 2014.
Why biodiesel?
Z decided to focus on domestic biodiesel production after carefully evaluating the availability of local sustainable feedstock, as well as considering the transport use cases that would be harder to electrify – heavy trucking being at the top of the list.
Producing biodiesel from inedible tallow (rendered animal fat) met Z's requirements of being locally available at scale, not competing with food production, and presenting an option that could meet the need of freight operators trying to immediately decarbonise. Biodiesel blends of 5% can be pumped straight into current vehicles at a production cost of around 8c per litre more than regular diesel – or about the cost of a cup of coffee for a full tank in an average diesel car.
Z isn't alone in believing that liquid fuels have an important place in greening the transport sector. Scion Research published a paper in 2018 that details explicitly the use cases for biofuels and the benefits that a biofuels industry could bring, stating that: "[D]ifficult to decarbonise transportation such as trucks, ships and aircraft will still require liquid fuels. The domestic low-carbon production of diesel, marine fuel and aviation fuel as biofuels will be in the interest of the New Zealand economy, environment and international relations as the best long-term strategy."
The paper also notes that biofuels have been deployed extensively in other parts the world, but that coordinated government and corporate leadership is critical to success.
Progress, with a price tag
So far, the government has been absent from the progress Z has made at Te Kora Hou. It remains the only commercial biodiesel plant in the world built without policy incentives, subsidies or government mandates. Z decided to forge ahead with the plant despite the pulling of the biofuels mandate under the previous government. Z GM Supply David Binnie says that it was the right thing to do.
"We're willing to admit that it has not been smooth sailing. We've hit technical difficulties and we've made errors. But we've always focused on the fact that we need to be a part of the change and that we need to deliver a quality product, safely."
On the last point, they have succeeded. Te Kora Hou now has the capability to safely produce over 7 million litres of high-quality biodiesel each year – the equivalent of about 13,000 tonnes of carbon reduction or 6,000 medium sized cars off the road (one litre of pure biodiesel (B100) has an emissions factor of 0.000125kg CO2e per unit, compared to mineral diesel at 2.69kg CO2e per unit).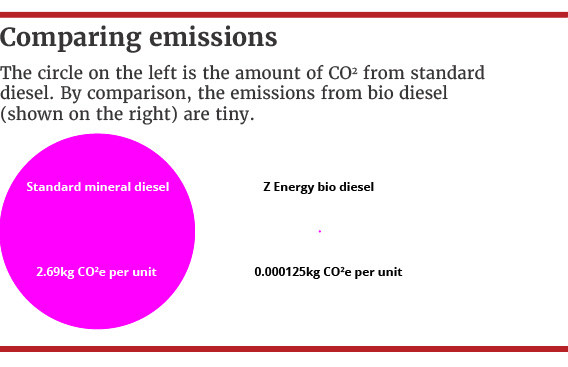 But success has come with a hefty price tag. So far, Z has spent over $35 million on the plant in annualised operating costs and capital investment. And it is yet to break even.
The paradox of profitability
This is largely down to the thing that has exercised the government and the public so often over the course of the past year – fuel prices. The situation is in many ways' indicative of the paradox that Z is dealing with as it tries to fulfil its commitment to climate change action while managing the perception that the industry is profiteering.
"One the one hand, we accept the fuel market study and we're moving forward on the government's requests. On the other hand, it is extremely difficult to convince customers to pay a small premium to cover the costs of production at Te Kora Hou. We've reinvested a lot of profit into the plant because it is important, but there comes a point where we simply have to make a return from our efforts. And in the absence of a clear policy direction on biofuels the economics have become increasingly difficult," says Binnie.
Difficult too is the fact that the price of the biodiesel feedstock, the meat industry by-product tallow, has increased by over 20 percent in the fourth quarter of 2019 alone, with no sign that it will abate. It may come as a surprise, but a substance that is essentially sheep and beef goop has seen global demand grow strongly.
"As demand for biofuels ramps up in foreign markets in response to climate change, biofuel producers who benefit from policy incentives have started bidding up the price for New Zealand tallow. Singapore's one example of this – they import our tallow, then they turn it into biodiesel and export it to subsidised markets in California and Europe to meet the requirements of California's Low Carbon Fuels Scheme and Europe's Renewable Energy Directive. All this means we're seriously disadvantaged when it comes to our own local product," Binnie says.
Incentives are key
Binnie believes there are two things that could help the company to take Te Kora Hou forward with certainty.
"Some real incentives for companies to reduce their carbon footprint would help us to put together a viable road map for the plant, as it would make the business case for plugging in biodiesel to the existing heavy vehicle fleet much more compelling. We also think a mechanism that 'evens up the playing field' when it comes to the price of tallow would create some certainty about our input costs."
"Ultimately, we believe that a home-grown biofuel using a local agricultural waste product that can be plugged in to current networks and vehicles immediately is a really good news story for New Zealand. We agree with the Government that climate change is a nuclear free moment and we're in action. But we can't keep putting money on the table without some policy clarity and we can't get away from the fact that countries that are successfully reducing their transport emissions have clear policy or mandates that incentivise the shift to low carbon," says Binnie.
The carbon abatement curve won't wait
Binnie notes that Z agrees with the Government that electric and hydrogen are exciting prospects for future fuels, and that they came out in support of the feebate scheme and Clean Car program. But they're concerned New Zealand will get left behind on the carbon abatement curve without some immediate action.
"The United Kingdom has just announced that they are mandating E10 fuel containing 10% ethanol as a new form of "cleaner" petrol aimed at cutting carbon dioxide emissions. The government there recognises that it's important that they take advantage of reduced carbon emissions today before electric or hydrogen scale. Z's biodiesel is a home-grown solution that would have the same immediate benefit."
Binnie's final message? "Let's not let perfect get in the way of good – the immediacy of the problem is too significant."