Sustainability has become a fundamental characteristic of a responsible business. It's no longer just about "doing the right thing for the environment", but now a much more holistic proposition where businesses have a real responsibility to embrace sustainable business practices - or risk being left behind.
There are many benefits in incorporating sustainability into your business. Beyond the obvious contribution to the environment, it can improve brand image, increase productivity, attract employees and investors and even inform a company's future outlook.
Executives and business leaders play a key role in addressing environmental and social issues. And while supporting sustainable developments across all facets of a business can be a significant undertaking, implementing sustainable practices into business events can be a great place to start.
The business case for sustainability
Events and meetings (both core activities of business) have strong social, economic and environmental impacts on the people they reach and the communities that surround them.
Employees and consumers want to be associated with brands or organisations that reflect their own values and having a responsible business approach is one way of achieving this.
According to the 2019 Deloitte Global Millennial Survey, today's core consumers (Millennials and Generation Zs) are increasingly demanding that businesses do their part to mitigate climate change and preserve the environment - and will switch brands or companies if its practices or values don't align with their own.
When an organisation's values are aligned to its employees, stakeholders and customers, it can improve business outcomes in the form of brand loyalty, increased employee retention and productivity.
What sustainability means in practice
Initiatives like reducing plastic waste or offsetting flight emissions are great places to start when it comes to adopting sustainable tourism, but there is so much more that businesses can be doing.
Sustainability, whether it's running an event or in business, needs to be from the ground up – from choosing ethical suppliers, locally-sourced food and beverage, to eco-friendly transport and a suitable venue.
Local event operators and businesses in Queenstown are leaders in the industry. There are many that comply with the highest form of sustainability practices and present unique offerings and initiatives only found in Queenstown.
For the last two years, New Zealand's original zipline company, Ziptrek Ecotours, has been Zero Carbon for Business certified. It purchases carbon credits to support the growth and protection of permanent indigenous forests in Aotearoa and the Pacific Islands and is also one of 21 companies globally to become a Future-Fit Pioneer - helping businesses improve their operations and systems, incorporating social and environmental performance.
Queenstown is also home to New Zealand's first Net Positive energy accommodation provider, Camp Glenorchy. Built from green design philosophies, it is the first eco-retreat, designed according to the Living Building challenge - the most rigorous green building certification recognised globally.
Meanwhile, Gibbston Valley, one of Queenstown's founding wineries, has established a garden to source some of its own produce for its restaurant. The majority of the remaining ingredients are also locally sourced and it has adopted organic farming practices for its wine.
These businesses clearly understand the value of preserving for our future and are chasing the rising trend towards sustainable business and tourism.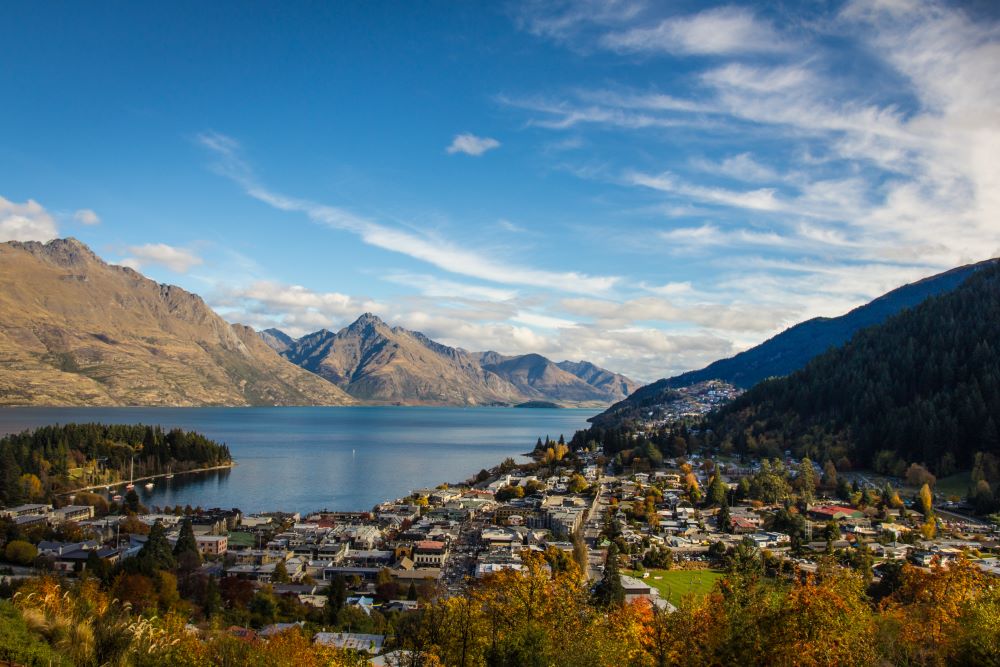 The holistic view
Sustainability is often used interchangeably with "environmental friendliness" and its impact on the environment, but it also incorporates economic and social influence.
Hosting an event can have a profound impact on people, and the social influence is often far-reaching. Events play a crucial role in fostering relationships (internally and externally within organisations) and in building communities, encouraging intellectual engagement, innovation and creative thinking.
From an economic perspective, events can drive business growth and brand loyalty, increase productivity and help create local employment, job stability and sustainable futures. Embracing sustainable events can also translate to cost savings, such as by using recycled displays, locally-sourced produce or energy efficient lighting.
How to give back while visiting
Destination Queenstown and Queenstown Convention Bureau has launched a corporate social responsibility programme, the Community Connection. The initiative is designed to connect business event planners and delegates with local charitable organisations, so that visitors can contribute to the region in a meaningful way during their visit or business event.
A number of local not-for-profit organisations and Trusts who already make substantial and long-lasting contributions to the local Queenstown community are involved in the programme. Many of these charitable entities are run by volunteers and funded by donations, so delegates and event attendees can make a positive contribution to the local community and beautiful environment while visiting Queenstown.
Sustainability and business go hand in hand and by embracing green, we can all build a more sustainable future together.
Get in touch with the Queenstown Convention Bureau today, to help plan your next business event itinerary.

Bring your next business event to Queenstown for remarkable experiences and exceptional hospitality. Distinctive venues with panoramic views, over 400 exciting activities to choose from, and sophisticated event experts, make Queenstown one of the world's top business event destinations.
Find out more.
This content is paid-for editorial provided to us by Destination Queenstown. We ensure it meets our required standards and our editors approve every piece before it is published.