What are employers looking for in today's dynamic, ever-changing world of business? A lot more than just a qualification. They want well-rounded graduates with work experience, practical and technical skills, communication and teamwork skills, personal integrity, emotional intelligence, flexibility, creativity and a good work ethic. And those are just the basics, before they even consider the candidate's expertise in a particular discipline.
Having canvassed the requirements and expectations of a wide range of employers, entrepreneurs and business professionals over the last two years, the University of Auckland Business School is ready to launch its redesigned undergraduate business programmes, the Bachelor of Commerce (BCom) and the Bachelor of Property (BProp).
Both degrees offer a common set of integrated core courses that every student will take in their first year. This 'core' aims to give students a holistic overview of the business world and how it really works. From day one, students work in cross-disciplinary teams, handle real world business challenges, and gain practical experience of different sectors and roles.
Every student will be introduced to the full range of business disciplines in their first year through a set of interdisciplinary courses – giving them the flexibility to explore different subjects, and to discover how disciplines such as innovation, operations, marketing and management intersect in real world business.
The programmes are designed to help students define their career goals and identify pathways to achieve them. Throughout their studies, students are encouraged to think about themselves (attitudes, values and aspirations), how to be a great employee (self and time management, organisational culture, team dynamics), how to be a successful manager (collaboration, managing others, project management), and how to be an inspiring leader (value creation, decision making, influencing others).
The new core also extends into the second and third years of the BCom. Year 2 offers the skills-focused Business Consulting course, where students have the opportunity to tackle some of the 'grand challenges' facing businesses today. What does the future of work look like? How do we transition into sustainable business practices? How do we integrate transformative business models in a complex digital world?
In their final year, students will engage in an innovative and challenging capstone project, that brings together all of the knowledge and skills developed throughout their programme and enables them to apply this through an industry project experience.
Through a flipped classroom model with interactive workshops, a mix of team and individual work, and blend of online and in-person learning, as well as a new learning hub (with a state-of-the-art finance trading room, makerspace and 5G Lab), these reshaped degree programmes offer a unique business study experience – the first of its kind in Australasia.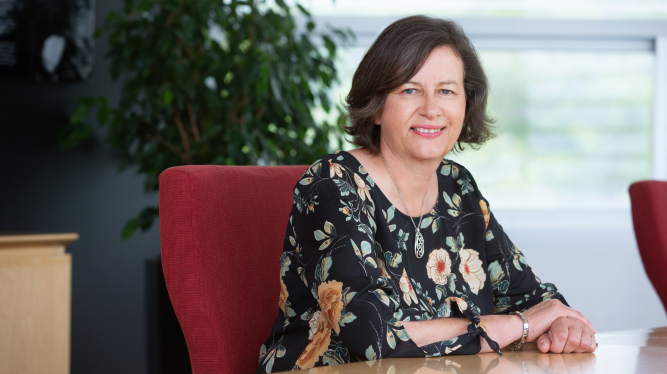 "The University of Auckland BCom draws on the expertise of the professors who lead our disciplines, drawing together cutting-edge content delivered in an innovative and interactive format. From day one students will experience what it is like to set up a business, taking it from start-up to SME to a global enterprise, or exploring what it's like to work in different roles across a range of sectors and organisations. As New Zealand's leading and most highly ranked Business School, we are excited to launch this programme which will bring the real world into the classroom for all of our students, equipping them with the skills and knowledge that will give University of Auckland Business School students the edge in the competitive future of work."
Professor Susan Watson, Dean of Business and Economics, University of Auckland Business School
The University of Auckland Business School works to shape the futures of people and organisations for the benefit of Aotearoa New Zealand and the world. With a comprehensive range of programmes that suit the career goals of a wide range of people from those starting out to build a career to those seeking to switch careers or accelerate their careers.
Explore your study options at the Business School.