Home ownership is further away from New Zealanders than ever, as average residential prices climb to a record 8.8 times the average household income.
That's up about half of an average annual income compared to the three months prior, data from property analytics firm CoreLogic shows.
Nationally, average household incomes are at $114,697, according to economics consultancy Infometrics. The average residential property value is a little above $1 million.
CoreLogic's value-to-income reading is well beyond the long-term ratio of 5.9 times, reflecting just how much property value growth has outstripped incomes, as well as the impact of higher mortgage rates.
The firm's chief property economist Kelvin Davidson said since the advent of covid in March 2020, NZ property values have increased by 38%, while household incomes have risen by less than 3%.
That's despite more homes being built throughout the country, with consents peaking at 48,522 last year and a quarter more houses in the planning stages than the prior year.
CoreLogic's housing affordability report notes that of the main centres, Tauranga is the least affordable, with a whopping value ratio of 11.9 times the average household earnings of $96,082. Auckland is at 10.1 times while Wellington is at 8.3 times.
This reflects the capital's higher average household income of $151,852, versus Auckland's $140,901.
Christchurch, at the equivalent of 6.9 years of household earnings, is at the low end of the scale but, like the other 12 urban areas, is still at a new record high.
Saving time blows out
Of more concern to new home buyers, is the length of time it takes to save for a 20% deposit, which by December 2021 had moved up to 11.7 years from 11.1 years from three months prior.
The measure assumes that the average household is able to save 15% of income annually.
Davidson said that the key affordability measure was at 9.3 a year prior, which was up almost four years on the long-term average of 7.9 years.
Aspiring homebuyers in Tauranga will take almost 16 years to save a deposit.
Mortgage servicing costs have also gone skyward, with almost half of all household income now used to service an 80% loan-to-value mortgage – based on an average property value over a 25-year term. In Auckland, that's now at 55% of household income.
That measure was at a third of household income as recently as the end of 2020. Davidson said of the 15% "deterioration" on this measure, about 6% could be attributed to mortgage rate increases with the remainder due to property value inflation.
Residential tenants are also struggling, with rental costs now absorbing more than a fifth of gross average household income across the country. Again, the highest proportion of salaries sent to landlords comes in Tauranga at 30% of overall income.
Davidson said with the official cash rate likely to continue tracking up, alongside tighter lending rules and caps on debt-to-income ratios, it could signal a "sharp slowdown" in sales volumes and value growth this year.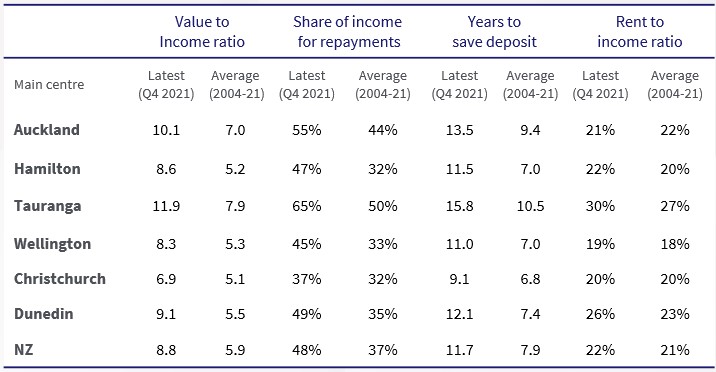 Source: Corelogic