BusinessDesk is starting a new category in The Life – coverage of New Zealand's world-class luxury lodges.
We'll be increasing our articles on lodges through reviews, news and an upcoming guide to the best of best. Those articles will be published in The Life's new Luxury Lodges category.
Many of the best lodges are in the esteemed Relais & Châteaux guide. We started by talking with them and have selectively expanded the places we'll cover to ensure we review the best NZ has to offer.
The initial lodges that meet our criteria are:
Each month or so, we'll publish an article on current deals and special events. Some of the lodges close for at least part of winter, or offer discounted rates for New Zealanders.
Current offers
Wharekauhau
Tour de Wharekauhau, Nov 3-6.
The inaugural Tour de Wharekauhau is a springtime celebration of cycling.
Guests will go on daily mid-morning-to-early-afternoon rides along some of the Wairarapa's iconic back-country roads, with destination lunches each day.
Rides have been mapped to cater for beginners through to medium-level riders, with the main daily tours being 2½ to 3 hours on the bike.
Each evening concludes with a long-table dinner with a different partner vineyard (Wharekauhau owner Bill Foley also owns Martinborough Vineyard).
There will be a final-night special dinner including live music as a reward for all that time in the saddle.
1 guest: $6,920
2 guests: $9,875
3 guests: $12,845
Huka Lodge
Huka Lodge has a one-night winter special from $2,100 for two.
Huka Lodge's single-night-stays promo offers an elegant retreat experience complete with evening drinks served fireside, a degustation dinner with premium local produce, and an impressive wine list.
Guests can explore the lodge's gardens, try a game of tennis or pétanque, and meander along the lawn-lined banks of the Waikato River as it makes its way to the thundering Huka Falls.
Rates start at $2,100 for two in a junior lodge suite, including return Taupō Airport transfers.
The Lindis
Until the end of September.
Book two nights and receive a third night for free.
The offer is for two people and includes breakfast, lunch, pre-dinner drinks and canapés and a multi-course dinner.
Master suite: $6,700
Lodge suite: $5,930
Pod: $4,690
Up in the winterless north, Lindis Group's Paroa Bay has the same three-night offer for its two villas until Oct 19.
Tarāpunga villa accommodates up to six guests in three rooms. The cost is $12,000 including dinner, or $11,000 without.
Vineyard Cottage is a relative bargain at $3,000 for three nights for four people in two rooms.
Both offers include a wine tasting at the resort's Sage Restaurant.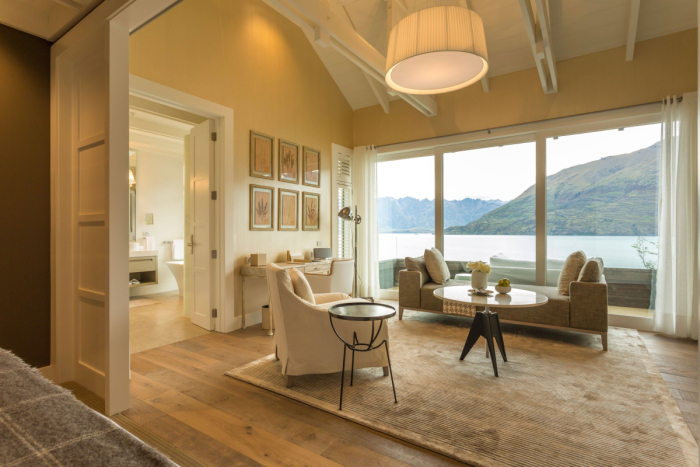 Matakauri Lodge
Until the end of August.
Experience Queenstown from the comfort of Matakauri Lodge. A special offer for NZ residents of $2,127 per night for two includes all meals.
Matakauri's flexi-dining option gives you the opportunity to dine at one of the lodge's select restaurant partners in town for one or more nights of your stay.
For reservations of two nights or more, enjoy an appellation wine match expertly paired to your five-course dinner on a night of your choice.
Kauri Cliffs
Aug 11-13.
The Bay of Islands lodge has teamed up with Damian Chaparro, the founder and facilitator of Aro Hā Wellness Retreat in Glenorchy, to offer a special weekend that is all about balance.
Their promise is: "Whether a quick refresh for alumni of Aro Hā Retreats or a first step on your wellness journey, the weekend promises inspiration, wellness practices, and indulgence in equal measure."
The package includes breakfast, lunch and dinner each day, select beverages, four wellness sessions, and your choice of a day of green fees or a spa treatment. The event package is $2,783 per person for double or twin share (two nights).
Kauri Cliffs has also opened bookings for its spring mixed-pairs golf weekend, starting on Friday, Sept 29.
Kauri Cliffs and Cape Kidnappers
Until the end of September.
The Kauri Cliffs and Cape Kidnappers winter special for NZ residents offers suite accommodation for $2,127 per couple per night, including breakfast, lunch, pre-dinner drinks, canapés and dinner each day.
As well, there's a choice of a day of unlimited green fees or a spa treatment per person per night stayed.
For stays of two nights or more, groups booking three and four rooms and travelling together will be upgraded into the even more stunning residences.