A visit to Wellington means many things: decent coffee, a lively art scene and breezes that will do your hair for you.
But it's the food we're here for, and on an unseasonably warm spring weekend, we pack our appetites and head off to enjoy New Zealand's capital.
Roll your eyes all you want but there's a reason Wellingtonians like to trot out the slightly tiresome trope about having more eateries per head of population than New York: because it's true. In 2019 figures showed there were more than 880 places to eat in the capital, one for every 236 people, beating out New York City, which has one eatery per 460 people. Despite the current covid-dominated annus horribilis, which has deeply affected the hospitality industry, most cafes seem busy on the weekend we visit.
Hiakai – one of the world's best restaurants
On the other side of town is Hiakai, a 30-seat restaurant Forbes magazine named as one of the 10 Coolest Places to Eat in 2020. Ignore the less-than-salubrious location – in the shadow of Massey University's Wellington campus on a narrow suburban street that is, inexplicably, two-way – and climb the stairs of this 1860s brick factory.
Monique Fiso is the Porirua-born chef who decided that what Wellington really needed was a restaurant specialising in modern Maori cuisine. While working at Michelin-starred New York restaurants, feeding everyone from Anthony Bourdain and Robert de Niro to Bruce Springsteen, Fiso was asked by a fellow chef what Kiwi cuisine was. She wasn't able to answer.
On returning to New Zealand, she set out to redefine the food of her homeland and to elevate indigenous ingredients and cooking methods to a fine-dining level, starting with pop-up hangi events and leading, two years ago, to this much-lauded restaurant.
If you've any doubt of Fiso's success, try getting a seat at Hiakai without booking in advance.
By pulling every string we can, we manage to get a table at the first sitting on a Friday evening. Hiakai, which means "hungry" in te reo Maori, isn't just about dining as fuel but as theatre, and offers a seven-course degustation menu that literally tells a story through food.
During our visit, the story is Patricia Grace's Watercress Tuna and the Children of Champion Street, an illustrated book that has all sorts of delicious parallels to Fiso's own childhood and gives rise to all sorts of delicious cuisine that takes diners back to their own early years.
Before each course, the waitstaff read a page or two from the book before serving food and beverages themed around the story – for example, the 1984 course (the year the book was first published) features deconstructed prawn cocktails, while other courses include muttonbird pizza and eel with mascarpone and watercress pasta. The nostalgia is as thick as the hand-churned butter we spread across the buttermilk buns with pickled pikopiko.
But while this is food to be taken seriously, it's also food with a sense of humour. Petits fours come with jelly snakes, mini Sally Lunns (or Boston Buns, if you're that way inclined), and Pixie Caramels featuring rum and locally foraged manono bark.
It very quickly becomes clear you've arrived somewhere near the summit of greatness. Just don't be surprised if you're still talking about Fiso's food days later.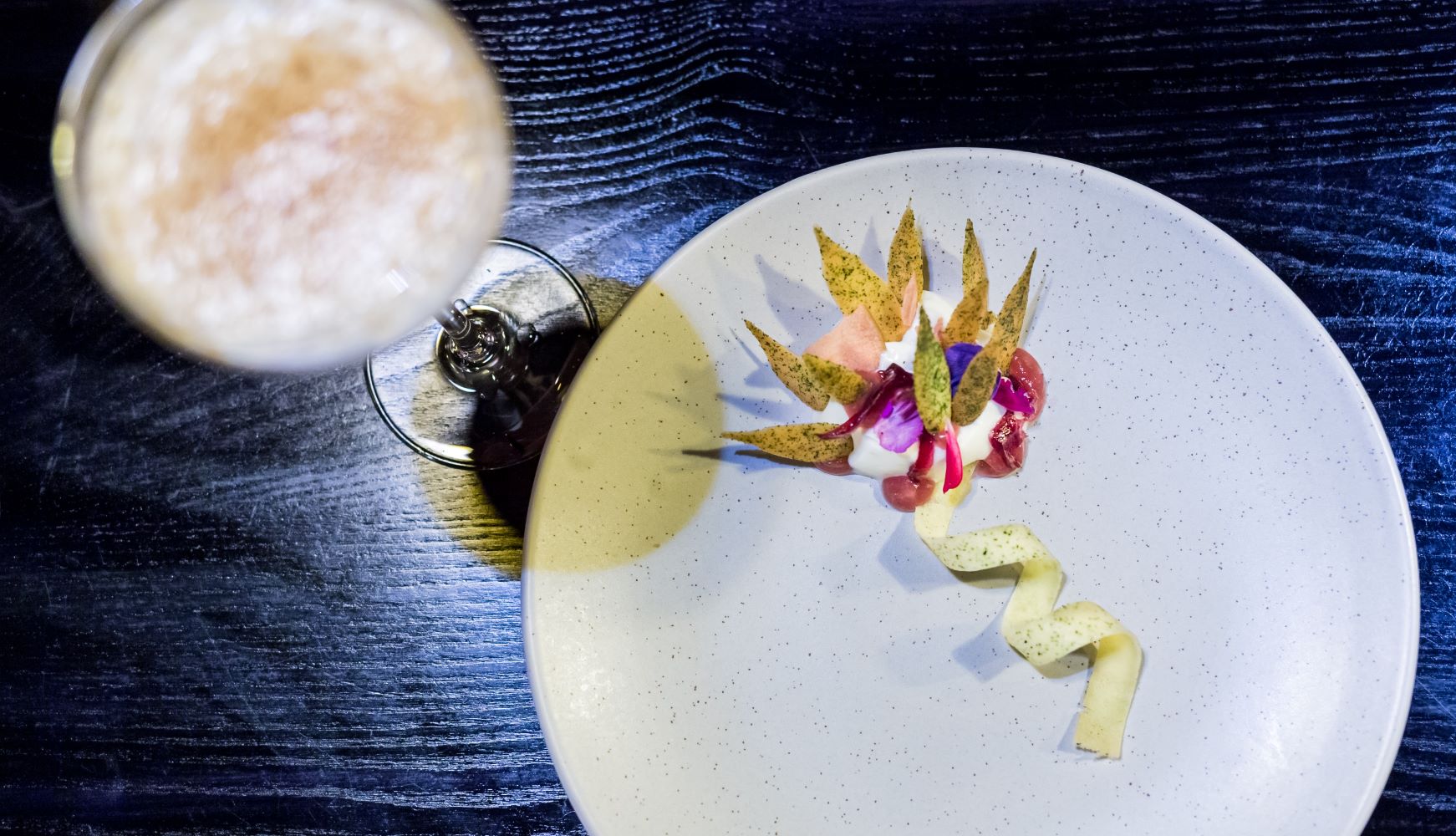 Hiakai's Wahine Toa rhubarb with coconut foam and rose sugar. Photos by Martin Haughey
High and mighty
Any time the words "high" and "tea" are put together, it can go either way – a lacklustre offering with limp cucumber sandwiches and pointlessly tiny cakes, or big bold flavours that make your realise you've never had a decent high tea in your life.
The offerings at Grace Patisserie fall into the latter category. Mariah ("as in Mariah Carey") Grace and her husband, Andrew, opened this calorific shrine a year ago in a former Ethiopian restaurant.
You'll congratulate yourself for finding it – up some steps, next to a fish-and-chip shop – but while this part of Tory St may not have previously been a go-to for delectable sugary concoctions, Grace Patisserie is changing all that.
Singaporean-born chef Grace specialises in cakes as elegant as their name. A few months ago, Irish pastry chef Lyndsey Alexander, who's previously worked in Michelin-starred London restaurants, joined the team, and as we sample the offerings on her three-tiered high-tea stand, eating our body weight in vanilla cupcakes, rose mousse, raspberry Bakewell tarts and coffee chocolate hazelnut truffles, we send a note of thanks to the pastry gods that both Grace and Alexander chose to make New Zealand's capital their home.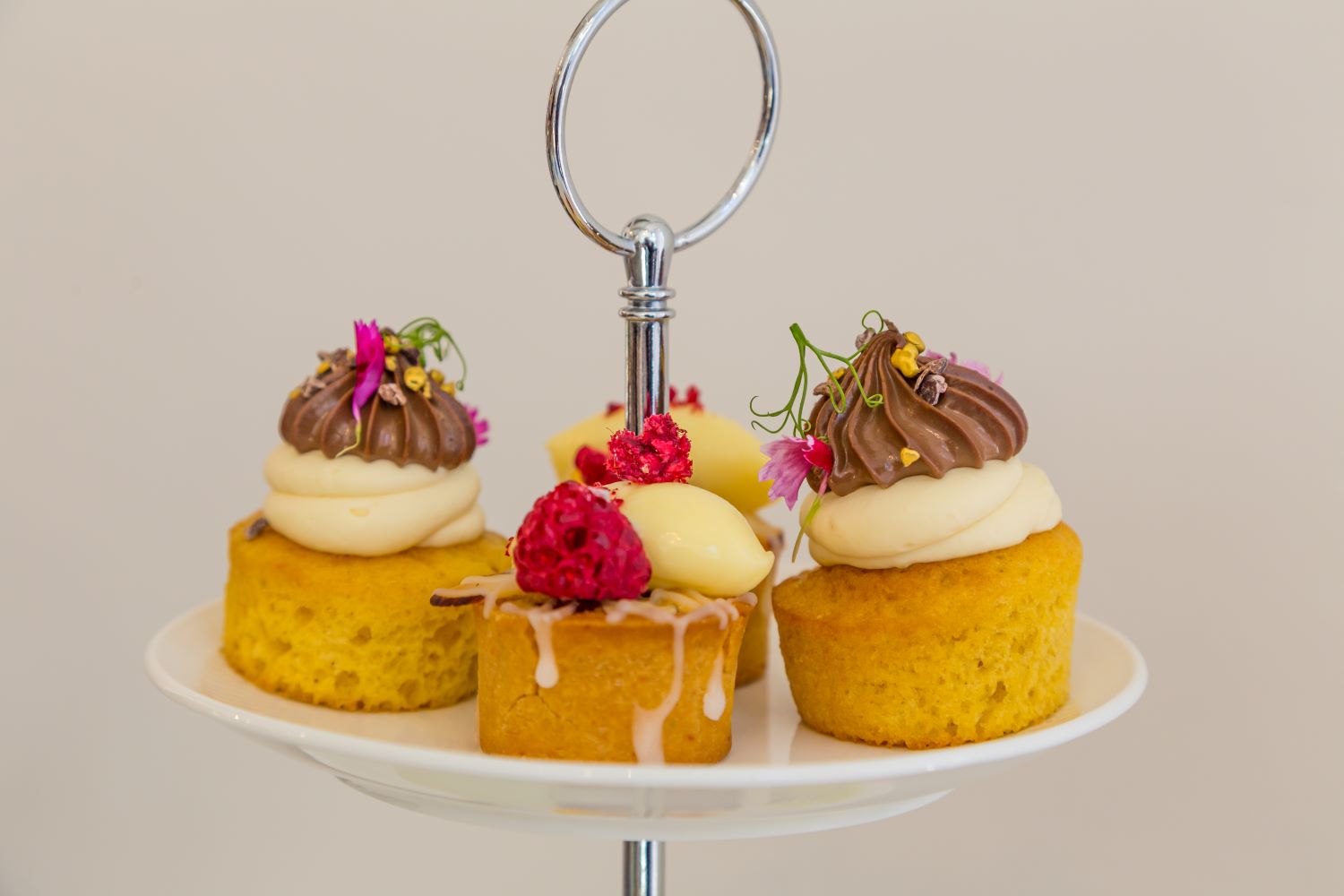 High tea at Grace Patisserie
An homage to Aunt Daisy
New Zealanders of a certain age will remember Aunt Daisy (Maud Basham), a broadcaster and cookbook author who was a household name from the 1930s to the 1960s. Asher Boote wasn't even born then, but the Wellingtonian's restaurant Daisy's (pictured top) is a homage to the iconic Kiwi, our first celebrity foodie.
The location is best known as the former Tinakori Bistro, which Boote, who already owns the Ramen Shop and Hillside Kitchen, bought out of liquidation in 2017, with the aim of breathing new life into it and getting it ready for sale.
He was days away from doing that when New Zealand went into the first covid lockdown in March and the sale fell through. Boote spent the next five weeks turning the legendary eatery into Daisy's, which he says captures the spirit of Aunt Daisy and her ilk – "women who were the ultimate host, able to offer interesting food, great conversation and wine in a house that's a bit eclectic".
You don't have to strain your synapses too much to see how Boote has channelled that spirit into the food – there's creamed pāua on toast, onion dip with waffle chips, pan fried trevally, wild pork and duck liver terrine, and a chateaubriand worthy of the best mid-century dinner party.
Save room for dessert, though, and definitely order the golden milk pie with ginger cream, which is like a snapshot of a bygone New Zealand, one where they knew how to elevate the most basic of ingredients into something sublimely delicious.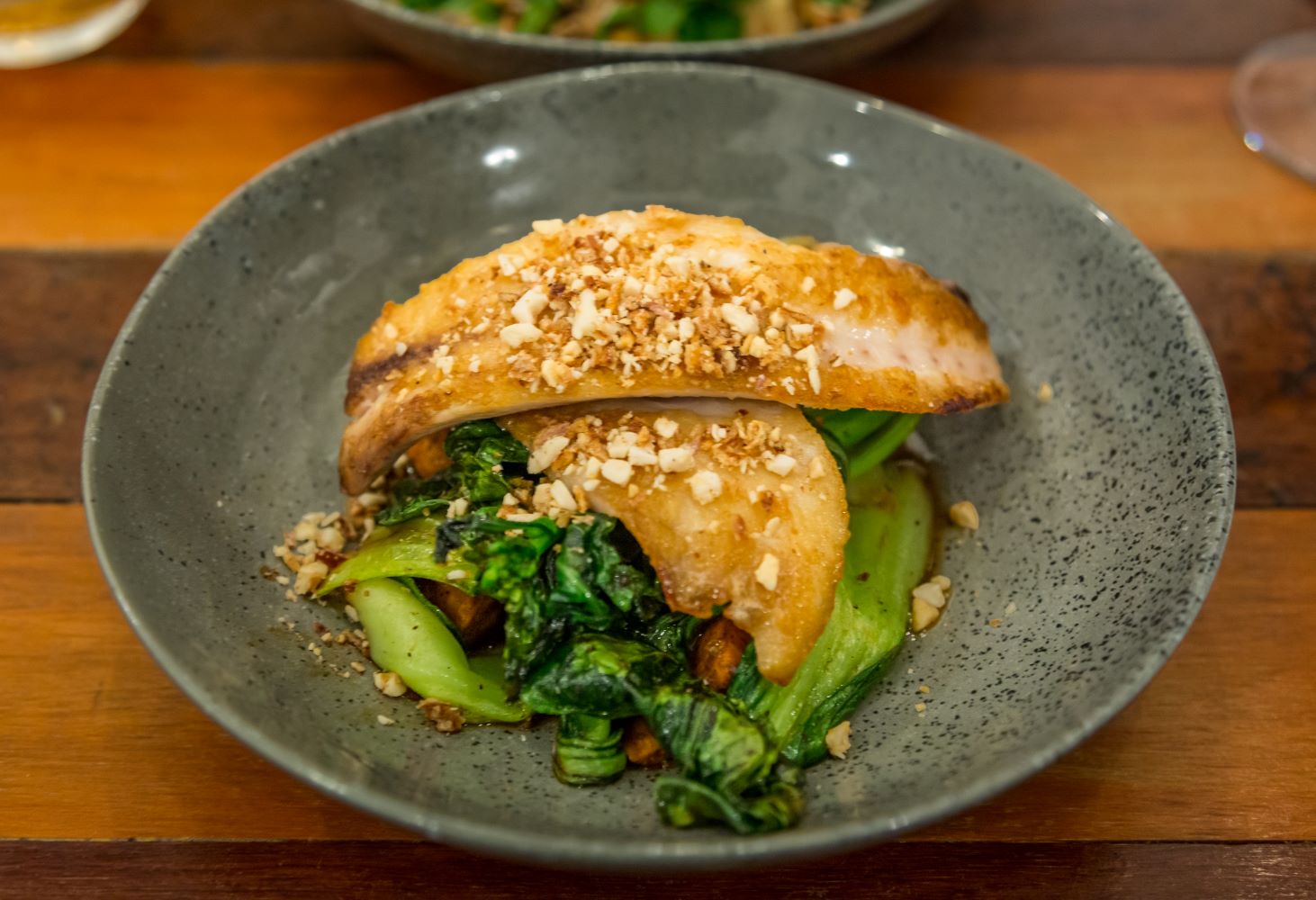 Daisy's pan fried trevally with Asian greens, toasted peanut and black garlic
Keep your gin up
Lombard Lane used to be the kind of alleyway your mother warned you about – tired, grubby, not somewhere you'd want to linger. But a few years ago, the city leaders reimagined it as a fashionable hub, and now Wellington's former shoreline is a destination in its own right.
If you go down to Lombard Lane today, you'll find Denzien Urban Distillery, New Zealand's first such city-based business. It's the brainchild of Mark Halton, who started out by making gin in his inner-city apartment. One thing led to another and the former graphic designer hacked through a wall to set up a distillery, a research and development laboratory and a tasting shop – a move he describes as "like going from a two-track recording studio to playing at the Michael Fowler Centre with the NZSO."
Although Halton had his detractors, his gamble on drinkers wanting to sip small-batch gin where it's made has paid off handsomely, so much so that he was able to buy an enormous copper still, imported from Germany, and install it in the back of his premises.
"People have a real hunger for analogue at the moment," says Halton. "To combat the tech overload, there's a huge resurgence in makers doing things the old-fashioned way."
Halton has been doing that with rainwater, native botanicals and sustainable whey ethanol since 2018 and has been running tastings for almost as long. He's good company, is Halton: lively, sharp as a tack and possessing an innate sense of how to give people exactly what they need when they need it.
And what we need on a Friday afternoon is a generous pour of his first gin, Te Aro Dry, flavoured with 11 botanicals, including horopito and kawakawa. Halton advises us to drink it neat before mixing it with a splash of tonic. It's strong and earthy, the essence of New Zealand in a glass. The next offering in our tasting flight is entitled Our Coast and uses hand-harvested juniper from Macedonia, while the third, Campfire, is a zesty mash-up of spices and chillies.
Like most things associated with the Denzien brand, the name comes with an interesting backstory. "According to the Urban Dictionary, 'denzien' means an awesome clan of people who take time to enjoy the finer things in life," says Halton. "That fits us and our customers perfectly."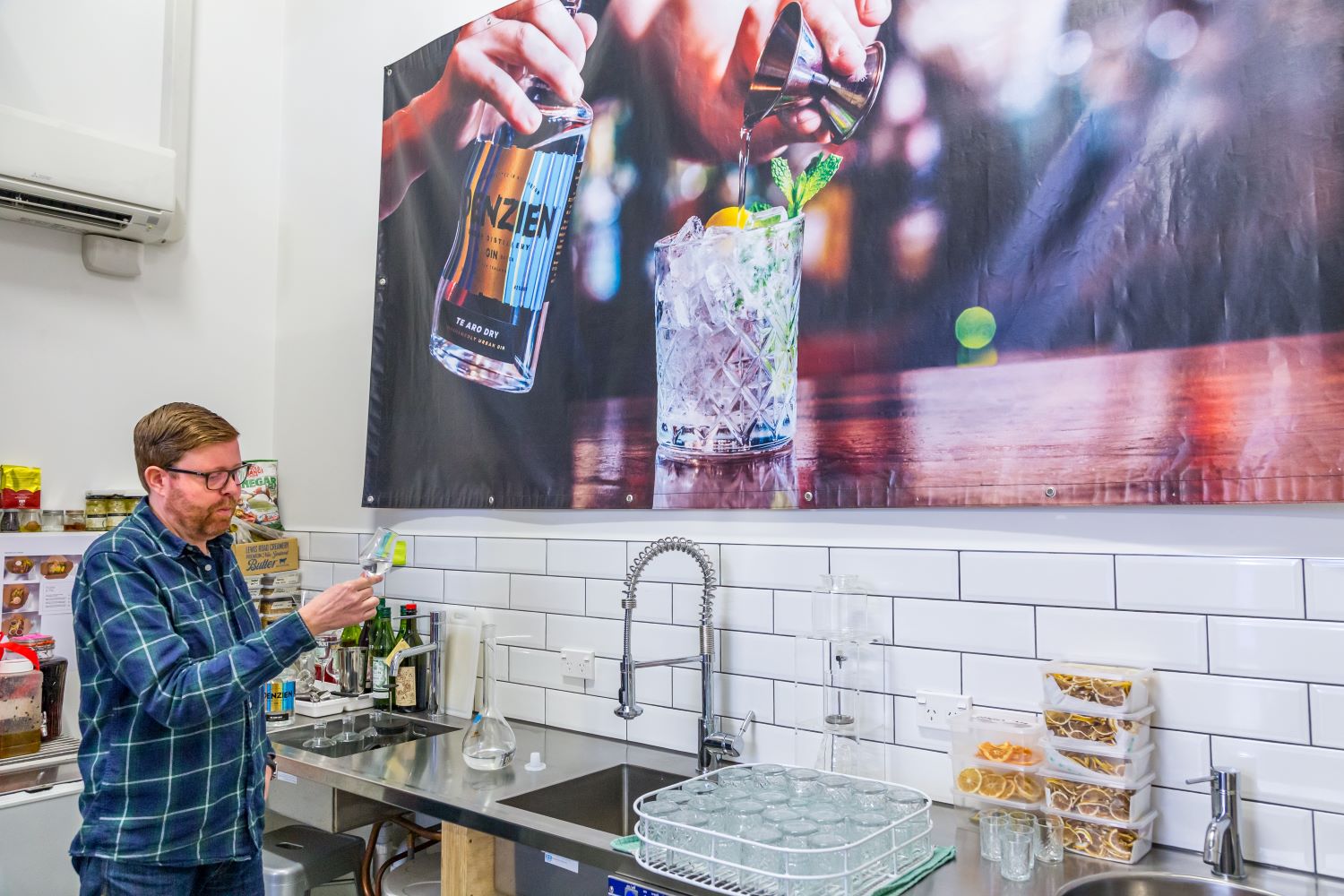 Gin maker Mark Halton of Denzien Urban Distillery
Cheers to craft beer
I'm not a beer drinker so you'd think I'd be a brewery's worst nightmare. But the folk at Parrotdog craft brewery/restaurant in Lyall Bay aren't the judgmental kind. Besides, their love for all things hoppy is so infectious, it doesn't matter where you sit on the beer spectrum.
And their backstory is interesting: three blokes called Matt started brewing beer in their damp Te Aro student flat before eventually turning their passion into this award-winning label. Two years ago, they opened this cavernous, child- and dog-friendly brewery and eatery near Wellington Airport.
Even folk who are not fans of beer will enjoy watching the brewers in action and marvelling at the menu, which features such drops as a boysenberry sour and a stout brewed with coconut and cacao nibs.