Superyachts can be works of art in themselves, but they increasingly double as floating galleries and vaults for important works – perhaps even the world's most valuable painting.
From the most expensive painting ever to go to auction, to lesser but still important works, art is big business on the water.
Despite the salty air, sea spray, and nautical mishaps, some of the finest art and antiques in the world can be found in the ever-expanding number of motor and sailing superyachts commissioned by plutocrats from oligarchs to princes.
Art on board ocean-going behemoths has become an industry, with consultants available to teach your crew how to describe and care for your Picasso, how to clean your Chihuly glass sculpture, and how to get national treasures across borders and arrange the insurance.
"Some of the conditions on board a vessel will be even better and more immediately controllable than in a museum," says Pandora Mather-Lees, an art historian and forensic art specialist who runs an art consultancy that teaches superyacht crew how to care for the art on board. It's handily called artonsuperyachts.com.
"Having said that, yachts will go from the Med to the Caribbean, and now we have explorer yachts that will go to very cold places as well. So, that has to be taken into consideration. The risks are the air, the saline air, which can deteriorate works faster than normal air. Then there is light: there's bouncing light, artificial light, and then there's the daylight."
Worse things happen at sea
Of course, Mather-Lees knows of disasters at sea, such as an alabaster sculpture that started dissolving when washed with water, a Bohemian crystal sculpture put in a dishwasher, and an Anish Kapoor mirrored sculpture that had to go back to the artist to remove fingerprints.
"Another sculpture got chipped when it was being moved for cleaning, and someone blamed it on the seagulls," she tells BusinessDesk.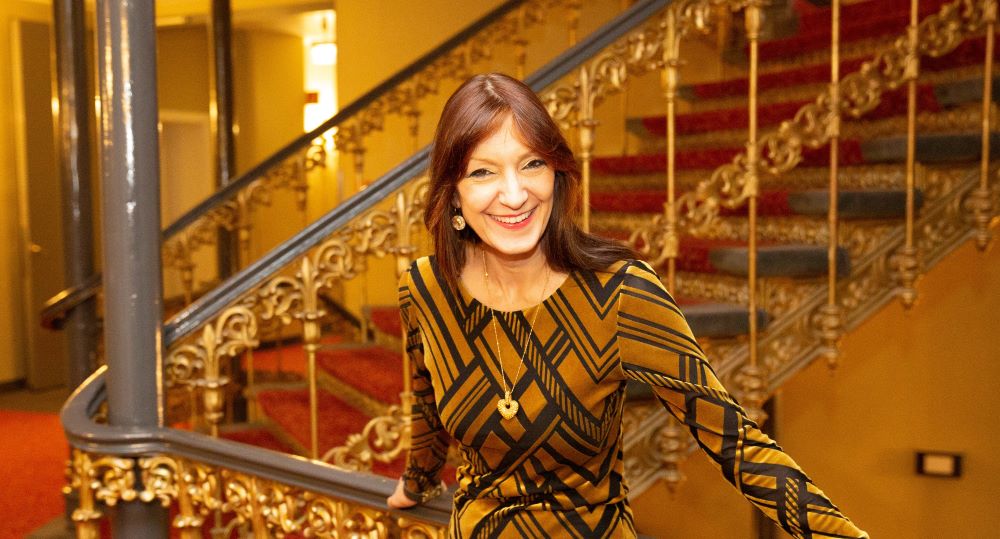 Art on Superyachts founder Pandora Mather-Lees.
Mather-Lees also teaches crew and owners about copyright and respect for the art, noting one owner sliced a work by Japanese painter Takashi Murakami into three to fit a panel.
"You are infringing the moral rights of the artist and that's a crime, basically. So they've cut up paintings to fit the space. People learn from these mistakes and case histories – it is vivid for them. If you say, don't clean artwork without specialist advice, they may not listen, but if you explain what has happened when they didn't, they get it!"
That also applies to the antiques and furnishings on the superyachts. One of Mather-Lees' other anecdotes is about a crew member taking a shower in the owner's suite, flooding the bathroom, and destroying precious carpets.
"Here was an insurance claim of some six figures. Carpets on yachts, whether antique or designer, are costly, and also costly to replace; you have to really think about all of these things, because historical and designer artefacts are all over the vessel," she says.
Floating art gallery
One superyacht is an art object itself and contains a collection of fine modern art: Guilty, owned by Greek Cypriot businessman Dakis Joannou.
Jeff Koons, famous for his metallic balloon puppies and one-time marriage to an Italian porn-star politician and muse, designed the exterior of Guilty, with its "dazzle" paint job bringing together camouflage techniques and a sort of Roy Lichtenstein vibe.
Speaking to Forbes, Koons described what the yacht looks like from above, a huge image of Iggy Pop performing onstage: "Iggy is there as a contemporary Dionysus figure."
Inside, there are works by Kapoor, cartoonist David Shrigley, and British neon artist Martin Creed, as well as important Radical Design furniture from Italy.
The 35-metre Guilty carries 10 guests and five crew at a maximum 29 knots. No slouch.
Murk amid the crystal seas
The murky world of art auctions meets its match in the murky world of superyachts. It is difficult to get accurate information on who owns what and how much they paid. Both worlds link back to tax havens, impenetrable Swiss banks, and freeports to hide them.
That's no more the case than with the most expensive painting ever sold at auction, Salvator Mundi, a purported da Vinci bought for $450 million through a Saudi royal reported to be acting as an intermediary for Crown Prince Mohammed Bin Salman. MBS allegedly intended it as a gift for the de facto ruler of Abu Dhabi, Prince Mohammed bin Zayed.
The purported da Vinci, depicting Christ the saviour of the world, was to be the centrepiece of a branch of the Louvre in Abu Dhabi, but the museum would only display it as "from the workshop of Leonardo da Vinci". Since then, the painting hasn't been seen, but is reported to be on MBS's 134-metre superyacht, Serene, itself allegedly bought for €500 million ($849 million) on the spot from its Russian vodka billionaire owner, Yuri Shefler.
"If you were going to take the Salvator Mundi aboard a yacht – and there has been a lot of speculation about this – you really have to do a proper risk assessment," says Mather-Lees. "You have to get the top people to move it, [and] people with experience of yachts, and yacht installation, to install it. You need your crew trained properly, which is where I come in."
Inevitably, there's another superyacht connection to Salvator Mundi. The work was previously owned by Russian fertiliser oligarch Dmitry Rybolovlev, who has a 110-metre-long superyacht called Anna believed to be packed with important artworks. (Rybolovlev is also at the centre of the so-called Bouvier affair, in which he is alleged to have been duped over purchases for and sales from his world-class art collection.)
Sailing home with the Bacon
It's not unheard of for art on superyachts to be worth as much as or even more than the host vessels.
British insurance magnate Joe Lewis is a noted art collector and has a superyacht called Aviva. An observant Bloomberg reporter in 2018 noted that Aviva seemed to have an important Francis Bacon work, Triptych 1974-1977, on board during a visit to London. Lewis paid $26.3 million for the work and the Bloomberg report suggested it was now (2018) worth $70 million.
I have no idea what else is on the Lewis yacht but his website has described his private art collection as one of the largest in the world. He has pieces from Pablo Picasso, Lucian Freud, Gustav Klimt and Edgar Degas.
The 98-metre-long Aviva was designed to contain a padel tennis court – saving Lewis the trouble of having to sail to places that offered the squash-tennis hybrid ashore.
"We're running along at 19 knots, white horses everywhere, and they're downstairs playing padel having no idea that there's any sea at all," Aviva's designer, Toby Silverton, told Boat International in a lavish article about the vessel.
Travelling with art on board is not without its special problems as well – apart from the cleaning and the salt and the fading of works in the sun.
Mather-Lees advises clients on the permits needed to move important art across borders and to think about ivory or other materials covered by regulations such as the CITES (Convention on International Trade in Endangered Species). She speaks of Customs seizing a Damien Hirst "butterfly" work on a superyacht to check if the butterflies were an endangered species.
Last year, Spanish billionaire banker Jaime Botin was sentenced to three years in prison and fined €91.7 million ($155 million) for smuggling an important Picasso out of Spain on his three-masted sailing superyacht Adix. Adix has been in Auckland's Silo Park superyacht base for some time.
"These things also cause delays, and the owners are often used to thinking they can make things happen very fast," says Mather-Lees. "They make the owners very agitated and upset because they just think they can kind of pay money and get themselves out of a problem, but you can't always. And so it's a big burden on the crew or the executive assistant or the personal assistant who is working for the owner to sort it out."
What's her advice for the best types of art to take to sea? "Crystal sculpture, of course, is fairly hardy, and it's really popular to have Dale Chihuly hanging sculptures. In paintings, an oil on canvas would fare better than a very delicate watercolour. An older work would fare better than a new one as it will have already faded over time."