Hotel Ponsonby is more bar than restaurant, and that's an important distinction. It bills itself as a gastropub, a term I still associate with Gordon Ramsay and his mid-2000s work on Kitchen Nightmares, barging into eateries around the world to shout at hospo folk whose menus were "confused". Often, the people Ramsay accosted were hoping to benefit from the gastropub trend, which he himself had exploited to great success.
Unlike those unfortunates, Hotel Ponsonby appears to be thriving – the tables are full, the service is quick, the drinks are on point and the food is delicious, although I would argue that a bit of confusion is apparent in the menu, which offers all sorts of interesting individual dishes that don't easily combine into a cohesive meal. But this isn't exactly a restaurant, so I can't exactly complain about that.
Starting with the smoked kahawai rillette ($19) is a no-brainer. It is not as smoky as expected, but scoops of it smashed on home-made focaccia and topped with teensy tart gherkins and slivers of pickled red onion are wonderful.
Even more enjoyable, and unexpectedly so, is the raw cucumber ($18) served sliced alongside stringy mounds of stracciatella. The plate is dressed simply with a bit of olive oil and lemon juice, a generous dash of salt, fresh garden herbs and some chilli. It is definitely one of those cases where the whole is more than the sum of its parts, and this is a dish I would return to Hotel Ponsonby for.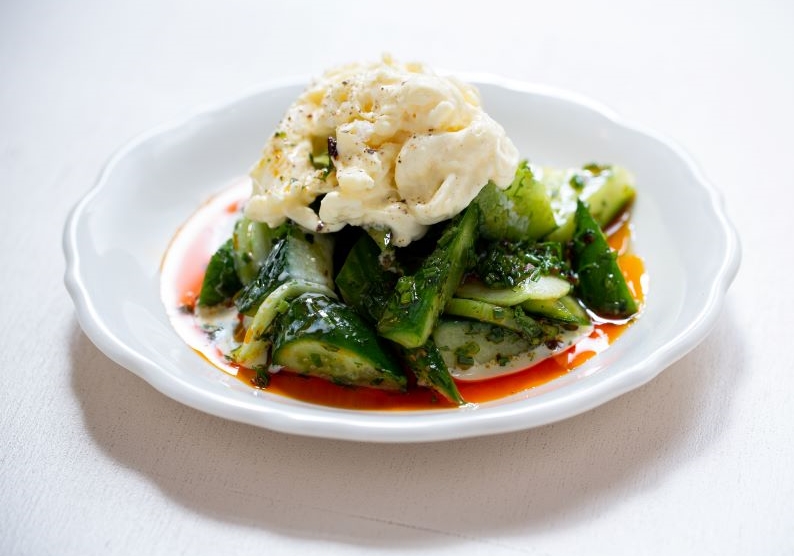 The cucumber salad is a winner. Photo: Babiche Martens/NZ Herald.
The cocktails are equally good. The Italicus Spritz ($18) is a fresh concoction of bergamot liqueur, prosecco and soda garnished with two plump green olives, while the Pimm's Cup ($17) is your classic summer-in-a-glass, although drinking it as summer wanes is bittersweet.
We eyed up the Scotch egg on another diner's plate before ordering it. It's a pub stalwart that has been given the Ponsonby treatment; cut down the middle to reveal a saffron-hued yolk, it comes with a few lettuce leaves, a dollop of sharp English mustard and a slightly silly price. If you're going to charge $25 for a single Scotch egg, it needs to be a knockout. This one is fine but the sausage is not particularly flavourful, leaving the mustard to do the heavy lifting.
In contrast, the slipper lobster ($36) offers comparatively good value. Served in the shell and resting in a rich lobster broth, the meat is subtly sweet and expertly cooked. A little bit of butter on top and more of those fresh herbs are the ideal garnish. The lobster pairs well with the pea and ricotta tortellini ($29), served in a colourless tomato consommé dotted with drops of green oil. The tomato flavour doesn't really come through but the consommé is rich with garlic and we spoon it over the top of our pasta, each piece a creamy little parcel. It's seriously good.
Feeling replete, we only order the chocolate tart ($14) because we're curious. Served with mascarpone and crunchy toffee, it's velvet-soft and not overly sweet, with a firm biscuity base. Simple and well executed – top marks.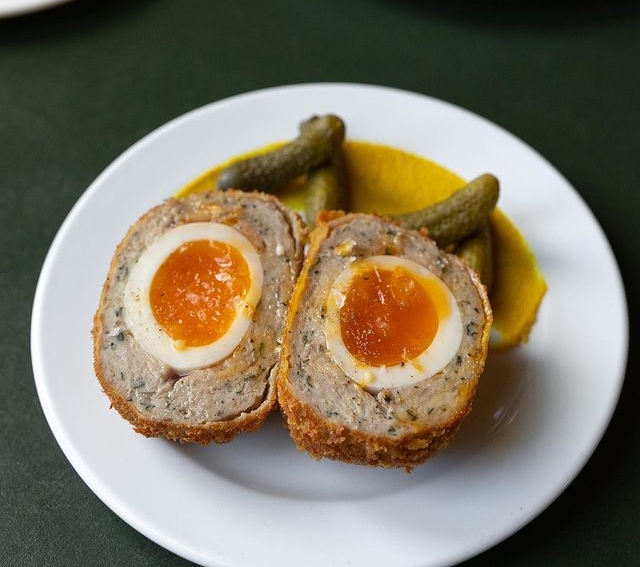 The Scotch egg gets the Ponsonby treatment. Photo: Babiche Martens/NZ Herald.
Hotel Ponsonby is situated in the old post office building at the top of College Hill, a beautiful space that has been sympathetically decorated in creams and browns and a distinctive swampy green. The brainchild of restaurateur Hugo Baird (Lillian, Honey Bones and formerly Crumb), it opened in late 2020. The crowd is mixed the night we visit. There's a mellow hen's party, some vocal dudes watching sport on the big-screen TV, a festive sunburned group who may have been there since lunch, a few suburban visitors like us, and lots of polished locals sharing a quick bite.
To attract that breadth of clientele and to keep them all happy is an achievement. The speedy, no-nonsense service is key. So is the layout, with three distinct seating areas catering to different kinds of groups: outdoors for large parties, a dining room for couples and small groups, and the bar itself for everyone else.
Something to note: Hotel Ponsonby doesn't take bookings, or at least not usually, according to the website. We arrived at 5.30pm on a Saturday, child in tow, hoping for a table outside, and the place was heaving. We were able to put our name down and were back 90 minutes later – so no harm, no foul. But we would have booked to avoid the hassle if we could have.
Menu: High-end bar snacks and light meals, from $6 (olives) to $56 (sirloin for two)
Where: 1 Saint Marys Road, Ponsonby, Auckland
Hours: Monday to Wednesday, 4pm-late; Thursday to Sunday, noon till late.