Let us stroll through the fashion landscape of the past few decades: to our left, ubiquitous leggings, to our right, hoodies and high-waisted jeans. Up ahead are ankle boots and sneakers. So many sneakers.
Once only appropriate for athletic activities, sneakers are now sashaying down runways and being paired with gowns at red-carpet events. And they often come with eye-watering price tags – Canadian rapper Drake paid US$2 million in 2016 for a pair of Nike's Air Jordan 10s, although, to be fair, they were solid gold.
Lee Gibson is a man who could, and does, talk about sneakers for hours. Especially the brand created for basketball legend Michael Jordan. For the past seven years, Gibson, 43, has designed sneakers for Nike in Portland, Oregon. And for the past two years, he's been exclusively focused on Brand Jordan, including the sportswear line of clothing.
Not bad for a boy from Wairoa who left school wanting to be an architect.
"It is a very different direction to what I started out with, but I get to live in Portland, which I love, and to think, sketch and talk about footwear all day," says Gibson. "I couldn't think of a better job."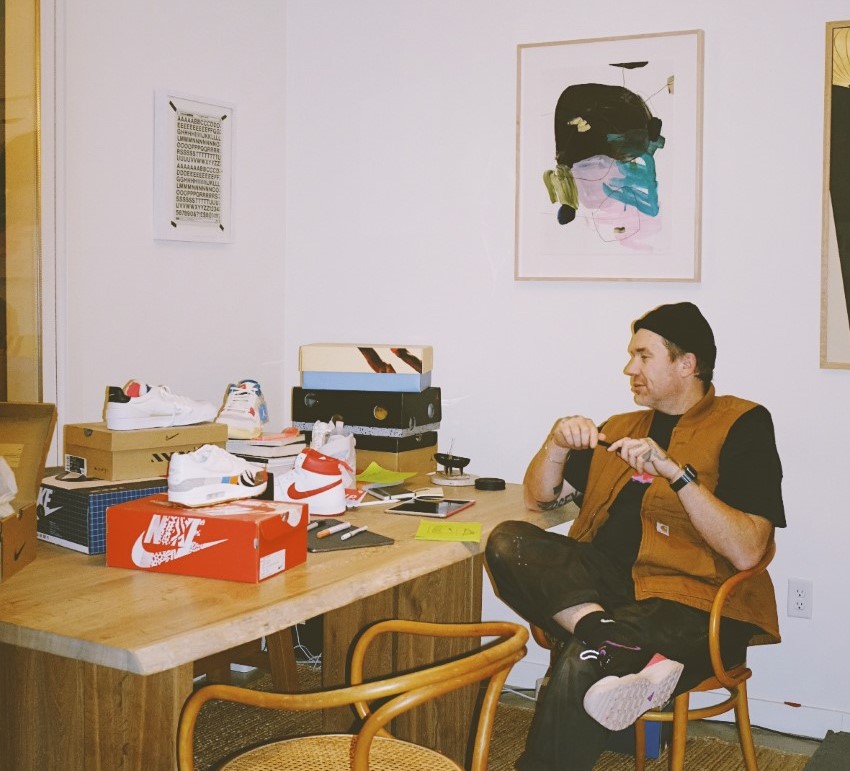 After growing up on farms in Wairoa and Dannevirke, Gibson ticked off an architecture degree at Victoria University before working on residential projects. Eventually, he found his way back to his alma mater, where he taught architecture and design for five years.
It was a love of academia that led Gibson to the United States, where he won a scholarship to the Parsons New School of Design in New York in 2010 and spent two years studying for a master of fine arts degree in interior design. After graduating, he detoured into work as a photographer, assistant professor and designer for several architecture firms – "the kind of hustle that could only happen in New York".
While at Parsons, Gibson landed a meeting with recruiters from Nike. It was all going swimmingly until a visa hitch meant he couldn't accept their offer of a job.
"But designing footwear has been a dream of mine since I was five, so when Nike came knocking again in 2014, I didn't hesitate."
It was, Gibson admits, a combination of timing, hard work, a lot of luck and being in the right place at the right time. "It's truly been a dream job and I've progressed from designer, to footwear lead designer in 2017, to the Jordan brand footwear lead designer in 2018."
Some of his biggest wins include re-engineering the Air Max 1 sneaker to celebrate its 30th anniversary and working on collaborations with athletes such as basketball greats LeBron James and Russell Westbrook and rapper Travis Scott.
Although Gibson and his wife, Wellington jewellery designer Kari Higgins, loved New York, the city of Portland has captured their hearts.
"We had a daughter, Lo, two years ago and Portland is a great place to raise a family," Gibson says. "Oregon has a very similar population to New Zealand's and is close in size so we feel at home. We also love how Portland is an outlier in terms of its political stance, especially on social-justice issues such as Black Lives Matter."
Last year, the couple bought a three-bedroom home in Northeast Portland, close to what Gibson calls the best cafe in the city. They also own a rural weekend cabin about an hour's drive away.
"For the first five years, we were in a tiny studio apartment, so our cabin was a way to have some extra space at the weekends and for when family and friends came to visit. We also rent it out on Airbnb, and thanks to my wife's design and social-media skills, it's been really successful and has featured in a couple of US magazines."
Although Gibson misses his parents, who still live in Dannevirke, and his brother, who owns a heavy machinery business in Bulls, he firmly regards the US as home now.
"In 2018, we received our Green Cards, with the next step possibly being US citizenship, but that's based heavily on what happens in the next few months after the US elections. The world has changed a lot this year and job security in a market that's relatively turbulent isn't guaranteed. Plus, the US political climate makes us miss Jacinda Ardern and her brilliant leadership. We're actually missing New Zealand more than ever right now and are aware of the benefits that a move back could allow us, so watch this space."