It's one of those sunny New York days that, more than a year into a global pandemic, makes everything seem a little bit better. From his Williamsburg apartment, Kiwi John Taite is trying to ignore the stunning views across the East River.
"It's been a year since I've caught the ferry to Wall St, where our downtown studio is based," says Taite, 47. Instead, he's been working from the 18th-floor apartment he shares with his partner, Pamela Taite, who runs events at the iconic Guggenheim Museum, and their year-old son, Oliver.
Taite's CV, which runs to two pages and is peppered with names such as MTV and the BBC, is currently executive vice president of global brand partnerships and development at Made Music Studio, a sonic branding and design agency. What that means in everyday English is that he brings together brands, creators and audiences to "make moments of cultural impact".
He's lived in New York since 2010, and his clients now include American Express, BMW, PepsiCo and the David Bowie estate.
It's said the apple doesn't fall far from the tree and that's particularly true for Taite, whose father was legendary Auckland TV music journalist/director Dylan Taite (1939-2003). In fact, his family tree is steeped in music and media: his mother, Jacqui, worked as a radio DJ, his grandfather George was a newspaper editor and his younger brother Paul once played bass for the band Goodnight Nurse and now works on the iconic American TV show Saturday Night Live.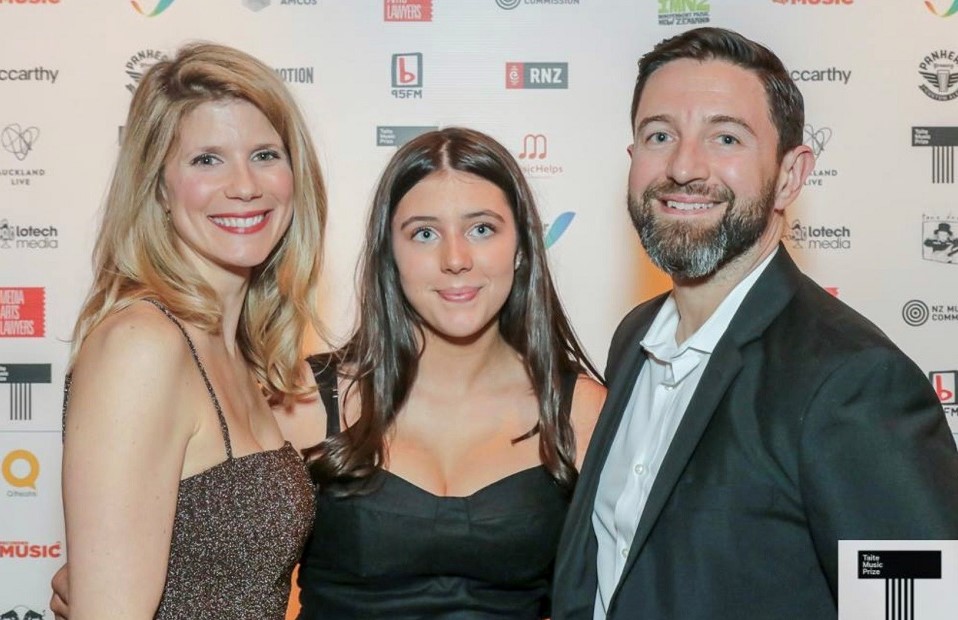 John Taite with his wife Pamela and daughter Amelia at a Taite Music Prize event.
It's fair to say that Taite's childhood was a little different from that of his peers. "I grew up around famous people thanks to Dad's job," he admits. "I was on the sidelines when he played football with Bob Marley and I had my first swig of Dom Pérignon with Billy Idol when I was probably too young!"
It's how Christchurch-born Taite landed in the entertainment industry, firstly as a film reviewer for Auckland student radio station 95bFM, then as a journalist at the now-defunct Rip It Up magazine, before working as a programmer for TV3, for which his father was a reporter for a number of years.
But an OE was always calling, so in 2002, Taite headed to London, where he landed a contract with MTV:UK. "It was a huge step down from what I was doing at TV3 but it was a foot in the door so I worked harder and smarter to prove my value. I think that's where Kiwis have an advantage when it comes to succeeding overseas – we have resilience, tenacity, resourcefulness and good humour. We're able to check our ego at the door, assume our past experience won't impress anyone and not be afraid to start afresh."
It's a strategy that worked well for Taite: he was promoted several times at MTV and by the time he left five years later, he was head of programming for its nine channels.
Then the BBC came calling and Taite ended up running 15 of the corporation's channels across Europe, the Middle East and Africa. He might still be there had he not been shoulder-tapped to fix its flagship channel in the United States, BBC America.
In 2019, Taite started his current role, and the day we chat, he's busy doing work for a groundbreaking transport client, Virgin Hyperloop. "I'm obsessed with new technology and love working on projects that will define the future. The Virgin project actually started with a sonic journey I created so the engineers could hear how we could bring their technology to life."
Prior to the covid pandemic, his work saw him flying around the world every month. He also maintained strong ties to New Zealand. "My 16-year-old daughter, Amelia, lives in Auckland with her mum, so I normally visit two or three times a year and she also comes to New York. It's been devastating not seeing her in person for a year."
Last May, during lockdown, his son Oliver was born. "It was a terrifying time when New York was the global epicentre of covid. But the silver lining has been being able to work from home with Pamela and be with our son. Thankfully, we've come a long way since then and I love that he'll grow up in a new and improved normal."
Taite, who oversees Aotearoa's annual Taite Music Prize, admits moving back to New Zealand has always been a dream. "I've been away for 20 years and I'm a bit of a Kiwi/English/New Yorker these days in that my accent is all over the place. But I'm still very connected to the culture and do everything I can to help and promote the limitless talent in New Zealand."
Besides, he adds, covid has levelled the playing field in terms of the tyranny of distance for Kiwis.
"You now have such a huge opportunity with access to technology and a post-covid head start. The whole world wants to know what that sounds like, looks like and feels like – their future is your now! So it's the perfect time for Kiwis to create, lead and innovate, and I'm excited to see what's next."