Welcome to My Net Worth, our regular column on the lives and motivations of our country's top business, legal and political people, in their own words.
Anna Buchly, a partner at law firm Bell Gully since 2008, stepped down as chair this month. A graduate of the University of Canterbury and holder of a graduate diploma in applied finance and investment, her international experience in law includes two years at Mallesons Stephen Jaques in Sydney and three years at Clyde & Co's Dubai office. She was named Managing Partner of the Year at both the 2019 and 2020 New Zealand Law Awards.
My dad was a dairy farmer but later worked for Mobil. Every time he got a promotion, we moved.
I learnt a lot of resilience and my family unit was very tight because every time you move, you only know one another – I call my mum and dad, Les and Pete, you rely on each other!
My brother and I are chalk and cheese – he's a farm consultant and he learnt how to do that by reading the Dairy Farmer magazine from the age of about eight. He remembered every word of it. You could say to him, "Tell me about this," and he could talk for hours and hours, but when you put him in a classroom – well, we did his assignments for him.
As a teenager I was your quintessential all-rounder – I loved school! I was going to be an accountant before I saw the light.
I was a runner and I did triathlons. I still run. I also do quite a lot of hiking and I have a dog, so I'm often outside.
I was in an orchestra. They said, "You can play the double bass," because I was tall. I was terrible, but I got into a lot of orchestras because not a lot of people play the double bass.
I did a summer at EY tax and went, "This isn't quite for me." I'd always thought I'd be an accountant, and I'd done a law degree as well because it was interesting, and people said, "You should do it [law]." So, I got a summer clerkship and then a job at Chapman Tripp.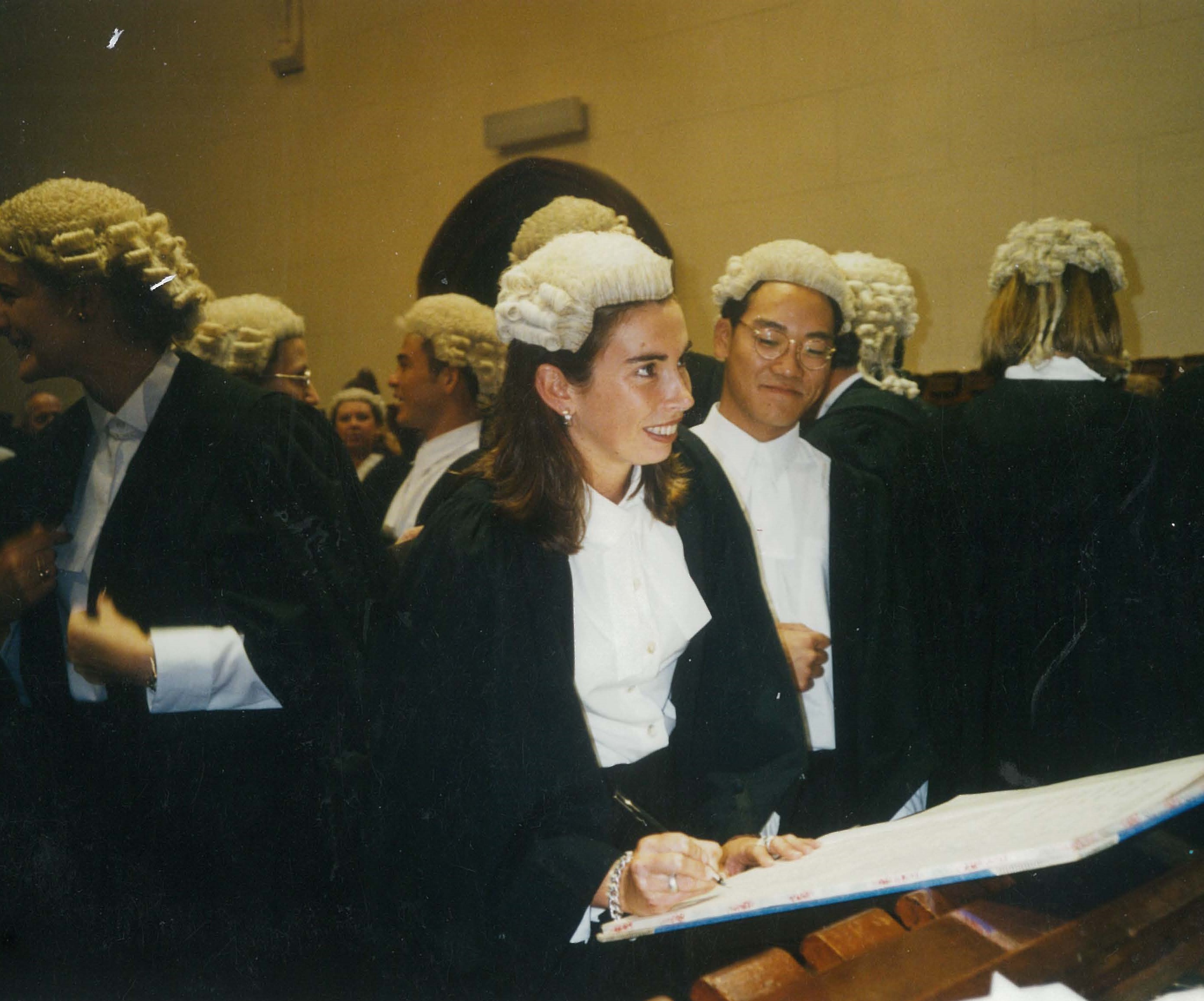 Anna Buchly at her admission ceremony, 1998
I didn't want to go to the UK and hang out with a whole lot of Kiwis – I know, how outrageous! – so I went to Sydney and worked for Mallesons (now King & Wood Mallesons) and decided to go to the Middle East. I literally signed my contract on September 11, 2001, and woke up to the Twin Towers falling.
I was at Clyde & Co in Dubai. It was an incredible experience, and one thing you learn is that Kiwis are really well respected – our training is fantastic and our education system is fantastic.
It made you really grateful for where you were born. Our mail guy had a master's degree in economics but because of where he was born, he was doing those tasks. I found that so challenging.
Every file was immaculate, the administrative staff really valued their jobs. At the same time, people who had been there a long time, those expats, could treat them really badly because they knew how important their visa was – one complaint and they could lose their visa and have to go back to their home country.
My mum called Dubai a holiday camp because you had to go and get everything endorsed by the government, so that slowed things down.
When you are in the practice of law, there aren't necessarily answers for everything and things will change in a heartbeat, so being open to flexibility is important, and that goes through to management.
You have to have your own view and vision, but you have to take on board other views.
I have never set out to say, "This is what I want to achieve." A big thing I want is to enjoy my job. I've been conscious that if I ever woke up and said, "This isn't for me," there would be an issue.
Life is too important. Work may sometimes be busy and stressful but fundamentally I still want to get up each day and do my job.
I hate leaving the office when my team's still here. I'm, like, "What can I do to get you out the door?" I don't care if I'm photocopying.
I'm very eclectic. I collect mainly sculpture and prints – just a random collection. For me, it's not an investment but literally something I like and enjoy.
The last thing I splurged on was a tap for my kitchen! It was a nice one, where you can pull it out. I really enjoy cooking for people, so doing the kitchen was nice.
As told to Victoria Young.
This interview has been edited for clarity