Welcome to My Net Worth, our regular feature on the lives and motivations of our top businesspeople, in their own words.
Carolyn Cooper has been managing director of Bupa since February 2020, having served the retirement villages and aged-care company in senior roles in New Zealand and Australia since April 2017. She has had extensive experience in both countries in the fields of emergency nursing, aged care and executive management, including as a general manager for the Canterbury District Health Board and as chief operating officer at the Wairarapa and Hutt Valley DHBs.
I grew up in the Wairarapa about 20km out of Masterton, on a farm. I had an extremely happy childhood and was very close to both of my sisters.
Being on the farm, it wasn't always easy, with weather, storms, anything like that interferes with what you thought you'd be doing. But adversity and challenge build character.
I've done sheep, beef and dairy. I probably prefer dairy, dealing with the cows. I know that sounds silly, but big animals are more my thing, I think.
I didn't find school very relevant. And I didn't learn well at school. I found that when I went nursing, when I was 17, I was either first or second in the class all the time, because I found it relevant to what I wanted to do.
I originally thought I might be a hairdresser and did some after-school assistance with somebody who lived down the road who was a hairdresser in Masterton. I saw what being a hairdresser was about. Clearly it is a very skilled, artful job. I'm not like that at all.
Nursing school was a big, steep learning curve. If you are somewhere like Middlemore Hospital, you might get to work on a car-accident victim every now and then. But if you're in Wairarapa Hospital or Masterton, anything that comes in – you're it. Those rural roads around the Wairarapa have a lot of car accidents.
In the Wairarapa, there's lots of people you know, because you went to school there, you grew up there, your kids go to school there. And that can be a challenge as well.
I have to say, we probably had a lot more fun than people do now. Because we did hospital-based training, we lived on site, we worked really hard, we studied hard and then we played really hard.
We had all sorts of fun things to do, like we had the hospital netball team. We used to go out as a group to Wellington quite a bit, as young people do, nightclubbing.
Emergency nursing is my real love. But I decided – and there was no one thing that made me think of this – that I wanted to be more about influencing patient outcomes, and now residents' outcomes, without being part of the care delivery. You can do so much more in a larger way by doing that.
So when you're nursing, it's one on one. But when you're in management and leadership roles, you can support the staff who are actually doing the caring, you can influence policy, you can do all sorts of things.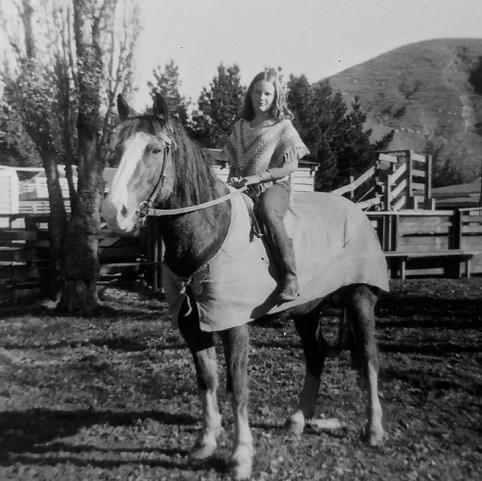 Carolyn Cooper pictured in the mid 70s.
Covid was intense. It was challenging, and it was a heck of a rewarding experience, actually, because our people stepped up – boy did they step up, they were extraordinary! Staff at [Bupa's Napier care home] Gladys Mary wore full PPE for 61 days – that's a long time to be doing that – to care for the residents.
I did a big road trip of Bupa sites around the country last year, and before setting out, I was asked for an inhouse article about all these different things, including what's my favourite food. And I said caramel slice. So at several of our places, I was presented with caramel slice. Honestly, it was terrible for the diet.
I'm a big fan of beaches, and I'm very close to my family. Fishing is something I want to do more of. I've been on charters to go fishing and I'm actually going to join the fishing club at Castlepoint Beach in Wairarapa.
We've been going out to Castlepoint and Mataikona since I was a baby, so we grew up on pāua and crayfish. I have to say I leave those for people who adore them – I'd rather have a sausage.
I bought into my sister's beach house recently so I can get a bit of work/life balance between Castlepoint and Auckland.
I've read all eight Bridgerton books. People go on about the TV series and how raunchy it is; the books are just like any other romance sort of thing – if there's a bit of raunch, you can just skip over it, you know!
As told to Victoria Young
This interview has been edited for clarity.