Welcome to My Net Worth, our regular column on the lives and motivations of our country's top business, legal and political people, in their own words.
Mark Aue's working life began modestly, cleaning a mechanics workshop that every week looked like a tornado had blown through it. He was paid $5 an hour. He has since gone on to have more than two decades' experience in executive leadership roles, mostly in the telecommunications industry, including being Vodafone's global chief financial officer based in the UK.
I grew up in Whanganui, and the next question I usually get asked is did I go to Collegiate? No, I didn't. I'm proud to say I went to Wanganui Boys College and I'm very proud of that heritage.
I was an only child. My parents both worked really hard; my dad was in the army and then in the railways, and my mum was a sewing machinist. Being an only child was a struggle at times. I led a pretty simple life, but I didn't want for anything, either.
My dad is from the Cook Islands. That's where my surname comes from. He came to New Zealand when he was 16. My mum was a Kiwi. I had a great contrast of different cultures from Pasifika to Pākeha. It gave me a greater appreciation of cultural differences and a broader range of skills and strengths to navigate life.
My mum passed away when I was in my early 20s, which had a big impact on me. Reflecting on those different cultural aspects, European approaches to death are often morbid with a lot of sadness. You contrast that with Pasifika culture, and whilst there's a sadness for the loss of a loved one, there's also a real celebration and remembrance of their life, which is quite different. That shaped quite a bit of who I am.
School didn't particularly interest me until my later years in high school. I won several awards and accolades in my final two years of college and that really set me up for a strong interest in finance and business. I remember winning a share-trading competition and I got an FX-82A calculator as a prize, which I found just amazing.
My dad has been the biggest influence on my career. He pushed me hard and has always challenged me to be something more. I'd say he's absolutely my proudest advocate, as anyone in Whanganui would attest to once they've heard the latest stories of what I'm up to.
My biggest business achievement was getting the 2degrees CEO role. I can still recall the phone call I had with the chairman of our board. I was in the final two, but I really thought it was going to go to the other candidate, so much so that I'd written down a bunch of questions to ask the chairman about what lessons I could learn for the next process.
It's probably a cliché to say, but I don't tend to have regrets. I take a philosophical approach to most things. Life's a journey and we learn along the way.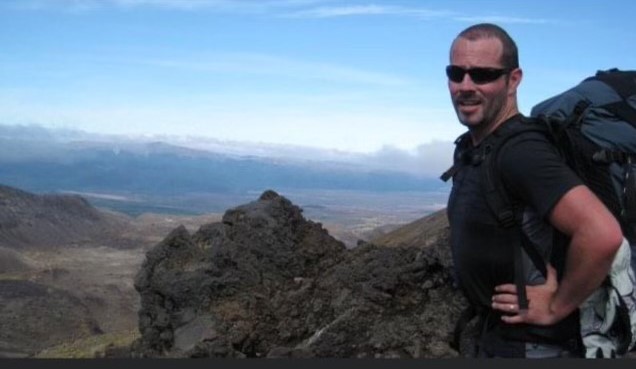 Mark Aue at the top of Mt Ruapehu in 2010.
Covid has been a wake-up for many leaders, knowing there isn't a playbook to refer to on how to lead during this time. Being able to show some vulnerability is a good thing. Last year for me was one of the most challenging periods of my career as a leader, having to make difficult decisions, cutting costs and transitioning the business through. I tried to be as transparent as possible and give a sense that I understood how everybody was feeling.
My best advice is to be genuine and know that it's not all about you. I think most people see through the noise and half-hearted political responses, so be transparent and respectful to others.
New Zealand has an abhorrent stoic culture of "harden up" and there are a lot of celebrities and sports stars making a big difference by taking away the stigma of mental health and saying it really is OK to not be OK and to reach out for help, particularly with men. A good thing to come out of covid is how we support each other.
I have four kids and they never cease to surprise me. I love being a dad, a very proud one at that, and particularly my younger boys make me laugh every day, so I think I've got the work/life balance pretty much in check.
I have a real love for travel. I couldn't tell you how many countries I've been to. I've been very privileged to do that both personally and professionally. When you look back at 2020, that's what I've really missed.
I love food. I once thought about being a chef. I love trying new flavours. It's part of why I love travelling. My favourite restaurant in New Zealand is Ben Bayly's Aosta in Arrowtown. It seats only about 25 people. The first time we ate there, I had to go and see the staff in the kitchen. I've been able to eat in some amazing places, but the food at Aosta was honestly some of the best I've ever eaten.
We're in the process of building a house in Westmere. Frankly, anything to do with housing in New Zealand right now is pretty much a splurge. I'm discovering the pitfalls and the challenges of a process I thought would have been reasonably easy, but it is not. It is expensive. I had no appreciation of how difficult it is.
I like to hike. My wife and I just walked the Routeburn. I last did it 15 years ago. It's my favourite of the Great Walks; I've done all of them bar two. I also like being on the water or paddleboarding and I'm also learning to scuba-dive.
The most valuable thing I own? The answer is easy, because it's not really about value, it's about sentiment. I kept my mum's engagement ring when she passed away and when my wife and I got married a couple of years ago, we had a small piece of one of the sapphires from mum's ring embedded into our own wedding rings, so it's a little bit of her that comes with me everywhere.
As told to Henry Burrell.
This interview has been edited for clarity.