Welcome to My Net Worth, our regular column on the lives and motivations of our country's top business, legal and political people in their own words.
Nic Watt was born in Sydney but lived in NZ for several years as a child and again during his high-school years. After training to be a chef – he began his hospitality career in Auckland's Parnell heydays of the mid-1980s – he honed his skills at the Park Hyatt in Tokyo, where he fell in love with the traditions of Japanese cuisine. This was followed by senior positions at London's Park Hyatt Knightsbridge and the Michelin-starred Nobu. On his return to NZ, he was appointed executive chef at the exclusive Huka Lodge retreat at Wairakei at the age of only 29. In 2004, back in London, he co-founded the Roka group, which within a year won acclaim for the best Oriental restaurant in the capital, and later expanded internationally, including to Spain, Saudi Arabia, Dubai and Turkey. Upon his return to Auckland in 2013, he opened the multi-award-winning Masu by Nic Watt at SkyCity, followed two years later by Madame Hanoi in Adelaide. His latest project involves the Inca restaurants in Ponsonby and Newmarket, where the menus feature a Latin America street food/Japanese Nikkei concept he hit upon while on a food research trip to Peru.
I've always been very full on, always go, go, go. My mum was always telling me to slow down. At school, I either performed really well or really poorly. I was certainly not an average kid.
My dad was in pharmaceuticals and my mum was a great fashion designer. I think I've somehow managed to cherry-pick the best parts from both of them.
My grandfather was a dentist, so my mum and her brother were brought up 100% without sugar. As a consequence, I, too, grew up without cookies, cake or chocolate. All we had was fruit and natural, healthy cooking. I've never been a big buttery, starchy chef. I think you cook your best food when you cook what you want to eat yourself.
I always had a natural love for cooking. I used to cook for the family when I was younger and always had a very adventurous palate for a young one.
I left school when I was 15 – a bit too early for my parents' liking – and got into landscaping. At first I thought it was really cool earning money, but then I looked at my boss and just thought, I don't want to be like that when I'm older.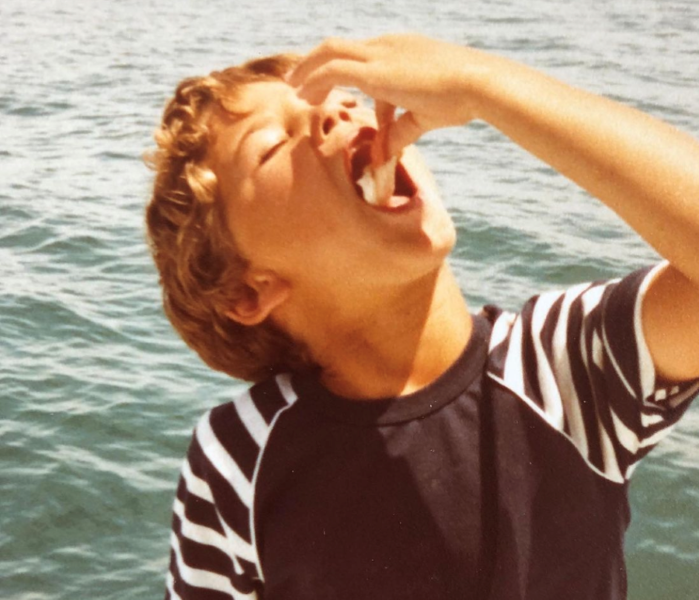 Nic Watt, aged 8, out on the Hauraki Gulf.
My dream was to travel the world and just see what's out there, so I looked into what could get me overseas and it was hospitality. So I did a hospitality certificate at Manukau polytech and that's where I really fell in love with working in kitchens.
When I was 23, I went to live in Japan. It was absolutely scary. I was probably a mute for about the first two months. I knew where I lived and I knew where I worked, but that was about it, and I'd just go back and forth. I lived and worked with Japanese people but I couldn't speak Japanese. So they taught me to count, basic hello, goodbye. I was able to talk on the telephone by the time I left.
I just wanted to be a sponge. I jumped into their world hook, line and sinker – I just wanted to work my backside off. The people I was working for just unrolled the knife, so to speak, and shared their knowledge with me. It was an absolute blessing.
My golden nugget of business advice is: be able to do everything yourself, be a true all-rounder. And I don't mean that selfishly, as in being a martyr, but I can do everything in the restaurant. I can wait a table, I can pour the champagne, clear the glasses, back the entire team up.
I've had business failures. One was in Macau. When I was in London, I co-founded the Roka restaurant group. I was COO and we took it global. We thought Macau was going to be a huge market. And we listened to the owners of the property too much about the footfall that was coming in and didn't do enough of our own market research and real analysis on the business or on that region. We spent a huge amount of money fitting this place out. I was a minority shareholder, but it was still a large amount for me. From the moment we opened the doors, we knew. It just didn't work, no matter how we tried to adjust, twist, or reset it.
The best advice I was ever given was from Arjun Waney, who co-founded Roka. He said, "Earn your money before you spend it." He ingrained in me about being penny wise and pound foolish. No matter how much or how little money you've got, you should always know exactly what your pennies are.
I'm quite impatient. I want to try new things. And if it doesn't work, I'll change it. Not everything is a win, not every attempt is a success. But if you don't try, you won't know.
I'm a third-generation boatie and I spend my weekends out on the water whenever possible. Being on the boat is fantastic for my mental health and wellbeing – I can just unplug and put everything aside.
I compartmentalise and I can quite selectively shut certain things off and put things away. But that doesn't prevent me from lying awake and worrying about things. I'm an absolute list geek; if my brain is a bit of a mess, I reset my lists and my workbook. Then I'm all clear, I'm good to go.
My biggest influence, without trying to sound cheesy, is my dad. He's a great guy, but outside of that, the way he's gone about business and the ways he runs his life are phenomenal.
My kids are so important to me. They're so precious and you only get such a short window of seeing them grow up. They're 16 and 13 now, so wherever possible, I try to have time to connect with them and find something they like and latch on to that to just spend time with them.
I've got a lovely boat that requires a bit of upkeep, so I spend a bit of money on that. I like to have nice clothes and drink nice wine. I don't have a huge wine collection; I figure the more wine you have, the more you tend to drink and I'm not a big drinker.
Professionally, I've got a few more restaurants to get under my belt. I've got some ideas around what I'd like to do to bring some world-class standards and concepts to the New Zealand market.
Personally, I would love a little chunk of land out on Great Barrier Island where we could leave the boat. That would be a phenomenal position to be in.
As told to Jacqui Loates-Haver.
This interview has been edited for clarity.