Welcome to My Net Worth, our regular column on the lives and motivations of our country's top business, legal and political people in their own words.
Former broadcasting journalist Roger Beaumont has been frontman for the banking industry since January 2019. For seven years before that, he served in leadership roles in the sector, as group head of corporate relations at Westpac in Sydney and executive general manager of marketing and communications at ASB Bank in Auckland. He began his working life in radio news in Palmerston North, later moving to Auckland (Radio Hauraki and 91FM) before branching out into marketing and promotions. A public relations firm he was a consultant for had ASB as a client, which is how he first came to work with Barbara Chapman, the bank's marketing manager, who went on to become chief executive. He also worked in television for a decade as director of marketing and communications for MediaWorks (TV3, Four). Beaumont and wife Lizzie have three daughters, Lucy, Abby and Hattie.
I was born and raised in Christchurch and I was the baby of the family. There's a 10-year gap between me and my next oldest brother and that's sadly because my parents lost a child. He died at four years old from leukaemia, which was pretty horrific.
Because my brothers were much older than me I was a bit like an only child, but I also had these three cool big brothers. So in some ways it was the best of both worlds.
My dad was managing director of a chain of grocery stores, about 100 stores throughout the South, but he would call himself a grocer. We had quite a business-orientated family.
My parents were really big on the Golden Rule, which is treat others as you would expect to be treated yourself, and that is a guiding principle for me.
At school I was a very average student academically. But I remember in fourth-form economics, sitting there thinking, well, this is really obvious. What I realised was the stuff that was being taught in that class was basically the dinner-table conversation that I'd grown up with.
I did a lot of drama at school and I did speech competitions. And yeah, I think I was a reasonably outgoing kid, but also quite happy in my own company. I'm still like that now, very self-contained and happy and content on my own.
I was fascinated by the media from a really young age and I thought the idea of being on the radio was as good as it got. I went to broadcasting school in Christchurch and then went into journalism, which was a really convenient entry into broadcast media.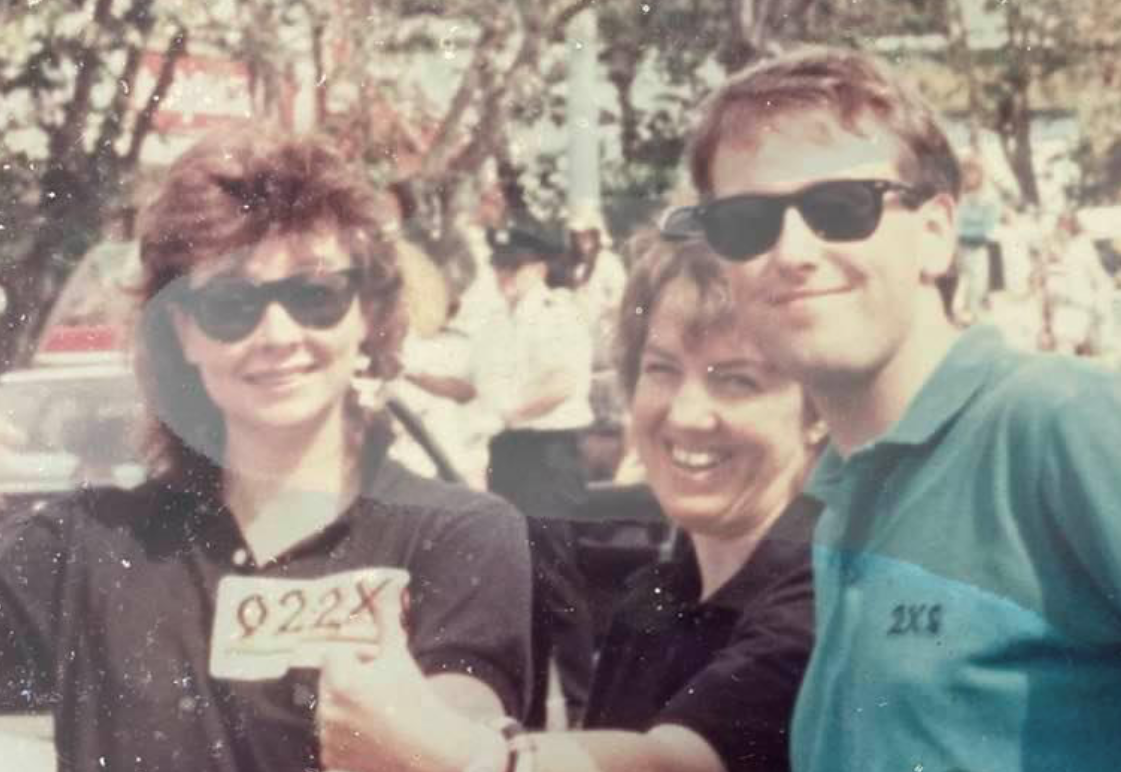 Roger Beaumont with 2XS colleagues Cas Carter (left) and Sue Foley in the late 1980s.
After I'd done broadcast and journalism training, I was dispatched to the provinces. I spent a number of years in the mighty metropolis of Palmerston North.
From early in my career I've been in a position where I've led people, and in those early days, I found the people leadership a bit of a pain because it was time consuming and I felt it was distracting me from doing my real job. But as I've matured, I've come to realise it's a real privilege to have those sorts of roles. Now I get enormous satisfaction from seeing people grow and flourish and nothing makes me prouder.
The most important thing to remember is that we're all human, first. And that people have all sorts of stuff going on in their lives, of which a job is just a component. And if you take the time to understand the full person and allow for that, it's better for everybody.
The thing I'm most proud of is being married to a wonderful woman for nearly 30 years and producing three fantastic daughters. I'm exceptionally proud of that and they are the number-one priority in my life.
Family is everything as far as I'm concerned. The crappiest day at work pales into insignificance when you go home. It makes everything recalibrate.
Walking in the door at home is a real psychological switch-off from work, so I found working from home when we were locked down quite hard because it blurred the lines in terms of my ability to switch off.
I have until recently been quite an earnest runner. But I've had a bit of a niggly knee. So I'm off the running at the moment and doing a lot of walking. But that's quite good because we've got a little dog, and Lizzie and I do a big Sunday-morning walk as part of our routine; it's lovely just having that time together.
I do a bit of reformer Pilates, which I really enjoy, and a bit of cycling, but I refuse to don Lycra. I tend to go off road; I don't like road cycling.
At weekends, I like cranking up the stereo and having a nice homemade coffee. What I put on the turntable depends entirely on my mood. I've been listening to The Killers a lot lately, much to my kids' annoyance.
I'm of the generation of dads that missed out quite a lot on my daughters' early years because I was at work. So I try to make up for that as much as I can now and I've done a trip with each of my two eldest girls, just one on one, which has been fantastic. Our youngest hasn't had her trip yet because of covid, so I really want to do that.
I'm a pretty simple creature. I enjoy going hiking or camping and going off grid with a mate, just trudging through the bush and having some breathing space and some long conversations; that's actually lovely.
As told to Jacqui Loates-Haver.
This interview has been edited for clarity.