Welcome to My Net Worth, our regular column on the lives and motivations of our country's top business, legal and political people in their own words.
The spark that led Tony Burt to found East Imperial, which produces mixers for premium spirits, was lit when a mate told him about the tonic water his family produced in British Kenya. Made from the powdered bark of the cinchona plant (quinine), it was much less sweet than the conventional drink. Burt saw an opportunity for a product to complement the excellent gins available here, and East Imperial was born. Less than eight years later, it now exports its mixers to more than 30 countries. Before that, Burt was CEO of M&C Saatchi New Zealand for nearly five years, and earlier held a number of senior strategic-planning positions. A mad-keen music aficionado, he also ran his own independent online music shop in London for seven years; Above the Sky became a pioneer of legal music downloading. An unashamed cricket tragic, Burt and his Swedish wife, Agge, are parents to daughter Astrid and son Jacob, who, perhaps not surprisingly, plays cricket.
I was born in Tītahi Bay, Wellington, where we lived until I was about seven. My father worked in the Post Office. Then we spent time in Invercargill, Whangārei, Tauranga, Auckland, Hamilton – where I did my first few years of high school – and then my last year at Auckland Grammar. We moved around a lot.
I'm an extremely introverted person by nature. I wasn't outgoing or the life of the party. Growing up, I didn't really make friends easily.
I told my son when he started high school that you've got to stand for something. For me, it was sport. So every school I went to I would try to make a name for myself by being good at sport and then people would either leave you alone or embrace you.
My parents taught me to work hard and stick with things. My two older sisters and I, we're fighters – not in a negative sense, but we'll get our teeth into something and we'll never let go.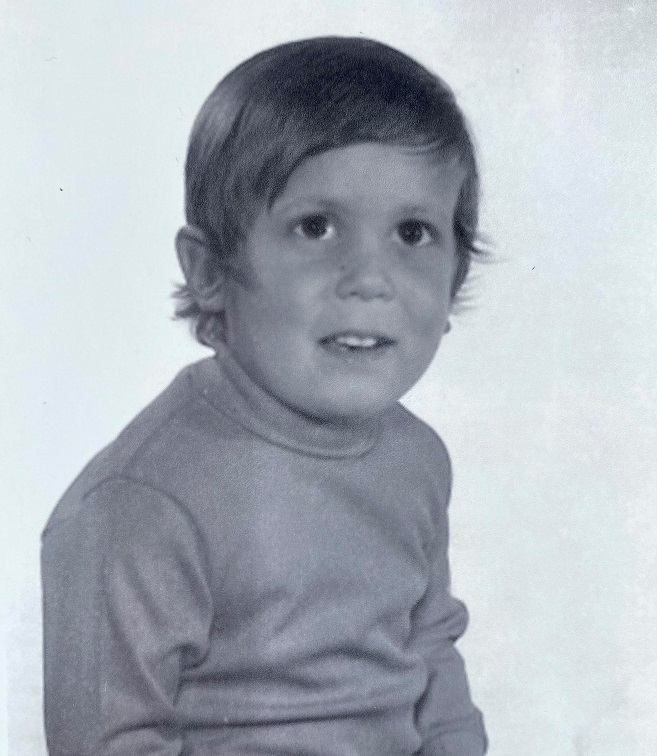 Tony Burt aged four.
I wanted to be a professional cricketer. Cricket was my main love when I was growing up. Arguably it is now as well. I'm a cricket tragic, but I love it.
I didn't finish university. I left in my third year. In the early 90s, one of Auckland's sister cities was Fukuoka in Japan, and there was a scholarship for students at Auckland University to go and spend a year there. A friend and I both applied and three weeks later, we were both sitting in an apartment in Fukuoka. We got to work in a corporate environment and live in a completely foreign culture. We had an absolute blast.
What I'm most proud of is my marriage. I put a lot of work into my relationship with my wife, Agge. We've been together for 25 years now.
My biggest business success was spotting the premiumisation trend in FMCG and deciding this is where I think it's going to go, and it's proved to be very real. It's showing no sign of slowing down, either. That was 11 years ago.
The thing I was worried about was wanting to grab this opportunity and someone else coming along and taking it away from me.
I don't think we were good enough at the low-calorie thing. I think there was a way we could have done it better, or differently. We probably missed an opportunity there.
My best business advice is about "team". I think it's really important to get people from different backgrounds, different skill sets, different industries. Diversity in your team is incredibly important; that's a lens I put over everything.
I'm disciplined about switching off from work and I'm better for it. Being able to spend time with my family and have a healthy lifestyle makes me better at the office.
I don't collect friends and I don't go out of my way to have a vast social circle. So the people I do have as close friends, I'm extremely loyal to them, as they are to me.
My son plays cricket on Saturdays and most Sundays. The closest I can get to being out in the middle of a cricket field these days is being the umpire, which I really enjoy. It's an amazing way to unwind and relax. I do like sailing as well, when I get the chance.
I collect vinyl records. I have about 30,000. It's something just for me. I don't set up turntables and play them to groups of people or anything; it's really very personal.
I've also been collecting street art and graffiti art for close to 15 years. It was meant to get me off buying records, but I ended up doing both. Also, I'm an absolute trainer geek.
As told to Jacqui Loates-Haver.
This interview has been edited for clarity.