I've eaten at Ahi twice in the past few weeks and both times I had the same waiter. He had long hair and a gentle, self-deprecating manner. I liked him a lot – professional but not overbearing, detailed without being precious. He didn't point at the food with his little finger in that fussy fine-dining way that some waiters do, and he had a way of hovering down on your level without getting too close because, you know, covid level 2.5.
Ahi is the new restaurant of Ben Bayly, along with Chris Martin and Rebecca Nelson, and it opened a few weeks back. It was supposed to open in June, and I was supposed to go to a dinner there in August until we were suddenly at level 2.5, and so by the time we came out of lockdown Mark II, the restaurant was already overdue, and you do feel for the whole team at the uncertainty of it all. It's been quite a ride.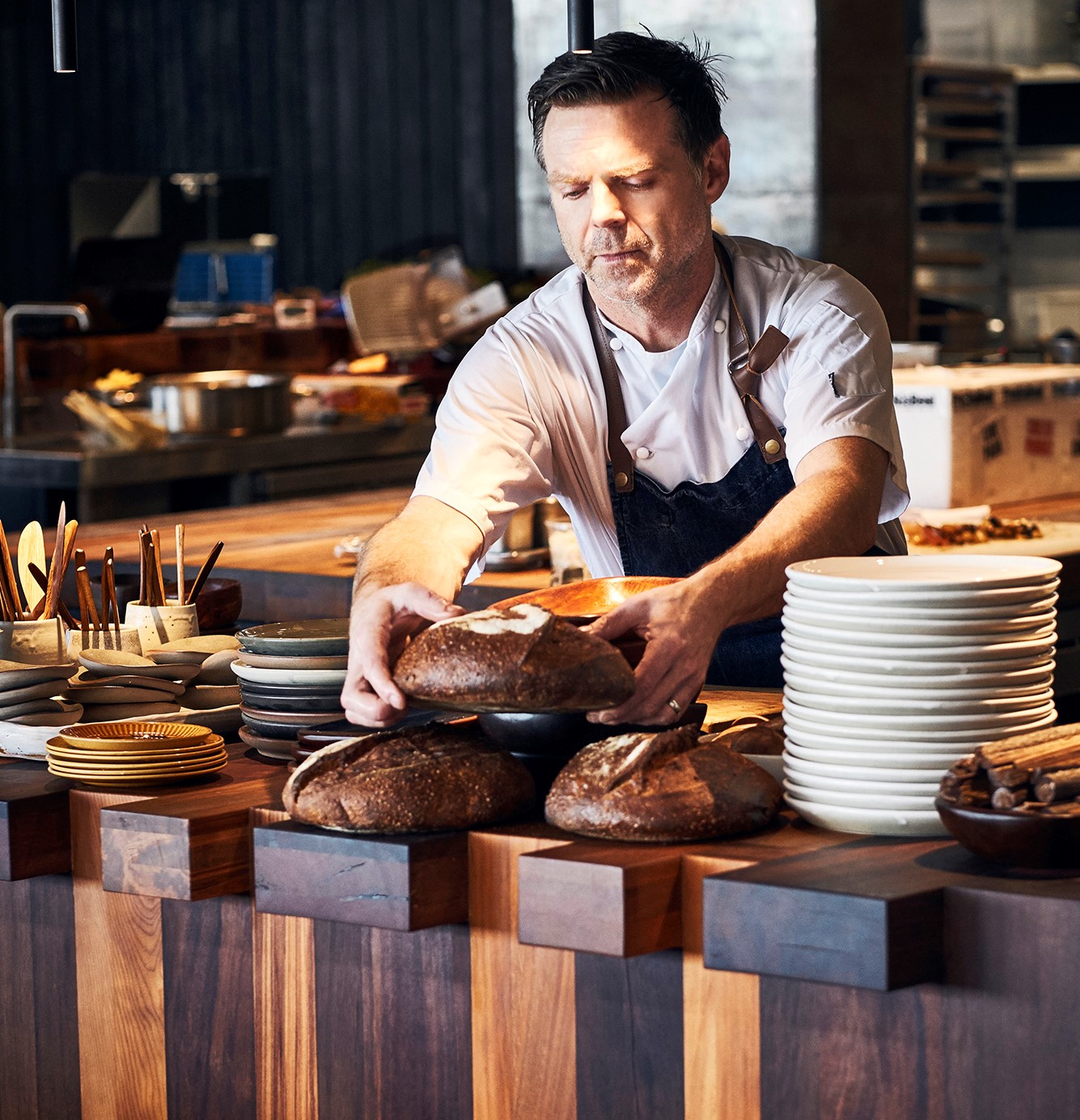 Ahi co-founder Ben Bayly. Photos by Manja Wachsmuth
Aside from his television career, Bayly now has involvement in a few restaurants and none of them are quite the same. He's executive chef at the wonderful Baduzzi, owned by Michael Dearth in Auckland's Wynyard Quarter; he also has shares in family-friendly The Grounds in Henderson; last year, he opened Aosta, an Italian restaurant in Arrowtown, with Michael Hill.
Now he has Ahi, which is an upscale but not fine-dining restaurant, on the second level of Commercial Bay. It was supposed to be a big deck, until developers Precinct Properties realised it would make a good restaurant. Jack McKinney did the fitout: it feels airy and casual – there are timber battens under a glass roof so it doesn't get hot; there are bare timber tables (sparingly placed at present, because of covid), and you can choose between eating at the bar or eating at a table: I'd suggest the bar. The open kitchen is a thing of beauty, made from solid bits of timber so it's like one giant chopping block. The view is wonderful.
The food's great – as in, genuinely, terrifically great. Bayly is one of the country's finest cooks: he's done everything from fries at The Grounds to fine-dining at The Grove, where he was head chef for nine years. The menu at Ahi is New Zealand food, to put it simply, and in this Bayly has managed to pull off something that many have tried and failed: to make contemporary food that is overtly New Zealand without being gimmicky. I'm a fan already.
The menu starts with snacks and progresses through some smaller plates and on to bigger. You should order all the snacks, and wash them down with their version of a negroni – a 'Home Growni', which is a terrible name, but I forgive them because it's so bloody good. They are utterly brilliant, and so are the smaller plates. If I have a criticism – let's just get this out of the way now, shall we? – it's that they're more adventurous than the mains, which fall into the protein + jus + puree thing that restaurants in the smarter bracket fall into: wagyu beef two ways, say, or venison. Though I am quite partial to the quail with celeriac and pear, topped with freeze-dried cabbage and kawakawa leaves.
Back to the snacks. I can heartily recommend the Te Matuku oysters served with a green pear and chardonnay ice that is breathtaking in its simplicity. There's a tahr tartare, which comes out on a little stick of something that can be described only as a Yorkshire pudding, the tahr set off by wild garlic flowers and fermented hot sauce. There is huruhuru whenua, a delightfully simple collection of crudites and flatbread – salmon roe, "Kiwi dip" that tastes exactly like the classic French onion dip, and a "secret garden", which is lightly salted greens served on ice, and if you're lucky, this will be a perfectly crunchy frond of huruhuru whenua that tastes delightfully earthy. It is a brave, singular and genius thing to do.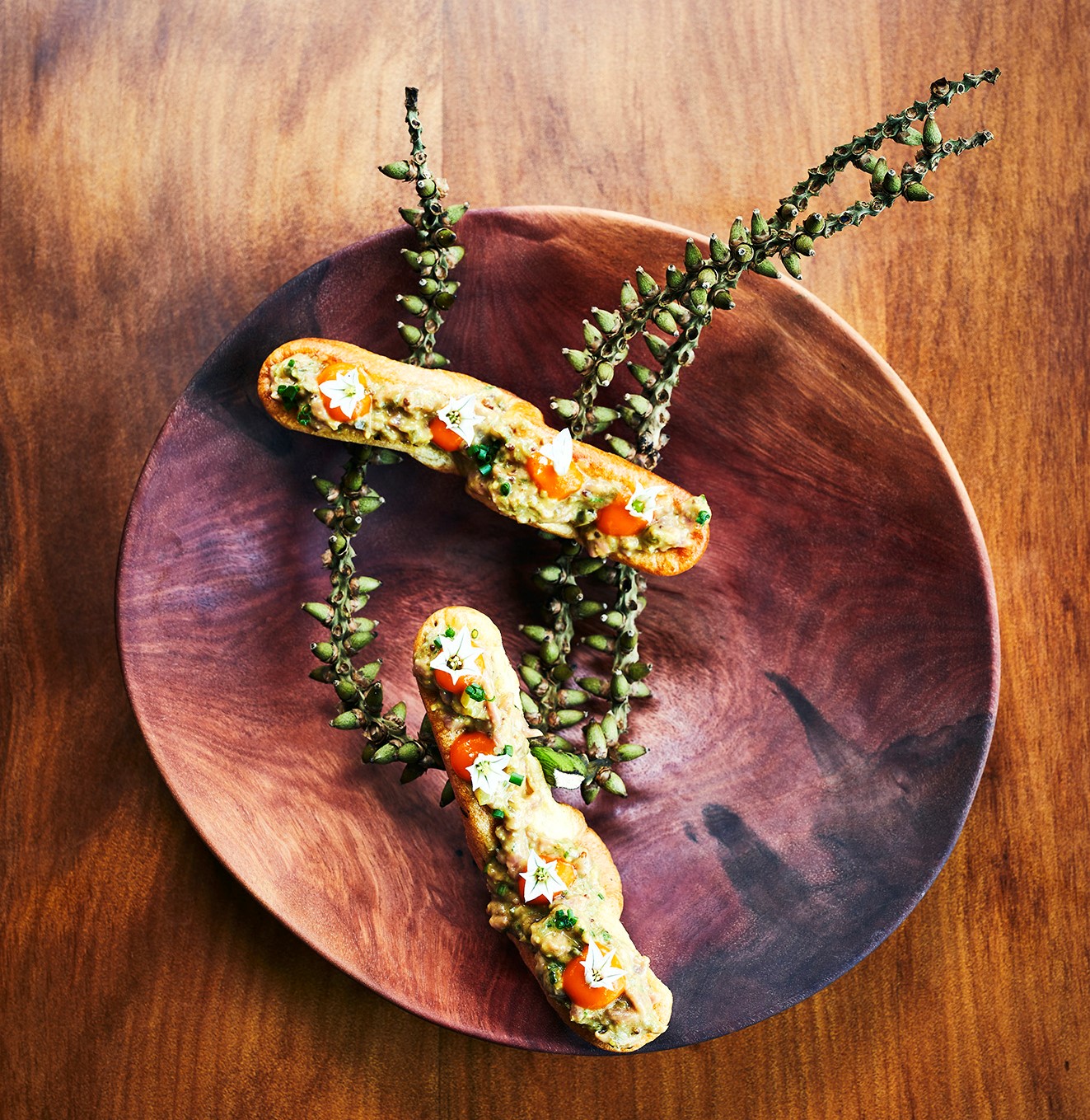 Ahi's Tahr Tartare
As is the hangipāua – a tender sliver of pāua sitting on pureed potato surrounded by a clear broth; it's a dish of perfect umami goodness. It is so good, in fact, we ordered another one the other day because one wasn't enough.
I've also eaten the "boil-up toast" and you must order this also. Bayly used to do a dish of boiled pig's head at The Grove and this feels similar: Berkshire pork cooked until it's falling apart, the meat picked and pressed back together, then crumbed and deep fried and served with Russian dressing (Russian dressing!), a bright shot of zesty pureed watercress, some scattered sorrel leaves and what they describe as an egg but is really an eggy custard in a little pastry basket. Inventive – even a little funny – and beautifully executed, the fresh, slightly peppery cress colliding against the glorious fattiness of the toast.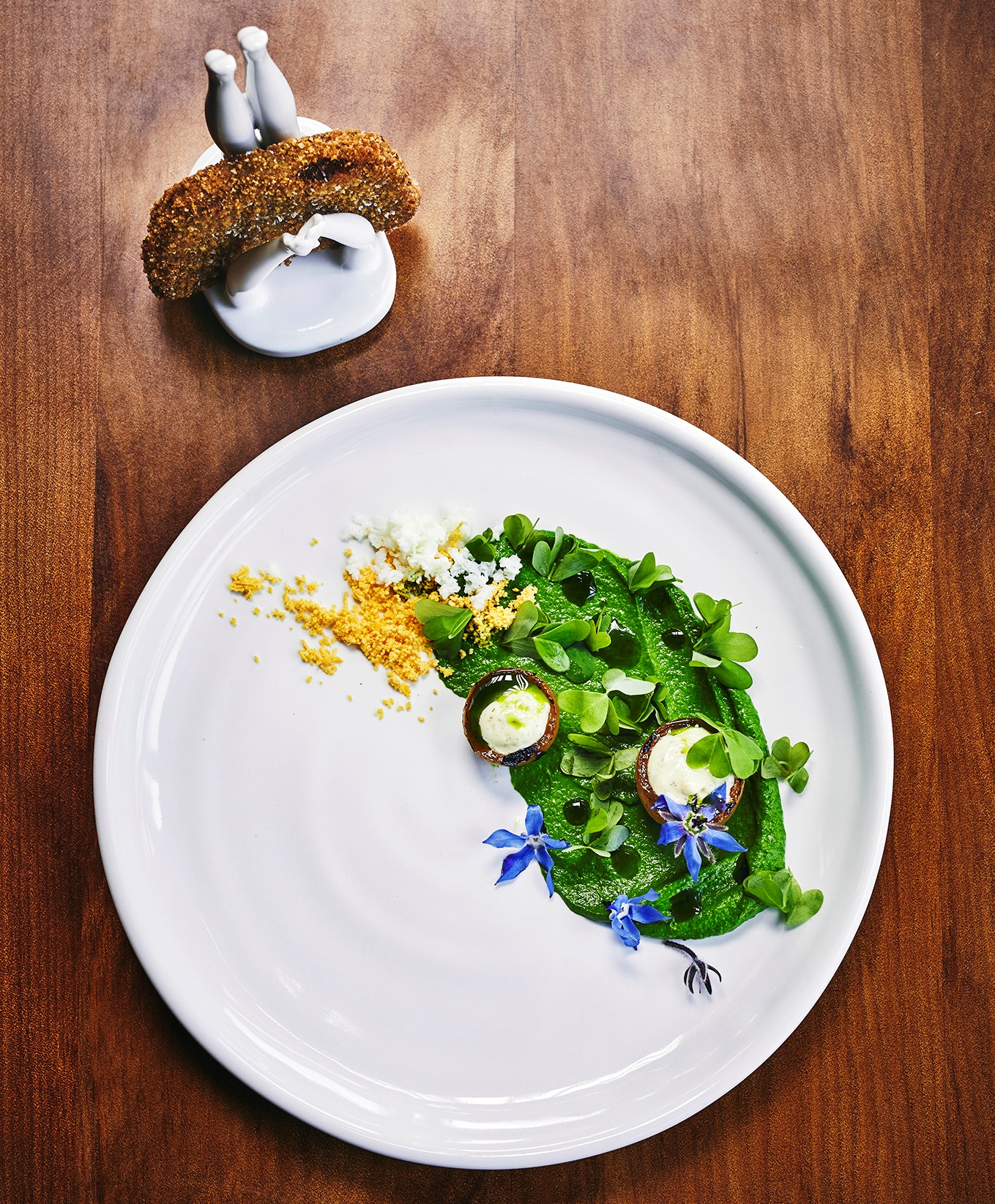 Ahi's Boil Up Toast
On both our visits, our waiter guided us through the menu with an expert calm you wouldn't expect from a restaurant this new. The wine matchings were faultless – even a little unusual – and they knew without asking on our second visit to prepare two of the hangi pāua because we'd sent back for more the last time. So, as I say, head to Ahi and be sure to start with a Home Growni. You'll have a great time.
Menu: Snacks $5 to $13; smaller $24 to $27; larger $39 to $45
Where: Commercial Bay, 1 Queen St, Auckland CBD
Hours: Noon until late, seven days
ahirestaurant.co.nz