Inspired by the trend for open-floor spas in the US, Skintopia is the flagship beauty offering on level two of Auckland's new Commercial Bay shopping precinct.
Founder and director of the spa, Natasha Bourke opened the brand's first salon in Wellington last year with a view to giving clients a next-generation experience.
The integrity of the Auckland space lends itself to the seriousness of Bourke's approach to the industry. The fitout, created by award-winning interior design agency Material Creative, marries concrete with seafoam-coloured floors to symbolise the texture and structure of skin.
And this is where it gets interesting. Bauhaus-inspired lounge beds line the open-plan treatment floor, where you lie, bare-faced under weighted blankets, in full view of your fellow spa-goers.
Uncomfortable?
Actually no. The experience is entirely pleasant, similar to a high-end hair salon - a cosmetic camaraderie, if you will.
And fear not, modest Kiwis, sheer curtains conceal the treatment beds from curious mall-gazers. There are also individual therapy rooms available for grooming services.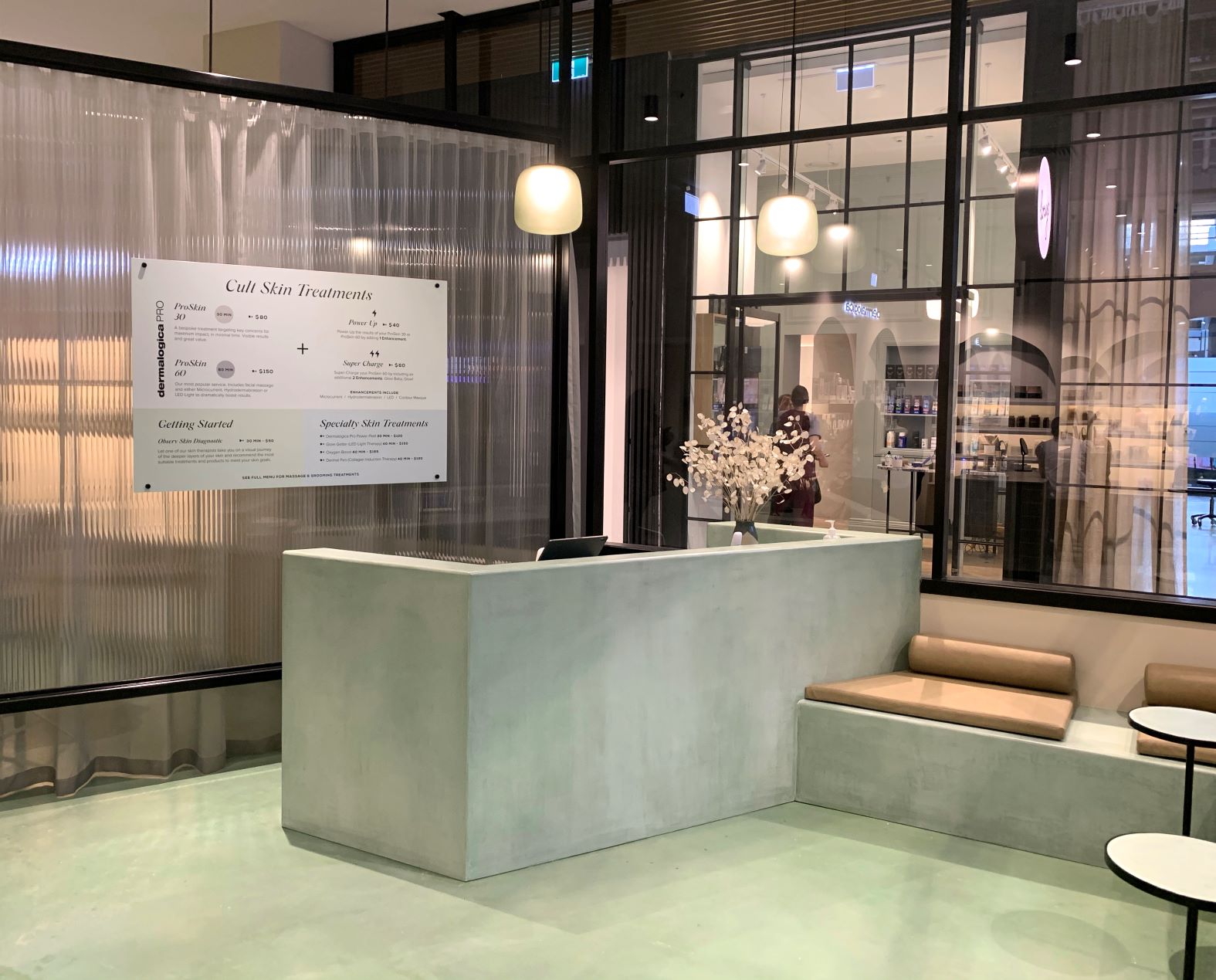 DermalogicaPro is the in-house skincare range and, in place of a standard menu, clients choose a base service and select additional 'enhancements', including microcurrent, hydrodermabrasion, LED light treatment or a contour masque. There is also a full massage and grooming menu available.
To begin, the therapist goes through your daily routine, current products and external factors which may be affecting your skin. Facial treatments start – and end –with a skin analysis to identify underlying problem areas of the face and a moisture level reading.

The Skintopia ethos is about energising – there's no Enya-induced drowsiness of the traditional spa here. The experience is designed to enliven and deliver a visible difference to the complexion.
A range of ingestible collagen and nutritional supplements including Kiwi brands Dose & Co and BePure, and Australian brand The Beauty Chef are available for take-home purchase, along with Dermalogica skincare and local make-up brand, Aleph.
The verdict?
A refreshed and revitalised complexion, and a refreshing revitalisation of the beauty spa industry.
Commercial Bay, Level Two 21 Queen Street, Auckland CBD.