The 114-cubic-inch Harley-Davidson Fat Boy is absolutely brand new when the Mt Wellington Harley dealers hand it over. The Fat Boy moniker means it differs from my last Heritage 107 ride by more than just the additional seven cubic inches of engine capacity. It has fatter solid-aluminium wheels with wide, low-profile tyres and a bulky chrome-covered front end. It has no windscreen or paniers, and though it does have a dual seat and pillion pegs, it feels more like a solo machine. It does have the same mono shock rear suspension with the springing hidden in order to give it the traditional Hard Tail look.
The Fat Boy was initially launched in 1990, designed by Willie G. Davidson, a scion of one of the marque's founding families, and Louie Netz, who retired in 2008 as executive vice president of styling and design.
The name Fat Boy clearly points to its rather solid appearance, although some motorbike websites say it is also an amalgam of the names of the two atomic bombs dropped on Japan at the end of World War II, Fat Man and Little Boy. It was made famous with its appearance in 1991's Terminator 2 movie with Arnold Schwarzenegger fitting it like a glove. This is a bike that is all about the badass look, although Harley's advertising for it is less about the ride and the machine and more about the American Dream and La Dolce Vita.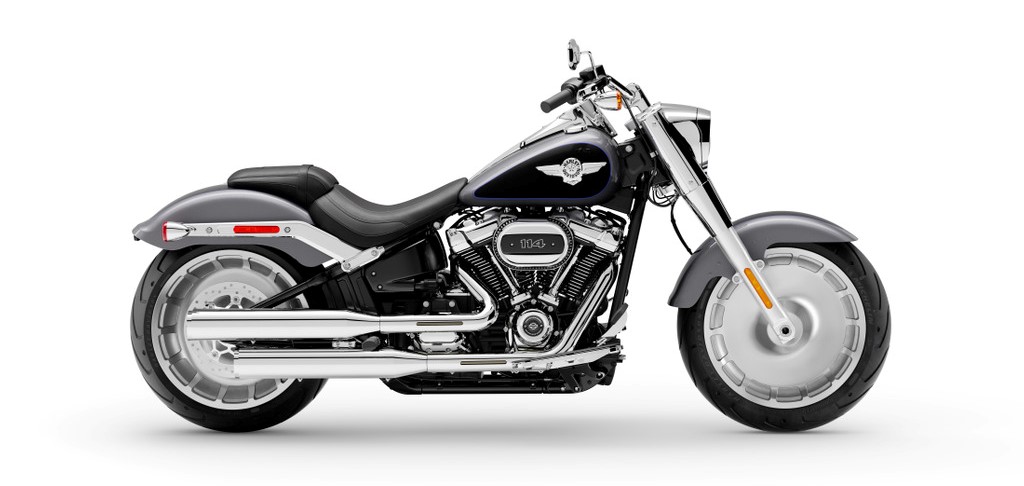 My impressions of the ride on the Fat Boy aren't as good as those I formed astride the Heritage. The understeer is pronounced and I have to counter-steer to get the bike into the corners in anything like sufficient time. I was warned there might be some teething issues but I think the problem I had steering this machine hail from a combination of its weight (more than 300kg) and its very wide low-profile tyres. Whilst the suspension is good, the tyres are hard and the back wheel feels a bit skittish over cat's eyes and road markers. There is quite a lot of road noise as well. The solid-aluminium wheels may be resonating more of the road surface than the spoked versions would.
The engine performance is startling, with the enormous torque of the 1865cc V twin engine a dominating feature. I don't know if it's the difference between the 107 and the 114 cubic inches or if the computer management mapping is more aggressive, but this feels a lot hotter that the Heritage. The throttle is sensitive, which makes operating the right-hand indicator a bit alarming as there is a tendency to throttle on as I reach out my thumb – and the throttle definitely works!
It is a remarkable power unit, in fact. It delivers smooth, low-revving power, and if the claimed economy can be believed, the Fat Boy 114 uses a similar amount of fuel to most other big bikes but with a capacity you normally find on a mid-sized saloon car.
I can't help but wonder what it would be like coupled with a Morgan Tri Car or a small Berkeley-style sports car. Harley don't seem to talk much about horsepower as the figures aren't that remarkable in comparison to other large machines, but the torque – 155Nm at 3250rpm – is definitely highlighted: this is a big, grunty machine.
The six-speed gearbox is a bit clunky and hard to change smoothly. I'm really glad it has a neutral indicator because finding it is a bit hit-and-miss. I presume, though, that it is a pretty industrial spec'd device considering the engine torque it has to translate into forward motion.
I get it figured out when I turn the rev-counter function on and realise that in sixth gear at 100km/h the engine is spinning at only 2200rpm. This is not a bike that needs much of a blip changing down.
Overall, though, it's not a bike I can warm to. The Heritage model, I could understand and got to like – it is an open-road cruiser and a relaxing way to travel long distances in comfort. The Fat Boy isn't that comfortable: the seat is hard and the seating position tends to force my spine into a curve. I have a numb bum after a ride to Muriwai and back, so god knows what it would be like if I drove it from Auckland to, say, Taihape.
I guess the Fat Boy 114, which retails from $35,750 is a bike for someone who wants a two-wheeled version of a V8 muscle car such as a Chev Corvette or a Pontiac Firebird. Harley clearly know their market and this is an iconic model, but as I hand it back, I find my curiosity is completely satisfied.