Welcome to a display of unabashed, masculine American power. With its aggressive front styling and massive engine, Jeep's 2020 Grand Cherokee SRT is a cross between Usain Bolt and an overweight guy in a Hawaiian shirt. Super-fast, but big and brash.
The SRT weighs a smidgen under three tonnes but can get from nought to 100km/h in 4.9 seconds.
This is thanks to a 6.4-litre Hemi V8 engine being married to an eight-speed automatic gearbox, all-wheel-drive and fantastic brakes to create an SUV performing as a sports car, particularly in a straight line.
The thunderous roar of the V8 makes it exciting and turns heads as quickly as the tachometer heads north.
Heading up State Highway 1 behind a gentleman driving at 80km/h while towing a trailer who then canes it in the overtaking lanes, I decide to take appropriate action. The spot is safe enough. I indicate and put my foot down. Holy crap. The power of this thing is insane. After about two seconds, I take my foot off the pedal and the guy's already in my rearview mirror – and I need to take a few deep breaths.
The Detroit-built 344-kilowatt engine provides 624Nm of torque. In English, this means the engine delivers a huge amount of acceleration power. In comparison, the top-of-the-line Toyota Highlander offers 350Nm. It also means the SRT can tow up to 3000kg on a braked trailer.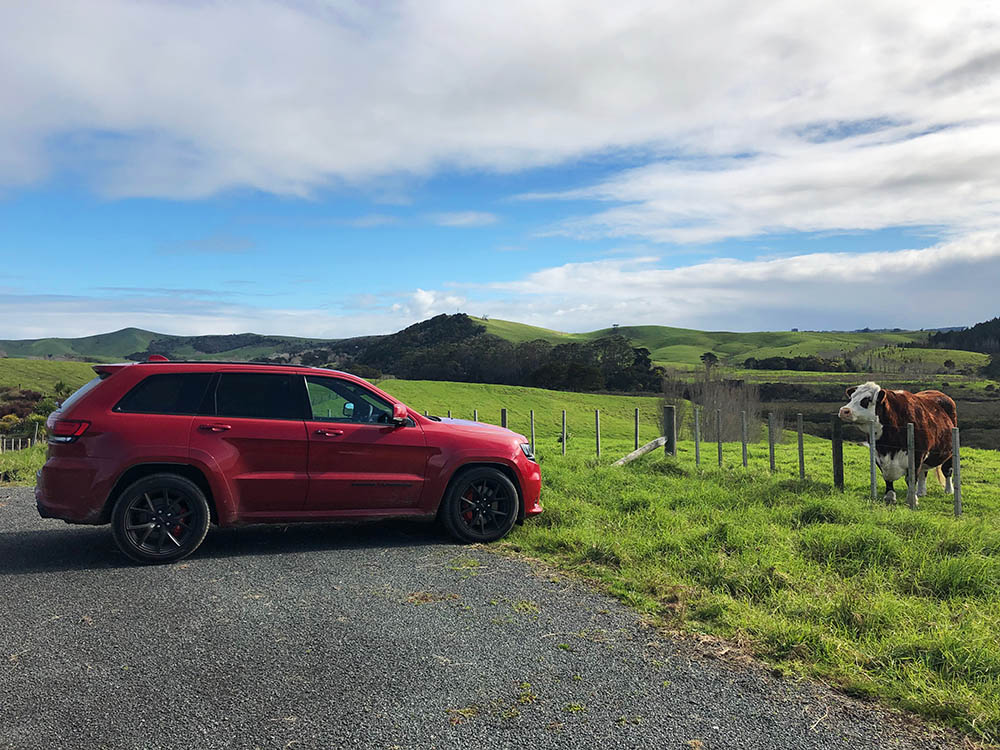 The ride
With its glass roof and big windows, the SRT is a little like driving a particularly grunty glasshouse. And as with all sunroofs, it is pretty special driving along at night with a clear sky and the Milky Way above.
There's plenty of room in the SRT. I had to move a 2.6m-long roller blind and it fitted with no issue alongside three other people and luggage.
In an increasingly common nod to corpulent Americans, stopping the engine causes the steering wheel to lift up and the seat to move back, making it just that little bit easier to remove myself from the driver's seat.
On the winding roads of State Highway 16 north of Auckland, the car is a little bouncy, but slipping it into sport mode stiffens the air suspension and improves cornering. In fact, I leave it in sport mode from then on.
As you'd expect, the SRT deals admirably with New Zealand's many rutted dirt roads. It rides so well, passengers can't guess if the road is tarseal or shingle.
On the downside, the speedo shows 0-300 on its dial, which makes it practically useless for trying to do 30km/h in the city. Handily, you can set the centre screen to show speed in pleasing bold italic typeface.
The technical stuff
Jeep is owned by Chrysler, which invented the Hemi V8 and owns it as a brand. Hemi is short for hemispherical, a design technique that is more efficient and gives greater power.
As insanely quick as the SRT is, the Trackhawk model has a 6.2-litre supercharged V8 that is insanely-er faster.
The SRT will reach 100km/h in 4.9 seconds, but the Trackhawk knocks that down to 3.7 seconds. Remember, this is a three-tonne full-size SUV. Like all good sports cars, it has launch control for getting away from the lights super-fast.
The entry-level 'Limited' model has to make do with a piddling 3.6-litre V6. But then it is $80,000, as opposed to the $120,000 for the SRT or $170,000 for the Trackhawk. Jeep says the Trackhawk is the "most powerful SUV ever".
The SRT sucks a reported 13.5 litres of gas for every 100km you travel, though the BusinessDesk test vehicle seemed to achieve better efficiency than that. It produces 344kW (624Nm) of power (as opposed to the Trackhawk's 522kW).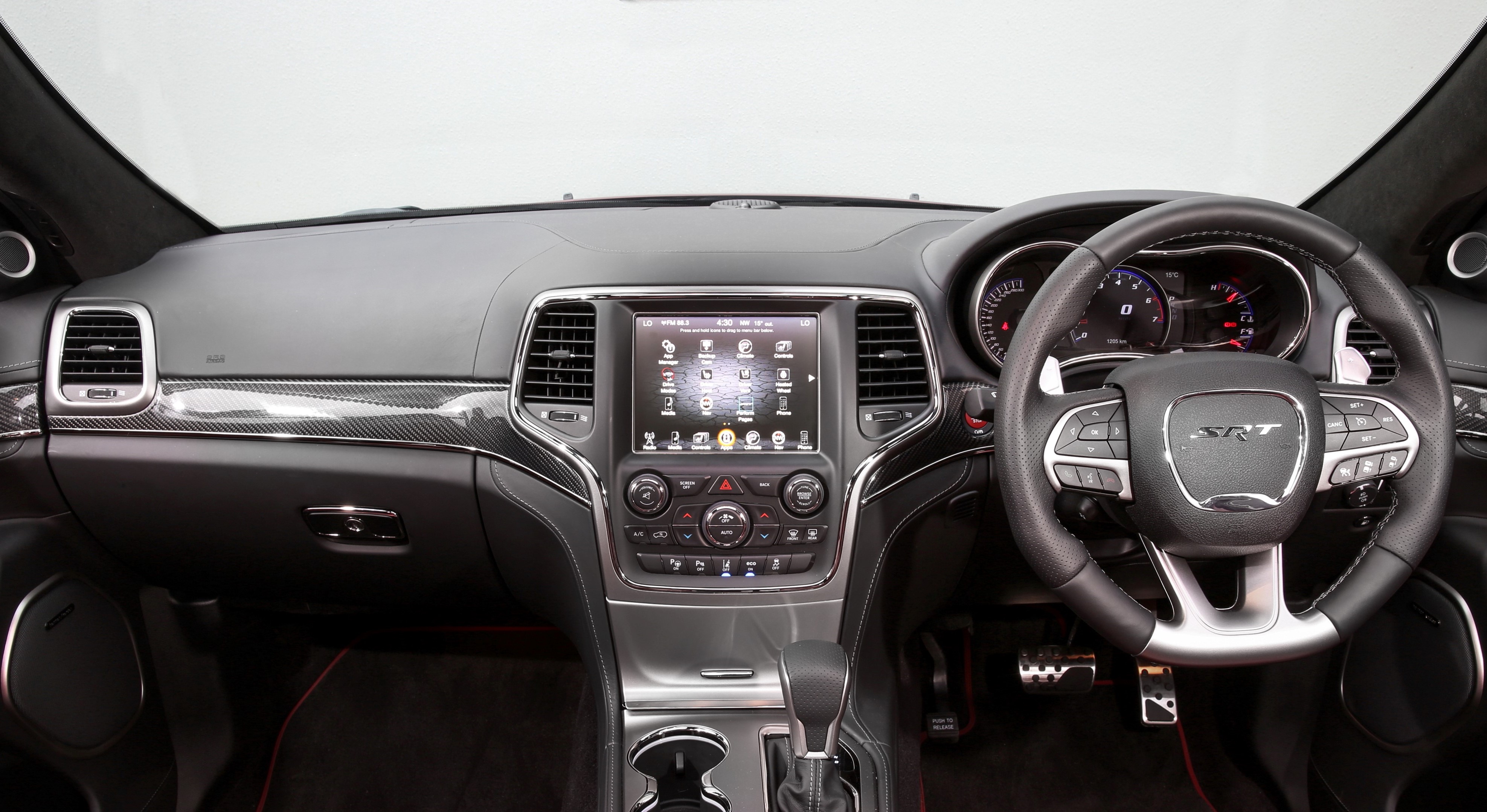 The conclusion
Jeep seems to have a little bit of an issue here. No one has been brave enough to tell the SRT that it is not a zippy sports car.
The SRT will handle anything you throw at it, with luxury features such as automatic high-beam activation, auto rear door and a cornucopia of safety features, including a particularly good lane-departure assistant.
This is a roller-coaster ride of a car – a little like strapping yourself to the side of a rocket. The exhilaration of its acceleration is enough to make the kids scream with joy. Or horror. I couldn't tell as they blacked out.
And one other conclusion, reached during my drive north: The theory that campervan drivers are so bad because they are foreign tourists with no idea about our roads is wrong. Sorry, folks, but now that the campervans are full of Kiwis, they are being driven just as poorly.
Pricing
You get a new SRT for $120,000. The US version is listed at NZ$103,000, so Kiwis pay a $17,000 premium, which makes sense when you consider market size and overheads per vehicle. Atreco, which imports Jeep into New Zealand, sells about 1000 of them a year, so it is not a particularly mass-market vehicle.
Compare it with:
Mercedes GLS400
BMW X5 or X6